How important is grease in car maintenance? Do you really need to put grease on your wheel bearings? And if you do, how often should you do it? These are just some of the questions I'm going to answer for you today.
And that's not all. I'm going to show you my top 10 choices for the best wheel bearing grease on the market right now. If you want to learn everything there is about brake grease — keep on reading.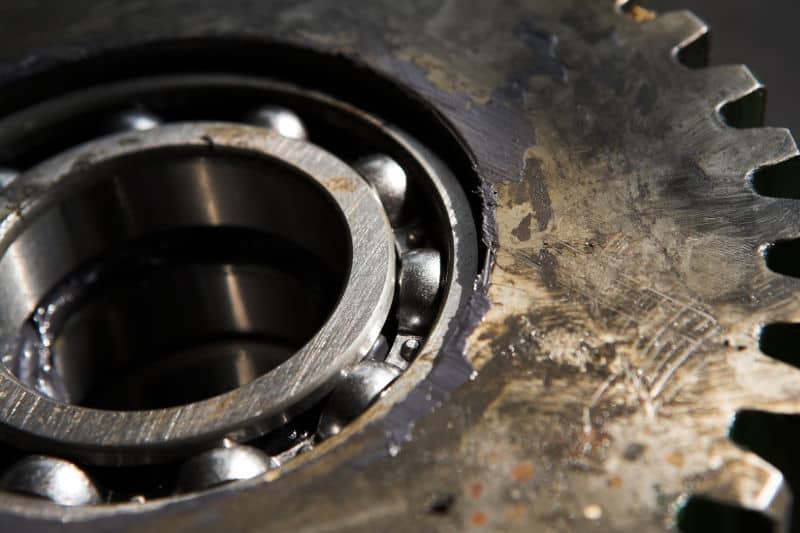 What Is a Wheel Bearing?
Wheel bearings consist of a set of rings that are held together by a metal ball called a race. In essence, they help your wheels spin as fast as possible without causing any friction. There's a wheel bearing on each one of your wheels, or more specifically on the metal axle shafts.
Even though the wheel bearings were built to last, just like any other component in your vehicle, they experience wear and tear over time. Some experts say that you should replace your wheel bearings every 30,000 miles.
If you don't, one of them could snap off your wheel, causing it to fall off. Now, I don't think you need me to tell you just how dangerous that is, especially if it happens while you're driving.
Sings That You Need to Grease or Replace the Wheel Bearing
There are a couple of telltale signs that you need to grease or replace your wheel bearings.
Uneven Tire Wear
A worn-out wheel bearing is the number one culprit for uneven tire wear. Since wheel bearings don't deteriorate evenly, you might notice that only one side of your tires is showing wear and tear. If this happens, you need to replace the bearing that's on the second axle as well.
Loud Noise Coming From the Tire Area
Diagnosing a faulty wheel bearing can be pretty tricky since it doesn't happen that often; but when it does, it happens fast. When a wheel bearing doesn't have any grease on it anymore, it will start causing friction, and you will hear a loud, roaring noise coming from your tire area.
Steering Wheel Is Vibrating
Another surefire way of figuring out when your wheel bearings need to be greased up or replaced is if your steering wheel is vibrating. If you notice that your wheel is vibrating at lower speeds but the vibration gets worse when you accelerate, you might have a wheel bearing problem.
Best Grease for Wheel Bearings: Top 10 Picks
The auto maintenance market is pretty overwhelming. With fake reviews everywhere, it's difficult to figure out which products work and which miss the mark. That's why I wanted to create this list of my top 10 products, ranging from the most to the least popular.
1. Lucas Oil X-Tra Heavy Duty Grease
Lucas Oil is a well-known company that specializes in auto maintenance. They make everything, from lubricants and additives to hydraulics and marine products. On their website, you can choose between seven different greases. But the one that stood out for me was the X-Tra Heavy Duty Grease.
The three main claims that Lucas Oil makes about this product are:
It can resist slinging out of fast-moving parts.
It can withstand temperatures up to 560 °F without melting.
The product won't squeeze out under heavy loads.
What's more, the company says their grease is virtually waterproof and that it lasts four times longer than regular grease. X-Tra also exceeds OEM's Lube for Life expectations, which means it is pretty durable.
You can use the grease for automotive, industrial, agricultural, and heavy-duty applications. Now, I recommend using it for high-speed bearings; but that's not all X-Tra is good for.
For example, you could use it on your boat trailer, electrical contacts, or CV joints. On Amazon, you can get one pack, which is 16oz (454g), or the four-pack at a slightly discounted price.
Main Features:
Can resist slinging out, high temperatures, and heavy loads
Virtually waterproof
Good for automotive and heavy-duty application
16oz tube
---
2. Valvoline Synpower Synthetic Automotive Grease
Next up, we have a grease from Valvoline, a company known for making some of the best automotive oils and fluids. Valvoline recommends their grease for all European, Japanese, and US vehicles.
SynPower is a heavy-duty synthetic automotive grease. It was designed to withstand high temperatures and extreme pressure. In fact, SynPower will hold in temperatures -40 °F–425 °F.
It also has a pretty interesting formulation, and it is made with a lithium complex that is thickened in a moly and synthetic base oil. Valvoline also adds other premium additives to the grease so that it can protect your bearings and brakes from high loads.
Now, SynPower is a bit smaller compared to X-Tra Grease from Lucas Oil — it comes in a 14.1oz tube. However, if you've tried SynPower grease before and know that it works well for you, you can now get it in a 1lb package.
You could use the grease from Valvoline for your disc brake wheel bearings, and for all-purpose chassis lubrication. Some other applications for the SynPower are for suspension systems, CV and universal joints, as well as steering linkage.
Main Features:
Good for European, Japanese, and US vehicles
Can withstand high-temperature fluctuations
A special, innovative formula
14.1oz tube
---
3. Timken Wheel Bearing Grease
Timken has been in the business for over a century, and their first product was grease for wheel bearings. Their new product is a high-temperature red grease, specifically designed for disc and drum wheel bearing applications.
Timken's wheel bearing grease has anti-wear and water-resistant additives, as well as corrosion inhibitors. All of these components add up to a formula that can last under extreme conditions and temperatures.
Now, the grease from Timken has a pretty good temperature range — -40 °F–300 °F. As you can see, the range is a bit smaller compared to the grease from Lucas Oil and Valvoline, but it's pretty good nonetheless.
Timken's wheel bearing grease has a certificate from the National Lubrication Grease Institute (NLGI). Having the NLGI certificate means that the product meets the top-rated performance levels in the wheel bearing and chassis grease categories.
You can get the grease from Amazon, and its net weight is 14.1oz. In addition to lubricating your brakes and bearings, this grease will provide protection from rust and corrosion.
Main Features:
High-temperature red grease
Anti-wear and water-resistant additives
Good temperature range
NLGI certificate
14.1oz tube
---
4. Lubrimatic Trailer Bearing Grease
The next product I wanted to talk about is Lubrimatic's grease, formulated with special ingredients to protect your brakes and bearings. It comes in a 14oz tube and has an NLGI certificate for outstanding performance. On the tube, you'll also find an indicator showing you which side to insert into the grease gun first.
Now, the company says that you could use the grease on all sorts of vehicles. For example, you can use it on all-terrain and utility vehicles, off-road and street-touring motorcycles, and much more.
You'll also be happy to know that it can withstand harsh environmental conditions and its drop temperature point is 550 °F. In fact, the formula features rust and corrosion protection from saline water and air. It is also waterproof, so it could be a great fit for boats and marine vehicles.
You could use this grease for your wheel under bearings, as well as disc brakes. What's more, you can use it to grease pins, winches, swivel hinges, water pumps, and anchor chain reels.
Main Features:
NLGI certificate
Great for all-terrain and marine vehicles
Drop temperature point is 550 °F
Resistant to rust and corrosion
Waterproof
---
5. Royal Purple Ultra-Performance Grease
Next up is synthetic grease from Royal Purple, a company that specializes in making high-performance motor oils. Royal Purple claims that their grease has incredible extreme pressure capabilities, and that it is water-resistant to both washout and emulsion.
You can pump the grease at low temperatures, and it also provides great oxidation resistance. Royal Purple says that you can use their grease on cars, motorcycles, snowmobiles, boats, and other vehicles.
What's more, the company also claims that its grease can increase the lifespan of your wheel bearings and make them run smoother and quieter. The grease will also reduce wear and heat on your bearings, so that they can handle extreme loads.
If you want to get the grease on Amazon, you can get the 14.1oz cartridge, with or without a grease gun. But on the Purple Royal website, you can also get bigger sizes that come in pails, kegs, and drums.
Another thing I liked about this product is that the grease is actually purple. Since the color is pretty vibrant, it is easy to see where and how much of it you're applying.
Also, if you can afford it, I would highly recommend getting the grease gun as well. With it, lubricating wheels and wheel bearings is easier because you have the control and apply exactly how much you need.
Main Features:
Extreme pressure capabilities
Water-resistant
Great for cars, boats, and motorcycles
Increases the lifespan of wheel bearings
14.1oz tube
---
6. Wolf's Head Red Grease
Wolf's Head has been around since 1879, and they seem to know what they're doing when it comes to grease. Their red grease is a premium, lithium lubricant, perfect for truck chassis and wheel bearings.
You can apply the grease on disc brakes, ball joints, wheels, and much more. Also, the formula is water-resistant and has anti-rust and anti-corrosion properties. In essence, you could use it anytime you want to protect your discs or bearings from oxidation, extreme pressure, and inhibition.
This red grease is also a great choice if you're working in an environment with high temperatures, humidity, and water contamination. Wolf's Head says its product is perfect for applications like mining, construction, and marine activities.
On Amazon, you can get the grease in a 10oz or 14oz tube. But if you order off the Wolf's Head website, you can also get a 16oz pack. Of course, the grease is in the company's signature red color, so you can easily see where you're applying it.
My only recommendation when buying this grease is to get it in a retail store instead of Amazon. Even though the product might arrive faster, some people have reported getting broken or bent tubes when ordering off the website.
Main Features:
Premium, lithium grease
Works for disc brakes, ball joints, and wheels
Water and corrosion-resistant
10oz and 14oz tubes
---
7. Mag 1 High-Temperature Wheel Bearing Grease
MAG1 features innovative FMX technology that provides extreme protection and friction management. The grease was formulated for wheel bearings that operate under extreme pressure and in high temperatures.
But the MAG1 is not just for your bearings. You can also use it for general-purpose lubrication or to replace conventional grease.
The formula has advanced molecules that bond together and create a water-resistant shield. With their powerful anti-friction and anti-wear chemistry, this grease could last you a long time.
What's more, it has rust and corrosion inhibitors, as well as special lubrication additives. This grease comes in a vibrant red color so that you can easily see where and how much you're applying.
Now, MAG1 also claims that their grease could handle even the most extreme temperature conditions. For example, it can withstand hot and cold climates, pressure, oxidation, and micro pitting.
On Amazon, you can get the 14.1oz cartridge or the 16oz tube. But if you live in a country where there are MAG1 distributors, you could get 1lb tub, 35lb bucket, 120lb keg, or a 400lb drum.
Main Features:
Can handle extreme pressure and temperatures
Good for wheel bearings and general-purpose
Water-resistant, anti-wear formula
Corrosion inhibitors
14.1oz tube
---
8. WD-40 Specialist Heavy-Duty Extreme Pressure Grease
WD-40 is a world-famous company known for its oils, sprays, cleaners. Their heavy-duty grease is lithium-based and gives your discs and bearings the protection they need from heavy load wear and tear.
Now, the extreme pressure grease from WD-40 can withstand extreme pressure and has a temperature drop point of 600 °F. It has a wide variety of applications, ranging from farming, automotive, industrial equipment, and construction.
In addition to the extreme pressure grease, the Specialist line also features three more products. Depending on what you need, you can get:
True, multi-purpose grease
High-temperature grease
Water-resistant grease
The grease also has anti-corrosion, and it is VOC compliant in all 50 states in the US. Even though the product itself is excellent, the one downside to it is the packaging. If you want to get the Extreme grease, you'll only be able to buy a 14.oz tube.
Main Features:
The temperature drop point is 600 °F
Good for agricultural, industrial, and heavy-duty application
Sold in numerous retail stores
14oz tube
---
9. Mobil 1 Mobilgrease XHP 222
XHP 222 from Mobil 1 is a complex lithium grease that is intended for a wide variety of applications. Mobilgrease claims that due to their cutting-edge lithium technology, their grease can outperform most conventional lubricants.
This grease is water-resistant and provides excellent high-temperature performance and structural stability. It also contains anti-rust and anti-corrosion additives with superb adhesion.
XHP 222 has a wide variety of applications, and you can use it for industrial, automotive, construction, and marine purposes. I recommend using it if you work in high-temperature and humid environments. In addition to cars and motorcycles, this grease could be a perfect choice for a boat.
On Amazon, you can get their standard 14.oz tube as a 10 or 20-pack. But, the grease shares a similar problem with the Wolf's Head grease. Some people who have ordered the product from Amazon have received badly damaged boxes and broken containers.
Main Features:
Lithium grease, perfect for cars and boats
Anti-rust and anti-corrosion additives
Great for high-temperature and humid environments
14 oz tube
---
10. Sta-Lube Drum Brake Bearing Grease
Last but not least, we have the Sta-Lube's brake bearing grease, perfect for economical wheel bearing lubrication. The formula is a traditional short fiber grease that you can apply on drum brakes and industrial bearings with a slow speed and heavy load.
Now, Sta-Lube doesn't recommend using this grease for disc brakes or bearings that are subject to water contamination. Instead, the company suggests using the Disc Hi-Temp Bearing Grease.
One interesting thing about the Sta-Lube grease is that it actually comes with a 2-year warranty. As long as the product hasn't failed because of misuse, you have the right to ask for a replacement during those two years.
You can get the grease on Amazon in a 14oz tube, or a 7lb or 35lb bucket. The product is made in the US and manufactured by CRC.
The only area where the Sta-Lube falls short for me is the temperature drop point. In fact, the recommended range for this product is 10 °F–250 °F, which is significantly lower compared to some of the other products we've talked about.
Main Features:
Great for industrial wheel bearings
Comes with a 2-year warranty
14oz tube, 7lb, and 35lb bucket
Small temperature drop point
---
Things to Consider When Buying Wheel Bearing Grease
Before you commit to buying any wheel bearing or brake grease, the three factors to consider are:
Water resistance
Temperature tolerance
Ease of application
Water Resistance
Do you need the wheel bearing grease for your boat? Are you components often in saline water? If so, you need a grease that has water-resistant properties; but there's one more factor to consider.
When any auto or marine vehicles are exposed to saline water, they can rust and corrode. So, in addition to getting a water-resistant formula, you'll also need to get one that has anti-rust and anti-corrosion additives in it.
Temperature Tolerance
If you're driving high-speed, big load vehicles, you need to consider the temperature tolerance in the grease. Also, if you're working in an environment with high temperature or humidity, getting grease that has a high drop point is key.
Ease of Application
Finally, you should consider how easy it is to use the product. Does it come with a grease gun? Does it have an indicator on the tube so you can see how to insert it in the gun?
And, I know this sounds silly, but the color of the grease is also important. The brighter the color, the easier it'll be to see where and how much you're applying.
How to Apply Wheel Bearing Grease
The two main things to remember when applying wheel bearing grease are:
Never put the grease on the friction side of your brake pads.
Apply a thin layer of grease; don't over-lubricate.
Lubricating Wheel Bearings
A good trick that I found works well for wheel bearings is putting some lubricant on your non-dominant hand. Then, take the bearing, and start pushing it into the product slowly, until the grease starts coming out of the top part. If you need a good visual representation of how to do it, you can check out this YouTube tutorial for more information.
Lubricating Disc Brakes
If this is your first time putting grease on the disc brakes, don't worry, it's not that difficult. First, you're going to start by locating your braking plate and putting a thin layer on it. Also, keep in mind that you can only use the lubricant on the parts where there is metal to metal contact between moving parts.
Final Thoughts
There you have it — those were my top ten picks for the best wheel bearing grease on the market right now. As you've seen, they all work well, so it just comes down to what kind of vehicle you have and what kind of environment you're driving in.
If you work in a high temperature, humid environment — I'd go with WD-40 Specialist because it has the biggest drop point. But if you're looking for an all-round, great product to work in any climate and under high pressure, I recommend the Lucas Oil X-Tra wheel bearing grease.
RELATED POSTS: