Have you just bought a new car and are in a rush to put brand new plates on it? Or have you had a stroke of bad luck and somehow lost or damaged your plates? Whatever the case, if you've been wondering how to get a license plate, I've got all the answers ― from how to do it to what kind of plates you could get.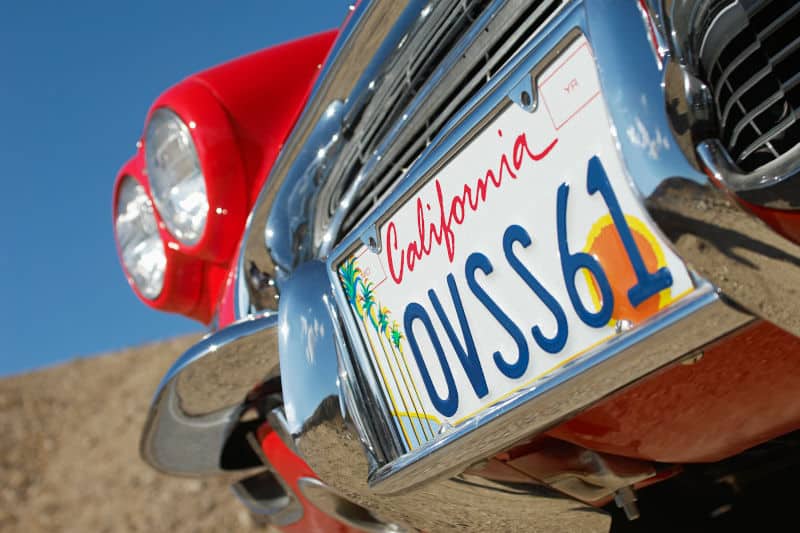 When Do You Need a New License Plate?
Typically, license plates are issued on a permanent basis after the car registration. You have to register your car every year or two, depending on the state, and change the registration sticker on your car. However, you usually don't have to change the license plate, except in a few cases:
relocating to a new state
your existing plates have been stolen, damaged, or are illegible
buying a vehicle
taking permanent employment in another state
you are a graduate student outside your state of residence
Rules Across All States
Every state requires its residents to have license plates issued in the state in question. So, when you move to a different state, you have to get a new license plate for your vehicle.
Also, after you have used the same plates for a long time, they are bound to exhibit signs of wear and tear. However, if the information becomes illegible, you have to get new plates. The same applies when the plates have been vandalized or stolen. You could extend your license plate's lifetime by protecting it with good quality frames and covers. Also, to make sure the plate number is legible from a distance, consider using LED lights.
Rules that Apply in Certain States
Next, when you buy a new vehicle, you need to register it, and a new license plate will be provided for you. But, if you purchased your car from a dealer, the dealership will take care of the registration process for you. Usually, the same rules apply for the purchase of a used car, with the exception that, in some states, existing plates are sold with the car and transferred to the new owner.
Therefore, bear in mind that different rules apply in different states. For instance, not all states require graduate students with a different state of residence to change their license plates. In the same way, only some states have the rule that people taking permanent employment there have to obtain a new license plate, even if they are not changing their state of residence. So, always check what the regulations are in your area.
How to Get a Licence Plate
The first thing you need to do to get a new license plate is to either go to your local DMV office or submit an online request. In many states, it is possible to fill out an online form, or download it and send it via email. However, that is not an option for all vehicle types. So, if your only option to get new license plates is to go to the DMV, brace yourself for waiting in line. DMV is notorious for its long queues.
Once at the DMV, you will need to submit several documents. Be sure to bring them with you to avoid having to return and wait in line all over again.
What You Need to Submit
First, if you bought a car, you need to fill out the Application for Certificate of Title. This form may require the details about your vehicle insurance, among other things, so take care to have that information at hand.
Moving on, you have to present proof of ownership. So, if you already have the title, make sure to bring a copy of it with you. If you have car payments, the title is with the lienholder, so you would need to bring a document stating that you are leasing the vehicle.
Another thing you need is the Certificate of Inspection. This document is evidence that the car meets the requirements for vehicles on the road. A state-certified inspection agency has to conduct the inspection. Usually, this refers to whether it is technically safe to drive your car. But sometimes, customized cars can fail the inspection if their windows are tinted or they are too low to the ground. Also, in some states, your vehicle has to pass the emissions inspection, as well.
Make sure you also bring the Bill of Sale with you. The DMV needs to know the value of the car, so it's handy if you bring the receipt, too. At this point, you will have to pay taxes if you haven't done so when you bought the car.
Finally, pay the fees. It is very important to check the fee schedule and the documents required in your state, as they may vary significantly. And, keep in mind that you would have to wait some time for the DMV to process the papers before you receive your license plates.
License Plate Types
Standard license plates are mandatory for all vehicles. They provide information to law enforcement officials about the ownership of the car for identification purposes. In most states, you need to have one at the front of the car and one in the rear. However, in 19 states, you only need the rear plates. Similarly, for vehicles pulling trailers, a third license plate may be required at the rear of the trailer.
Specialty license plates are legal in most jurisdictions. The sequence of letters and numbers doesn't change, but you need to pay extra for them as they have a design different from the one on standard plates. You can choose the design based on the specialty. Different states allow various specialty license plates. Some examples are Native American tribal symbols, university or college logo, or any other symbol that expresses membership to a certain association or charity. Sometimes, the extra fees paid for the plates go to the organization in question.
You can also use vanity license plates in some states. They come at an additional fee and contain a custom number or a character set. But, you cannot just put anything on a vanity plate ― it mustn't be offensive or profane. That is because the DMV often gets complaints about the messages displayed on license plates, some of which have even resulted in lawsuits.
Final Thoughts
Hopefully, you got answers to all the burning questions about how to get a license plate. I wish you the best of luck in obtaining it and using your vehicle safely down the road. May your time spent queueing at the DMV pass as quick as a flash!