As the world's largest discount department and warehouse store, Walmart sells nearly everything at reasonable prices. You can't go wrong with the retail chain if you are looking to buy or install your vehicle tires, and the service charges are also unbelievably low!
Walmart charges $15 per tire for tire installation in its basic tire installation package. Optional tire services range from $2 to $14 per tire. The company charges as little as $2 for each lug nut replacement, while a carry-in tire mounting service costs $10 per tire.
This article explains the various costs of installing tires in Walmart and other tire-related services. Continue reading to learn everything about the tire care services available at the company and how to buy tires from the retail chain.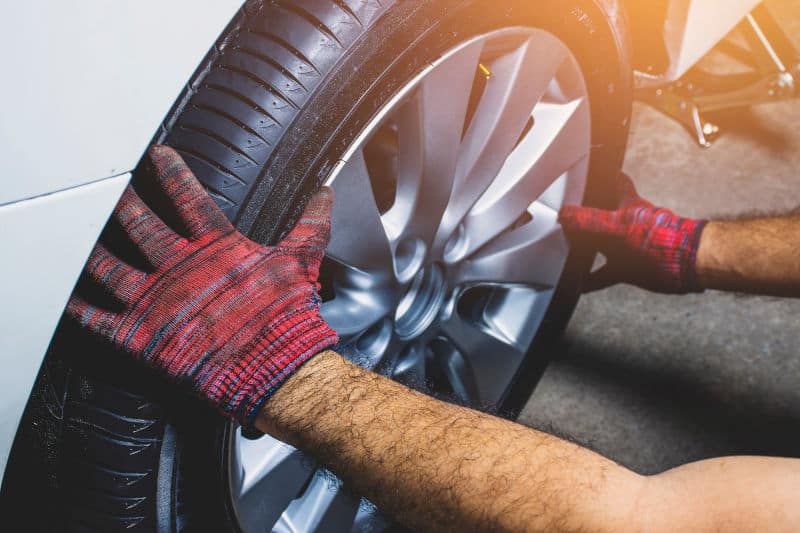 What Are Walmart's Tire Installation Packages?
Walmart's tire installation packages include a Basic Tire Installation Package for $15 per tire and a Value Tire Installation Package for $25 per tire. The former would have an extra $10 per tire if you didn't buy the tires from Walmart.
Regardless of the installation package you choose, you can enjoy free tire rotations for up to 50,000 miles.
In addition to this perk, here are the services you can expect to get with each installation package.
Services Included in the Basic Tire Installation Package
Tire mounting
TPMS service pack
Valve stems
50-mile lug re-torque
Rotation (after every 7,500 miles)
Lifetime balance
Services Included in the Value Tire Installation Package
Tire mounting
TPMS service pack
Valve stems
50-mile lug re-torque
Rotation (after every 7,500 miles)
Lifetime balance
Road Hazard Protection Warranty
Other Tire Services Available at Walmart
You don't necessarily have to opt for either of the company's complete tire installation packages. You can choose a separate tire service at Walmart's Auto Care Centers and get a more reasonable price than many other auto repair shops.
If you decide to go with a particular tire service, here are the services you can expect and a breakdown of their cost:
Tire mounting. Walmart charges $5 per tire (specialty) and $10 per tire (carry-in) when mounting tires. This service only involves mounting tires onto your vehicle's rim. That means you won't get any of the add-on services available with the complete installation packages.
Lug Nut replacement. Lug nuts hold your vehicle's tires in place while you drive. They can wear out, break, or go missing over time. Replacing your lug nut at Walmart will cost you $2 per lug nut.
Installing valve stem. Walmart charges $3 per tire to install valve stems.
Flat tire repair. Fixing a flat tire at Walmart will cost you $15 per tire. However, this service is only available for tubeless tires.
Tire rotation. Walmart can switch your rear tires to the front or vice versa for only $2.50 per tire. Tire rotation is a good alternative if you don't need to do a complete tire balancing or full tire alignment.
Lug re-torque after 50 miles. You can re-torque your lug for free at Walmart after 50 miles of driving. The free service only applies if you purchase the tires from Walmart.
TPMS relearn. Walmart offers a free Tire Pressure Monitoring System (TPMS) service to pair a new sensor to a car's TPMS electronically. TPMS relearn helps you to monitor your vehicle's tire pressure in real-time. Note that the TPMS relearn process is not the same as TPMS sensor programming.
Does Walmart Charge for Installing Tires Bought From Its Stores?
If you buy a tire from Walmart, do you have to pay for tire installation, or does the company install it for free?
Walmart charges for installing tires bought from its stores. However, if you buy a tire from the company, the installation will cost less. Typically, you can expect to pay $15 to install a tire, and installation of any tires from elsewhere attracts an extra $10 charge per tire.
If you plan to buy one of Walmart's tire warranties, purchasing and installing your tires at Walmart is a good idea. In this way, you can enjoy both the manufacturer's warranty and Walmart's warranty.
Walmart Tire Installation Cost vs. Other Stores
As you probably already know, Walmart isn't the only store offering tire installation. However, before you walk into the next auto care center to install your vehicle tires, you might want to check out how their prices compare.
Here is how Walmart's tire installation cost compares to the prices at a few other major tire stores and retailers.
| | |
| --- | --- |
| Retailer / Tire Store | Tire Installation Cost |
| Walmart | $15 |
| Costco | $17 |
| BJ's Tire Center | $20 |
| Sam's Club | $20 |
| Discount Tire Direct | $22 |
| Town Fair Tire Centers | $23 |
| Tire Rack | $24 |
| Goodyear | $26 |
| Firestone Complete | $27 |
From the table above, you can easily see that Walmart has the lowest tire installation cost.
Comparing Walmart tire installation cost to Firestone Complete, you can expect to spend $60 to install four tires on a passenger car at Walmart versus $108 for the same number of tires and car type at Firestone Complete. That's a real bargain!
What Type of Tires Are Available at Walmart?
So, now you understand the cost of tire installation and the prices of various tire services at Walmart, but you can't install tires if you don't have them, right?
I'll get to how much tires cost at Walmart in a bit, but for now, it makes sense to consider what types of tires are available at the retail chain.
The types of tires available at Walmart include run-flat, all-season, summer, and winter tires of all quality levels for passenger cars, small trucks, and even motorcycles. You can also find tires for trucks, tractors, lawnmowers, and golf carts at the retail chain.
Walmart sells tires from all the major tire brands, including Michelin, Pirelli, Hankook, Goodyear, Yokohama, Bridgestone, etc.
Finding your preferred tire on the company's online store is pretty straightforward. You can use the Tire Finder tool and apply multiple filters to help you sort the tires by vehicle, brand, width, rim diameter, and price range.
More specifically, though, Walmart sells four different types of tires. These are:
Run-Flat Tires
Run-flat tires allow you to keep driving even after a puncture. In other words, you don't have to wait for roadside assistance for up to an hour or more if you ever have a flat tire in the most ill-opportune place or time.
If you have a flat tire, run-flat tires can support the weight of your car for a short time, allowing you to continue driving to find a tire repair shop or somewhere safe to change the tire yourself.
Each run-flat tire manufacturer has its specifications, so it is crucial to understand how far and how fast you can drive on these tires with a puncture.
All-Season Tires
All-season tires are ideal if you want tires that will work well for temperate climates. These tires are suitable for use in cold and hot temperatures, and you can confidently drive your car in wet conditions and light snow without worrying too much.
The design of all-season tires features pliable rubbers that make them suitable for almost every temperature.
However, the tread patterns of all-season tires may not provide the type of grip necessary to offer smooth rides in hot weather, and they are not the best tires for winter.
Summer Tires
Summer tires feature special rubbers and tread patterns, making them suitable for warm weather.
These tires are great for those who own performance-oriented cars or sports cars, especially car owners who live in warm climates. The tires provide maximum traction, so you'll experience better braking, acceleration, and cornering performance.
However, summer tires have one major downside: their treads don't last for too long because of their sticky rubber design.
Winter Tires
Winter tires feature rubber designs that resist extreme cold temperatures. Their tread patterns provide better traction on snow and ice.
Some winter tire designs support metal studs, which prevent slips when driving on snow-covered surfaces.
These tires are a great choice if you live in climates with consistent frigid weather or continuous snowfall.
You may also like to read: How Long Do Winter Tires Last in Summer?
How Much Do Walmart Tires Cost?
Finding high-quality tires shouldn't be tricky when you shop at Walmart, but the price range varies widely between tire brands and types.
Walmart tires cost $12 to $300 for passenger cars depending on the brand and other specs. You can also find good-quality tires for heavy-duty vehicles selling between $150 and $330, depending on the brand of tire and the type of vehicle.
Overall, tires are usually cheaper at Walmart compared to many other retailers. The price of tires at the retail chain falls within the median purchase price for tires at other major tire stores and retailers.
According to Consumer Reports, here are Walmart's average costs of tires by car type:
Sedans – $137
SUV – $162
Pickup truck – $187
Convertible – $170
Minivan – $137
In addition to offering reasonable tire prices, Walmart also provides discounts and occasional sales. So, keep an eye out for redemptions and rebates when shopping at Walmart.
Does Walmart Offer a Tire Warranty?
In addition to selling top-quality tires from renowned brands, customers can enjoy two different warranties on their tires for extra fees (apart from the cost of buying and installing the tires).
Walmart offers two tire warranties, including a Road Hazard Protection Warranty at $10 per tire ($40 per car). This warranty covers wear and tear and flat tires for the tire's lifetime. The Lifetime Balance Tire Warranty covers tire rotation and balancing services at $14 per tire ($56 per car).
If you buy the Road Hazard Protection Warranty, Walmart will fix or replace your tire for free. However, this free service is only applicable if the tire is still within the first 25% of its tread.
On the other hand, the Lifetime Balance Tire Warranty covers all tire rotation and balance costs for the tire's entire life until you choose to buy a replacement tire.
You can purchase either or both warranties when installing tires at any of the company's Auto Care Centers.
Also, you can claim your warranty by calling the company to schedule a tire repair service after explaining your situation.
However, there's a catch. To enjoy either type of tire warranty, you must buy the tire from Walmart. The warranties do not cover any tires you buy from somewhere else, even if you install them in Walmart.
You may not need an additional guarantee from Walmart if your tire manufacturer offers a solid warranty. However, it is usually good to check what's covered and in the manufacturer's warranty before buying a tire.
It might be more beneficial to buy the tire from Walmart and enjoy a lower price, additional warranty, and less installation cost.
How to Claim a Tire Warranty at Walmart
If you pay for Walmart's tire warranty, you can file a claim in two ways. The claim can be either in person or via a phone call.
If you choose to file a claim in person, you can walk into any Walmart Auto Care Center, even if you don't have an appointment. After explaining your issue, you may be lucky to have them fix your tire problem right away.
However, this isn't always the case with in-person warranty claims. You may have to schedule an appointment and come back at a later date.
On the other hand, filing a claim over the phone allows you to schedule an appointment with the Auto Care Center closest to your area.
If you prefer to schedule an appointment via phone, you should speak with a customer service representative. The rep will forward your call to a Walmart Auto Care Center near you.
Final Thoughts
Walmart is a great place to shop for almost anything, including tires. Also, it costs less to install tires at your tires at the company's Auto Care Center.
Walmart offers some of the lowest prices for tire services than many other automobile services. Whether you shop in-store or online, you can find good-quality tires at the retailer and install them at affordable prices.
RELATED POSTS: