There's something incredibly satisfying about washing your car by hand. But beyond the satisfaction it gives you, a DIY car wash can get your car looking cleaner than ever — provided that you have the best microfiber towels at your disposal!
Most people who wash their cars at home tend to use the items they have on hand. But if you're still using ancient rags or decommissioned T-shirts to dry your car, it's time to hit the brakes!
You might be surprised by the difference microfiber towels can make in giving your car a factory-like finish. That's why I'm here to help you find the best microfiber towels — your car will thank you for it!
Why We Need Microfiber Towels
It's tempting to think that a towel is just a towel. After all, if it's good enough to dry you off after a shower, why wouldn't it be good enough to dry your car after a wash?
Regular towels are great for us because they're absorbent and exfoliating — they help remove dirt and dead skin. But this isn't beauty school — your car doesn't need exfoliation! It needs to be thoroughly dried, as gently as possible.
Terrycloth vs. Microfiber
Have you ever felt a microfiber towel? If so, then you know that microfiber towels are incredibly soft to the touch. If you have one handy, compare it to your terrycloth bath towel. I'll wait!
Terrycloth towels are typically made of cotton. While it's a soft material compared to other fabrics, cotton is nowhere near as soft as the synthetic materials that microfiber cloths are made from.
The best microfiber towels are made from two materials: polyamide and polyester. You probably know polyester — there's a good chance that you have some polyester clothes hanging in your closet. Polyester gives microfiber towels their strength and structure. Polyamide, on the other hand, probably isn't as familiar. Nevertheless, it's still important — it's what gives a microfiber cloth its plush feel.
Most microfiber towels combine polyester and polyamide for a perfect mix of softness and ruggedness. The ratio differs from brand to brand, but you should look for a higher ratio of polyamide to polyester in the towels you use for your car.
Cleaner and Shinier Exterior
So it's clear that microfiber is softer than terrycloth. But what does this mean for your car?
First of all, microfiber towels will dry your car better. Microfiber is highly absorbent, which is what you want in a car towel. If any water residue gets left behind on your car, it will produce unsightly streaks and swirls. Streaks like these are especially noticeable on windows, but they can affect your car's body as well.
Have you ever noticed tiny scratches on your car and wondered where they're from? It's possible that old, coarse towels are damaging your car! As cotton towels age, they get rougher and rougher. That's bad news for your car — the scratches these towels might be minor now, but eliminating them later could require expensive bodywork.
Microfibers don't just dry and protect your car — they also make it cleaner and shinier! Microfiber traps dirt, grime, and other foreign substances that can dull your car's naturally brilliant sheen. By using microfiber cloths throughout the washing process, you'll notice your car looking as new as the day you brought it home.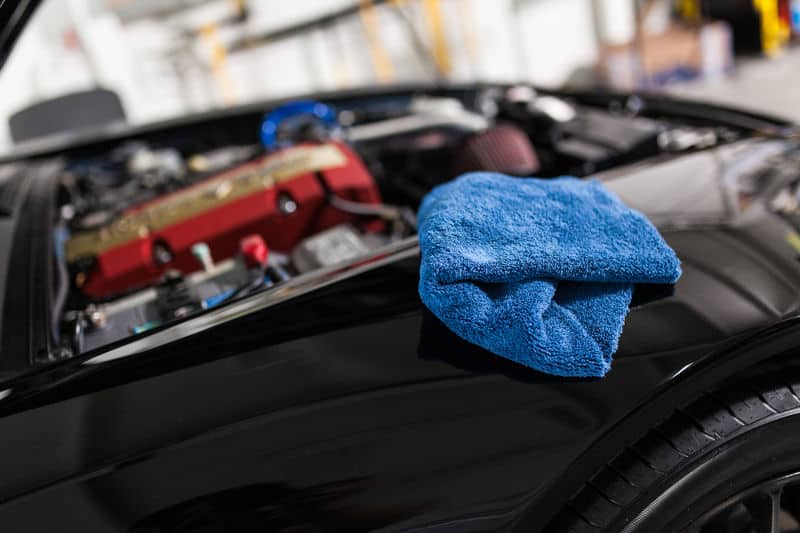 Different Types of Microfiber Towels
Now you know why it's important to use microfiber towels on your car. But did you know that there are many different types of microfiber cloth? It's true.
Different types of microfiber have different purposes — you'll want to have a variety of microfiber cloth piles to ensure that your car looks its best. But before you decide which types you need, it's good to understand what they do.
Short Pile
A short pile towel's thread loops are small, so they stay close together. Because these loops are so stubby, short pile microfiber towels aren't great for absorbing water. But if that's true, why do you need a few short pile cloths on hand?
The fact that short pile microfiber's loops stick together means that they're good at snatching things up. Short pile is great for trapping substances like oil, wax, polish, and other compounds that you'll need to remove from your car during a wash. They can also remove stubborn or sticky stains in a pinch!
Medium Pile
Moving on to the next microfiber pile, medium pile is an all-purpose cloth type with versatile application. If sorting through your towels to find the right one sounds like a pain, then you should probably settle for a few good medium pile cloths.
Like short pile towels, medium pile towels are good at trapping foreign substances — it's just not quite as good. Unlike short pile, however, medium pile microfiber is relatively absorbent. This does come with a caveat — you'll need several medium pile towels to dry your entire car.
I recommend that you have a handful of medium pile microfiber towels in your garage. Though medium pile doesn't do any one thing particularly well, it's great as a backup if your main towels get too dirty or damaged.
Long Pile
Once you start getting into the longer pile materials, this is where you find the most absorbent cloths. Generally speaking, the longer the pile, the more water the towel will soak up. Therefore, long pile microfiber towels will be your go-to method of giving your car a spot-free shine.
Long pile microfiber isn't just good for drying — it's also useful for washing without water. If your car is dusty but you don't have time for a full detailing, you can use a long pile towel to wipe away the dust. Your car will look like it's been washed, and you don't even need to use water!
Waffle Weave Pile
If you've been looking into the best microfiber towels for your car, you're guaranteed to have come across "waffle weave" towels. These days, waffle weave is one of the most popular microfiber types for car care.
So what sets waffle weave apart from other microfiber piles, aside from the catchy name? First of all, the special waffle pattern makes them more absorbent than other varieties of microfiber. The waffle weave also makes them gentler on your car, so using one of these towels will help to minimize scratches.
There's some debate as to whether regular long pile or waffle weave microfiber is better for drying cars. Ultimately, it comes down to preference. I use both types — I'll do one round of drying with a waffle weave towel, and a second round with a long pile. That way, there isn't a drop of water left on my car!
Applicator Pile
Some microfiber towel brands have begun producing microfiber applicators. They aren't towels — they look more like sponges covered in microfiber cloth. A microfiber applicator will usually consist of a sponge or foam core with a short pile microfiber covering.
Because of their short pile and convenient shape, microfiber applicators are handy for applying wax, polish, and other protectants to your car's surface. The short pile means that more of your product will make it onto the car's body. The shape ensures that you won't lose your grip, and you'll be able to apply pressure more easily.
10 Best Microfiber Towels on the Market (2023)
I've divided these microfiber towel reviews into groups based on their functions and properties: double-sided towels, waffle weave, short pile applicators, and general purpose towels. That way, if you know exactly what kind of towel you're looking for, you can skip ahead to the relevant section.
1. Chemical Guys MIC_507_06 Microfiber Towel
Chemical Guys has some of the best top-selling car care products on the market. Even though their name might suggest that they specialize in, well, chemical goods, their product range includes some other top-notch accessories. Their MIC_507_07 microfiber towel is one such exceptional products.
The first thing you might notice about the MIC_507_07 is its eye-catching gold color and black silk trim. So it looks nice, but what about its other features?
One of the coolest things about the Chemical Guys towel is the fact that it's double-sided. It has a short pile side and a long pile side, making it two towels in one!
You can use it for buffing and polishing just as easily as removing stubborn dirt from your car's surface.
It's also possible to use the MIC_507_06 for drying your car. Keep in mind that one won't be enough for your car's entire exterior — it'll take two or more of these towels to get it completely dry. Fortunately, they come in packs of six. As long as you always keep them clean, you'll have plenty of towels whenever you need them!
Speaking of keeping them clean, it's easy to care for the MIC_507_06 towels. Since they're machine washable, you can just toss them in the machine with any detergent.
Main Features:
Dual-sided short-and-long pile design
Great for buffing, polishing, and drying
Silk edging protects your car from scratches
Machine washable
---
2. MATCC Microfiber Cleaning Cloths
As one of two companies on this list that specialize in producing towels, MATCC's products come with high expectations. With that in mind, how does the MATCC Microfiber Cleaning Cloth twelve pack hold up against the competition?
The first feature worth mentioning is the two-sided design of the towels. They have a long pile and a short pile side, which makes them incredibly versatile. You have a long side for drying, and a short one for detailing.
The twelve microfiber towels in the pack come in three different colors. The grey, black, and yellow towels might not be the most eye-catching cloths out there, but the varied colors make it easy to designate certain towels for certain tasks.
MATCC's towels aren't huge, but they aren't exactly small — at 16 x 16 inches, they're big enough for most jobs. Anyway, they come in a pack of 12, so you won't be likely to run out in the middle of washing your car!
And even though there are a lot of towels in the pack, they're surprisingly good quality. MATCC has managed to produce a soft, reusable towel that's also very absorbent.
Main Features:
Three colors make organizing your towels a breeze
Twelve pack means that you'll have more than enough towels
Great quality despite the high quantity
Double-sided design makes these towels great for any car care task
---
3. Meguiar's X2000EU Water Magnet Drying Towel
Few car care companies have had as long of a history as Meguiar's. Despite having been around for more than a century, Meguiar's definitely isn't behind the times with their microfiber towels. Their X2000EU Water Magnet towel will do an excellent job of keeping your car dry.
The Meguiar's Water Magnet uses a fine waffle weave that can trap twice as much water as a regular towel. Despite being only 22 x 30 inches, the Water Magnet can dry off your entire car on its own. You can only buy the Water Magnet in single packs, but you won't need more than one — a single Water Magnet is all it takes to soak up every last drop on your vehicle.
The Water Magnet is also easy to wring out. If the towel gets completely soaked halfway through drying your car, you can simply twist the water out and continue using it. Even better, it won't leave behind the annoying streaks that a regular towel would.
There isn't much more to say about the Meguiar's Water Magnet — it's simple, straightforward, and effective at drying your car off. With a towel this good, it's easy to see why Meguiar's has been around for such a long time!
Main Features:
Extremely absorbent — one towel is all you need
Easy to wring out when drying larger cars
Tons of drying power in a small package
Doesn't leave behind ugly water streaks
---
4. The Rag Company Dry Me A River Jr
You would expect a business called the Rag Company to have high-quality towels for all of your automotive needs. So upon closer examination, does the Rag Company's Dry Me a River Junior live up to its name?
The Dry Me a River Junior comes in a two-pack, with one light blue and one dark blue towel. Both are made from identical waffle weave material that's incredibly soft to the touch. The towels aren't especially thick, but that doesn't mean that they're not up to the task of drying your car.
One feature that makes these towels stand out is the fact that they're made from Korean microfiber. While China and South Korea are the world's largest microfiber producers, Korean microfiber has a better reputation for longevity and quality.
With the Dry Me a River Junior's Korean microfiber, you won't need to worry about scratching your car. Aside from being soft, the towels' waffle weave pattern makes them gentle enough for regular use. Even better, they won't leave behind any streaks either.
Since these towels have a waffle weave, you won't want to use them for tasks other than drying your car. While they may not be versatile, they're great at what they do!
Main Features:
Made from high-quality Korean microfiber
Extremely soft waffle weave prevents damage to your car's body
Super absorbent — excellent for drying your car
Won't leave behind streaks or swirls
---
5. Meguiar's X2020 Supreme Shine Microfiber Towels
I've already shown you one of Meguiar's towels, and it was definitely an impressive example. If you liked what you saw, then you'll be interested in Meguiar's X2020 Supreme Shine Microfiber Towel. It makes a great companion to the Water Magnet!
While the Meguiar's Water Magnet is specialized for drying up your car's surface, the Supreme Shine Microfiber towel is meant to be used for polishing, buffing, and putting the finishing touches on your car's exterior.
The Supreme Shine is a short pile cloth that's still absorbent and soft. That combination is exactly what you should look for in a detailing towel. It's tough enough to wipe away dirt, grime, and excess protectants, but also soft enough to avoid scratching your car.
Have you ever waxed your car, only to find that it was covered in lint from the rag you used? Fortunately, Meguiar's Supreme Shine towels are lint-free. That means that you won't have any unwanted residue showing up on your car's exterior.
As with the Water Magnet, the Supreme Shine towel only comes in a single pack. But this towel is so good at what it does, you won't need more than one! It's machine washable, so you'll be able to use it for a long time before it needs replacing.
Main Features:
Short pile is ideal for applying wax, polish, and other protectants
Soft and absorbent design protects your car
Lint-free, so it won't leave behind any residue
Great companion towel to the excellent Water Magnet
---
6. AmazonBasics Microfiber Cleaning Cloth
It's been a long time since Amazon specialized in just selling books — now they also produce a huge range of their own products. But does the quality of their AmazonBasics microfiber cleaning cloths stack up to the more established car care brands?
The first difference with the AmazonBasics towels is that they come in a massive twenty-four pack. That's a lot of towels! Don't let the quantity fool you, though — it's not trying to make up for a lack of quality.
The AmazonBasics microfiber cloths are small, at only 12 x 16 inches per cloth. Their size, combined with their short pile material, means that they're better as applicator cloths than as dryer cloths. Nevertheless, they're still soft and absorbent.
Since the AmazonBasics towels are relatively cheap, they're not the top quality towels on this list. While they're durable enough for you to wash and reuse them several times, they might not last as long as some of the other options.
But if you need a lot of cheap towels as backups, you can't do much better than AmazonBasics.
Main Features:
Huge quantity means you won't run out of towels
Short pile is great for polishing and detail work
Reusable and machine washable
Soft and absorbent despite their lower quality
---
7. iTavah Microfiber Cleaning Cloth
Not all great microfiber towels are produced by established car care brands. Some, like the iTAVAH Microfiber Cleaning Cloth, are made by relatively unknown brands. But don't let that fool you — iTAVAH makes a great microfiber towel that's safe to use on your car.
The iTAVAH microfiber towel comes in a three pack that includes different-colored towels. While the three different colors may seem gimmicky, having different colored towels lets you color-code them for particular tasks. That way, your drying towel will always be for drying and your polishing towel will only be for polishing.
iTAVAH expands on this color system by making all of the towels double-sided. Each side has the same pile material, but having two sides makes it easier to know which side is clean. It's another handy feature that helps you make the most of your towels.
While the iTAVAH towels are incredibly plush, they're closer to a medium pile. As medium pile towels, you can easily use them as all-purpose car cleaning towels. And with three of them, you'll have plenty of cloths available for buffing, drying, polishing, and whatever else your car needs.
Main Features:
Color-coding system helps you designate towels for certain tasks
Double-sided design makes it easier to tell which side is clean
Thick medium pile works well for a large range of tasks
Three pack ensures that you'll have enough towels for any job
---
8. mixigoo Car Cleaning Towels
The next towel on my list is thick, plush, and durable — just what you need from a good microfiber cloth. The Mixigoo Car Cleaning Towel may not be as flashy as some of the other towels I've reviewed, but that doesn't mean it's any less functional.
The Mixigoo towel comes in a three-pack, which is good — at 16 x 16 inches, they're a bit on the small side.
Bigger isn't always better, though — especially since Mixigoo's towels are thick. These towels have a long pile, and are incredibly plush. That means you won't have to worry about damaging your car, no matter how hard you scrub.
Aside from being thick, the Mixigoo Car Cleaning Towel is also dense. The high-density, long-pile weave makes them exceptionally absorbent. That allows them to punch above their weight class and absorb more water than towels of a similar size.
Although Mixigoo advertises these towels as all-purpose car cleaning towels, it's not quite accurate. While you certainly could use the Car Cleaning Towel as a buffer or polisher, the long, dense pile makes it better suited for drying.
Make no mistake, however — this towel will do an excellent job at sucking up every last drop of water on your car.
Main Features:
Thick, long pile maximizes absorbency despite small dimensions
High-density weave for increased absorbency and softness
Plush material minimizes the potential for scratches
Can be used as a multipurpose towel, but excels as a dryer
---
9. Griot's Garage 55586 PFM Terry Weave Towel
Griot's Garage has been producing a wide range of car care products since the early 2000s. While they haven't been around as long as some of the other companies on this list, they specialize in making top-notch car care goods that are worth checking out. Among those products is the Griot's Garage 55586 PFM Terry Weave Towel.
If this towel looks a bit different from the others I've reviewed, that's because it is different. Unlike the other towels you've seen so far, the Griot's Garage 5586 PFM has a terry weave similar to what you'd find in a standard bath towel.
Despite the different weave, the Griot's garage towel is made of microfiber, not cotton. The shorter pile weave in this towel has the advantages of terrycloth without any of its drawbacks. It's soft, but robust enough for all-purpose use.
Because the Griot's Garage terry weave towel has a shorter pile, it's great for applying and removing protectants like polish and wax.
Griot's towels also have silk edges, which will help protect your car from scratches. It's not the only towel on this list that has them, but it's still a useful feature that makes the towels easier on your car.
Main Features:
Unique terrycloth weave makes this a great applicator towel
Long enough pile to handle tasks beyond application
Silk edges will prevent scratches
Two pack means that you'll always have a backup towel
---
10. Kirkland High Pile Microfiber Towels
Even if you're not a CostCo member, you're probably familiar with their signature brand, Kirkland. As the granddaddy of bulk products, it's only fitting that Kirkland would produce a whopping 36 Pack of Ultra High Pile Microfiber Towels.
Kirland isn't just known for quantity, however. Their notoriously strict quality controls mean that only the best products end up on CostCo's shelves. These microfiber towels are no exception!
While these towels are advertised as being "ultra high pile," they're not as plush and shaggy as some of the other towels on this list. Nevertheless, their pile is high enough for them to be adaptable microfiber towels that you can use for drying, applying, and polishing.
You might think that the huge quantity means that these towels are disposable. That couldn't be further from the truth! Kirkland's microfiber towels can be washed again and again. It might be years before you'd need to buy more towels!
One thing to note is that each towel comes with a tag that you'll want to remove. Most microfiber towels don't have tags because they can scratch your car. Thankfully though, it's easy to tear Kirkland's tags off.
Main Features:
HUGE quantity — you'll never run out of towels!
Long-lasting, high-quality material
Medium pile works for a variety of car care tasks
Safe for your car — just remove the tags before using
---
How to Use Microfiber Towels for Best Results
Now that you know the best microfiber towels out there, it's time to learn how to use microfiber towels the right way! I'll show you four easy steps for cleaning, polishing, and drying your car with microfiber towels.
Get the Right Towels for the Job
By now, you should be familiar with the different types of microfiber towels and what they're used for.
Before you start washing your car, make sure you have enough of the right towels. If you don't want to buy a variety of towels and cloths, then at least invest in a few good general purpose towels.
Wash Your Car With Plush Towels
Once your towels are ready, soak one of your plushest towels with soapy water. Gently scrub each surface of your car, making sure to swap out the towel once it starts getting too dirty.
Dry Your Car With an Absorbent or Waffle Weave Towel
Once you've scrubbed and rinsed your car, you need to dry it — carefully, of course! Don't just grab your towel and start drying. Before you begin drying your car, you should dampen your towel. While that might seem counterintuitive, damp microfiber grabs water molecules more effectively than dry cloth.
Go slowly — you don't want to scratch your car. Some people prefer gently placing the towel on the car, and then sliding it off. Scrubbing while drying can cause scratches, or maybe leave behind streaks.
Use Applicator Towels for Finishing Touches
Now that your car is dry, get out your shortest pile towels and use them to apply protectants and coatings. Always use a different cloth for each product. Also, you should use one towel to apply your coating and another one to remove it.
This video demonstrates some good techniques that will help you avoid damaging your car while using microfiber towels.
How to Maintain Microfiber Towels
Microfiber cloths are different from regular towels in a number of ways, as you've seen above. That means that you should wash microfiber in a different way than you would other materials.
Washing microfiber towels isn't actually that difficult. The first thing that you should know is to wash microfiber separately from other materials. Microfiber is normally lint-free, but that doesn't mean it won't pick up lint from other places. Plus, colorful towels might bleed their color onto other fabrics.
Microfiber is also sensitive to heat, so wash your microfiber towels and cloths in cold water. If the water is too hot, it can damage your towels or even melt them. If that happens, they won't be nearly as soft — they could even scratch your car.
One nice thing about microfiber is that you don't even need special detergent. Your regular laundry soap will do.
After you're done washing your microfiber towels, don't toss them in the dryer! Dry them by air — remember, heat will ruin your towels.
This video is a straightforward guide to cleaning your microfiber towels safely.
With proper care, your microfiber towels will continue serving you and your car for years to come.
Final Thoughts
It's clear that good-quality microfiber towels are a vital part of a safe washing routine for your car. I recommend having a variety of towels on hand — you never know when a certain towel may come in handy.
Microfiber towels are also useful for cleaning your car's interior. You might even love them so much, you'll start using them around the house!
So what are you waiting for? Toss out those old, tattered rags and pick up some microfiber towels instead. It'll make washing your car a lot more fun, and your car will look better than it ever has.
RELATED POSTS: