Making sure that your car looks good is very important. If you consider yourself to be a bit of a car enthusiast, then you definitely do not want your ride to look shabby. Taking the time to wash your car thoroughly is going to allow it to look its best. To get the best results, you are going to want to use the best possible car wash soaps and shampoos.
There are actually many different car wash soaps and shampoos on the market for you to choose from. If you do not know much about these products, then it might be a little hard to make a purchasing decision. You might assume that they are all the same and will then be at a loss for what you should buy. There are actually many differences between the different soap and shampoo brands to consider.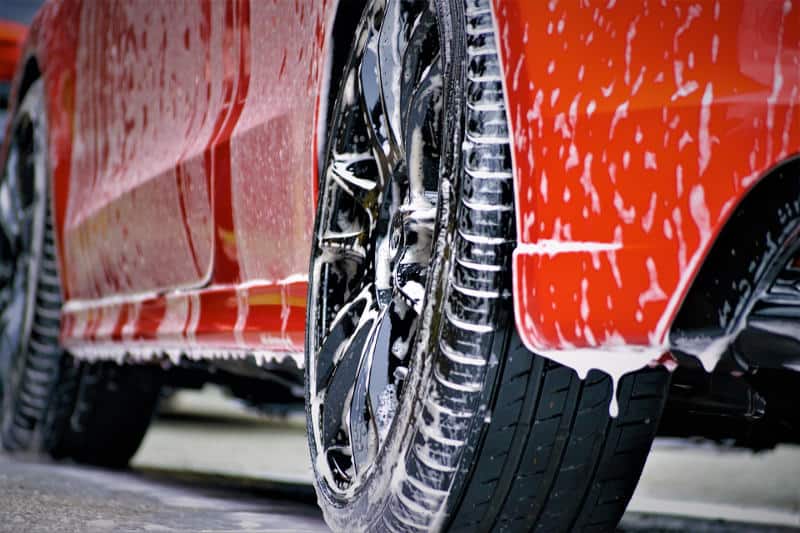 Buying really good car wash soaps and shampoos will allow your car to look really nice. If you want to know what the best possible options are, then you have come to the right place. Today I am going to be examining the top 10 best car wash soaps and shampoos. I'll also be dedicating a bit of time to what you should be looking for, as well as tips on how to use these products.
Key Features
Best for black cars
Cleans and conditions
Rich, luxurious suds
Cleans dirt & grime
pH balanced
Pleasant fragrance
Key Features
Best for black cars
Cleans and conditions
Rich, luxurious suds
Key Features
Cleans dirt & grime
pH balanced
Pleasant fragrance
How to Choose the Right Car Wash Soap
It's crucial that you understand that different soaps are going to serve different purposes. There are three basic car wash soap categories for you to consider, and each of them is going to be good at something different. Let's take a quick look at these three to see what they are all about.
General-Use Car Soaps or Shampoos
This is the most common type of car wash soap or shampoo that you can purchase. It is meant to help you wash your car up really nice without stripping away your wax job. This is the type of shampoo or soap that you will be using for your weekly or monthly car washes. It's the go-to car wash soap option for normal car washing.
Wash and Wax Soaps and Shampoos
Wash and wax soaps and shampoos are meant to give your car a bit more protection. This is a handy soap to use in between normal wax jobs. You likely won't be using this soap all the time, but it can be good to have around. When you want to protect your car, this is a great soap or shampoo to use.
Strip Soaps and Shampoos
These types of soaps and shampoos are meant to strip everything away from the paint of your car. This is an excellent soap to use when you are trying to eliminate imperfections or scratches. Many people also choose to wash their cars with this soap before applying a coat of wax. If you are going to use this type of soap, be sure to buy a version that is meant to be used on painted surfaces for the best results.
Now that you know the three different kinds of soap, it is time to think about what to look for. There are a few basic features that you will want to look for when choosing a soap or shampoo.
The first is how foamy the soap is. Foamy soap is good because it helps your car to get clean by lifting the dirt away from your paint.
You will also want to buy soap that is really slippery, as it works the best.
Try to consider the pH balance of the soap, too. You want to be able to rinse the soap without leaving significant amounts of acidic residue behind. If you can purchase a soap that is biodegradable, that will be even better.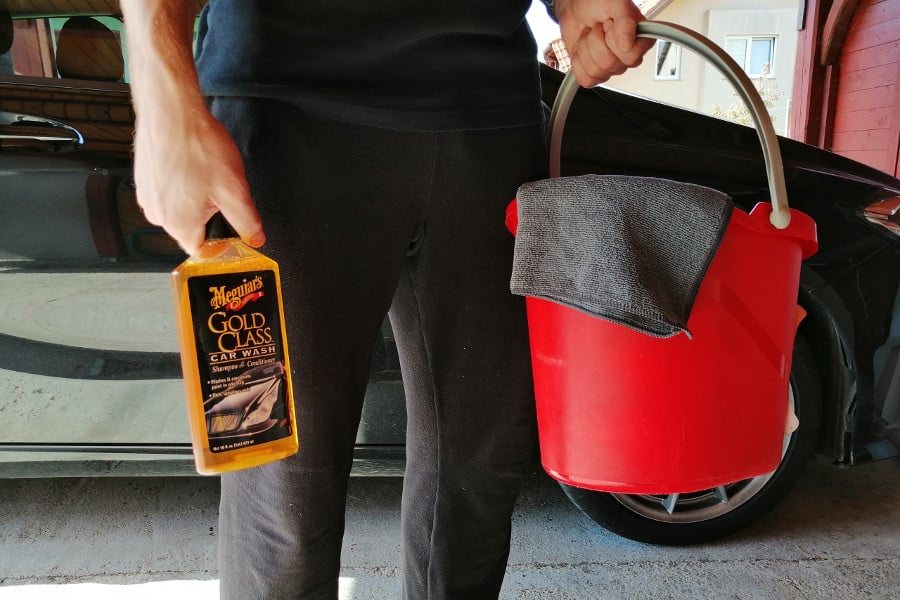 Top 10 Best Car Wash Soaps and Shampoos in 2023
Now it is time to dig into the top 10 recommended car soaps and shampoos. All of these are going to be good for different reasons. You will be able to find a car soap or shampoo that will work perfectly for your needs. Just dig into the details so that you can make an informed purchasing decision.
1. Turtle Wax T-472R ICE Car Wash
This car wash soap by Turtle Wax has proven to be a very popular item on the market. It has been made with fine ingredients and will be a very safe option for your car. This is a good car wash soap to consider buying if you want to treat your car gently. It's even good when you have a very sensitive automotive finish.
You will also be happy to know that this car wash is pH balanced. The foam that is produced by this soap works great to loosen abrasive soils and it cleans your car very well. It can even prevent soils from redepositing on your paint finish. This will keep swirl marks and surface scratches to an absolute minimum.
If you like being able to keep your car looking as if it has just been waxed, then this is going to appeal to you. This car wash soap really locks in that shiny look, allowing your car to sparkle brilliantly when it is clean. It contains special gloss enhancing agents that will keep your car looking amazing. This is even a cost-effective option, so it is highly recommended for many types of car owners.
Turtle Wax ICE Car Wash on Amazon
---
2. Armor All Car Wash Concentrate
You are almost certainly familiar with the Armor All brand if you like taking care of your car. It should come as no surprise that Armor All is represented on this list. They have created a very good car wash cleaner here that can keep your car looking fantastic. This is a universal car wash that is good for many different purposes.
This contains powerful cleaners that are great for lifting away dirt and road grime. It also won't strip your wax job when you use it. This is simply going to clean your car as good as it possibly can. It won't harm your car in any way and it is perfect for all automotive finishes. You can even use this for clear coats.
This clean-rinsing formula is great for washing your car without forcing you to put up with streaks or spots. It can clean even the toughest dirt and grime. If you get your car dirty, then this is a great soap to get it nice and clean. It's a practical soap to purchase that will work well for any car, making it one of the most versatile options on this list.
Armor All Car Wash Concentrate on Amazon
---
3. Adam's Car Wash Shampoo
If you are looking for a truly premium car wash shampoo, then this option is going to fit the bill. This shampoo is truly superb when it comes to eliminating dirt and grime. You'll be able to get rid of all sorts of environmental contaminants without having to worry. This produces thick suds and it is completely pH balanced.
This car wash shampoo is not going to strip the wax off of your car or take away your sealant either. It's even safe on all vehicle surfaces. It can even be effectively paired with a foam gun or foam cannon. If you want a serious shampoo with serious cleaning power, then this is one of the premier options on the market.
Many people use this shampoo for their weekly maintenance washes. It can lubricate all of the paints on your car to lift any dirt away. Your car is going to look really nice once you're done using this shampoo. It's practical to use and the results are undeniable.
Adam's Car Wash Shampoo on Amazon
---
4. Chemical Guys CWS_102 Wash and Wax Car Shampoo with Gloss
If you want to buy a shampoo that is both a wash and a wax, then this is going to be ideal. This is one of the best options to buy when you want to maintain a wax job. It is very easy to apply and the results are going to be very good every single time. You can use this shampoo to keep your car looking fresh and shiny all the time.
You do not even have to rub hard or scrub vigorously when using this shampoo. It cleans your car off very easily. It is going to be good for both mechanical wash applications and hand washing your car. Once you make use of this shampoo, you will see just how impressive the results really are.
To add to this, the shampoo is completely biodegradable. It's even a phosphate-free concentrate. You can nourish the finish of your car in a safe fashion by purchasing this shampoo. It will never strip the finish off of your paint and the process of washing your car will always be as easy as possible.
Chemical Guys Wash & Wax Shampoo on Amazon
---
5. Meguiar's G7101FFP Gold Class Car Wash
Anyone who is looking for the best car wash for black cars is going to be pleased with this offering. This will work excellently to wash your black car off. It is capable of both cleaning and conditioning your car. You can take care of everything that you need to in one simple step.
You will be able to clean your car without having to worry about stripping your wax protection when you use this car wash. The foam does an amazing job of taking away all of the dirt, grime, and contaminants that you have picked up from the road. You will be able to make your paint look as good as possible once you are finished washing.
This car wash is even capable of being used with a foam cannon. It works just as well in a bucket, too. No matter how you want to go about cleaning your car, you will be able to get good results. The rich conditioners of this car wash are second to none. Consider purchasing this if you want to get the best results when washing your car.
Meguiar's Gold Class Car Wash on Amazon
---
6. Mothers 05664 California Gold Car Wash
If you want to find a well-balanced car wash that is going to give you good results, then you should consider this option by Mothers. The California Gold Car Wash is capable of giving you a powerful clean, without dulling your paint. You'll be able to remove all of the grime and other contaminants from your car with ease when you use this car wash.
This car wash has even been pH balanced meticulously. It is perfectly safe to use on your car and will not leave behind harmful acid residue. It has a super-sudsy formula that is not going to leave behind water spots either. You will be able to use this car wash regularly to keep your car looking brilliant.
You can use this car wash to give your car a great shine. It won't remove your current wax job either. This is a truly powerful car wash that has been gaining in popularity for a reason. It works very well and it is safe for your vehicle, making it a good option for just about any vehicle.
Mothers California Gold Car wash on Amazon
---
7. TriNova Car Wash Concentrate
The TriNova Car Wash Concentrate being shown here is a truly premium automobile shampoo. It is capable of cutting through dirt, grime, grease, and anything else that you need to clean off. It will leave your vehicle looking very shiny and it will be properly prepared for a wax. It is a safe product to use and will never damage your tires, rims, wheels, paint, trim, rubber, or glass.
This is even a really good value in comparison to some of the other options on the list. When you buy this, you will also receive a scratch-free mitt. This is perfect for washing your car and is definitely preferable to using an old towel. You'll be able to get many washes out of this concentrate, making it a good purchase to consider for cost-conscious shoppers.
You will be able to use this car wash concentrate as part of a foam gun setup if you choose to. This is also going to work nicely using a simple bucket system. This is a pH balanced detergent that will give you the results that you need either way. You just need to add water to the concentrate and you will be able to rinse off your car expertly.
TriNova Car Wash Concentrate on Amazon
---
8. Optimum (NR2010Q) No Rinse Wash and Shine
This offering from Optimum is very popular among professional car detailers. It is capable of cleaning cars very fast and it always provides users with stellar results. It makes use of an exclusive blend of high lubricating polymers. These can bond with your paint to eliminate dirt, grime, and much more.
You will be able to get a brilliant shine when using this product. It is decidedly simple to use, too. You just need to use two gallons of water to get the best results. You will be able to wash your car using this no rinse wash just about anywhere. It's an extremely practical product that helps to keep your car looking nice.
This is a safe product to use too, so you will not have to be concerned about whether or not it will be good for your car. This will work great for cars, trucks, SUVs, Rvs, motorcycles, and more. It never makes a mess and it is one of the most user-friendly options you can consider because of it. You can save time by not needing to rinse your car and you'll still be able to enjoy great results.
Optimum No Rinse Wash & Shine on Amazon
---
9. Griot's Garage 10866 Car Wash
If you want to get a streak-free shine when washing your car, then this option should appeal to you. This car wash is a really good product that can give your car a nice finish. It produces great suds that work to clean your car very effectively. These slippery suds are some of the best you will find and it really makes cleaning your car an easy process.
This is a car wash that is capable of giving you the deep clean that you need. It is made using premium ingredients and is totally pH balanced. It will safely lift the dirt and grime off of your car's finish to make it look beautiful again. This car wash even includes special brighteners that can enhance the color of your car.
This should be safe to use on all finishes. It won't strip away your wax or your sealant. It is simply designed to give your car a thorough cleaning while making it shine as good as possible. This is a worthwhile car wash option that is worth looking at when you want a premium experience at a cost-effective price.
Griot's Garage Car Wash on Amazon
---
10. Aero Cosmetics Wet or Waterless Car Wash Wax Kit
If you are looking for a premier waterless car wash, then look no further. This car wash wax kit will give your car the gentle cleaning that it deserves. It can protect your car by leaving a nonstick UV protective coating on the surface of your vehicle's paint job. All you need to do is just spray it on and then wipe it off.
This product even uses an eco-friendly formula. It is completely biodegradable and is safe to use on all surfaces. It won't even cause eye or skin irritation if you come into contact with it. This is a very safe product that gives your car a thorough cleaning.
It can be used as either a waterless car wash or you can choose to spray it on after wet washing. You can use this to protect and enhance the shine on your vehicle. It will help you to keep your car looking great while being a very simple to use option. This is a product that is used by many professionals, so it is easy to see why this is such a popular car wash wax kit to purchase.
Aero Cosmetics Car Wash on Amazon
---
Tips for Using a Car Wash Soap
Advice for Washing Your Car
Washing your car is important and you want to make sure that you are going about things in the right way. If you are just now getting into washing your car yourself, then you might not know how to make good use of all of the soap and shampoo products listed above. This is no reason to fret, though. I can give you a little bit of important advice so that you will have a good overall car washing experience.
One of the first things to remember is that you are going to want to use a separate sponge or towel to wash your wheels and tires off. You do not want to use the same towel and wind up getting nasty stuff on your car's finish. This is going to be counterproductive to what you're trying to accomplish. Sometimes, you may want to use dedicated wheel cleaners to clean your wheels off, but there are also options listed above that are safe to use on your wheels.  
Try to pay attention to the way that you are washing your car as well. You want to avoid making small circular motions with your microfiber towel or sponge. This can wind up creating annoying swirl marks that are going to negatively impact the results of your cleaning. Also, remember to rinse your sponge often to avoid having dirt get mixed in with your suds.  
Rinsing the surface of your car before you start washing it is usually ideal as well. This will remove some of the dirt from the car and can keep you from accidentally scratching the car during the washing process. It doesn't take long to do and it is usually going to be your best bet. As long as you keep these simple tips in mind, you should be able to have good results.
How Often Should You Wash Your Car?
Learning how often you should wash your car is also very important. There honestly is not a clear answer to this question, but you definitely don't want to wait too long. Some people wash their cars weekly and others will wash their cars on a monthly schedule. It will sometimes depend on how dirty you get your car and how often you drive it.
Most average drivers can get away with washing their cars once or twice per month. If you really care about keeping your car in the best condition, then washing it once a week makes a lot of sense. You just have to determine what your budget is and whether or not you think this is going to be worthwhile. If your car is not dirty after a week of driving, then it may be a waste to bust out your top-tier car wash soaps or shampoos.
Try to use your best judgment. You will be able to keep your car clean while also protecting it. Many of the soaps and shampoos listed above provide protection for your car. They can protect the wax job and make things look even more brilliant than before. If you use high-quality stuff, then you'll likely be able to get away with waiting a few extra weeks before needing to wash it again, too.
Foam Gun Vs. Hand Wash
Another important thing to think about is whether you should invest in a foam gun or not. Many people love foam guns and they can be very useful. They may not be an absolute necessity, though. Foam guns can be somewhat pricey, so many people are wary about spending the money.
Foam guns (like this one) are a safe way to soap up your car and it can be easier for some people to use this method. Using a two-bucket system and washing your car by hand is also going to provide you with good results. If you use good washing techniques, then you will have a safe car washing experience. Foam guns can be safer and faster to use in some ways, but they aren't required for a good car wash.
You should keep foam guns in mind as they may come in handy for you. If you love taking care of your car, then it makes sense to consider owning one. Just understand that you can still get great results by giving your car a thorough hand wash. Weigh your options and move forward with the option that works best for you.
In Conclusion
Now that you have read all about the best car wash shampoos and soaps, you will be able to decide which one suits your needs the best. All of them are incredible in their own way. You will be getting a car wash that works great no matter what, so just take the time to read about all of them before moving forward. Washing your car is going to be a much better experience when you have the right tools and go about things in the right way.
RELATED POSTS: