Buying a steering wheel cover is probably one of the best cheap investments for your car. Yet, some people think that they should buy a cover only when their steering wheel gets worn out. I can't disagree with that, but I believe that such covers can also provide numerous benefits for owners of new vehicles.
Above all, a good cover can help you drive safely. It will prevent your hands from slipping down the wheel and provide you with a better grip.
Also, remember how the steering wheel gets too cold during winter or too hot during summer? Well, with the right cover, you can forget about waiting for it to return to a bearable temperature.
Moreover, a steering wheel cover can add style and help you give your car a nice personal touch.
Such products will suit different driving styles and vehicles because there is an overwhelming amount of available options on the market today. Therefore, it seems incredibly hard to pick the best one, especially because drivers have their own personal preferences.
Before you get down to the meat of the article, which is the list, make sure to check out the features you should look for in a cover. Even though some covers are more stylish than others, not all of them will provide enough comfort for your hands.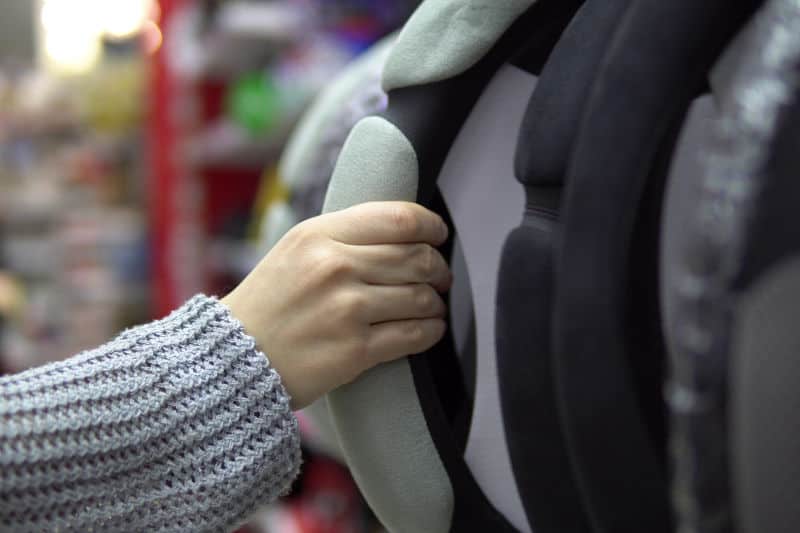 Features to Look for in Steering Wheel Covers
Aside from making your car look stylish, steering wheel covers should also give you a good grip. So, in order to pick an affordable cover that will actually help you while driving, you should consider all of the following aspects:
Price
When you want to buy something, the first thing you consider is its price. When it comes to steering wheel covers, you should know that the more you pay, the more you'll get. In other words, don't expect a cover made of genuine leather if it's suspiciously cheap or even discounted.
It's also worth mentioning that there are genuine leather covers that come with long warranties. I'm talking about year-long warranties and even longer. Although such covers are, in most cases, costly, they do pay out in the long run.
The Size and Type of Fit
Some steering wheel covers stretch, and some don't. But if they do, you need to make sure not to buy one that's even slightly bigger because it will definitely bunch up during the ride. It should be tight enough so that you can stretch it over the steering wheel even if it takes a bit of effort.
Almost all steering wheel cover packages mention the details about the size and fitting. So, always read what the manufacturer has to say about its model in order to buy the right one.
Cover Materials
You can find covers that are made out of different materials. However, I would personally recommend only some:
It goes without saying that natural materials like leather should always be your first choice. But then again, not all drivers are able to afford such a cover, especially if they need one right away.
That's where the synthetic materials come into play. If you decide to buy such a cover, you can expect it to be made out of polyester, microfiber, or some type of synthetic blend. I personally prefer microfiber because it feels nice to the touch.
Nevertheless, it's always a better option to spend an extra buck or two and get yourself a cowhide cover. It may not be as soft as the leather one, but it will surely be less expensive. The only downside to such covers is that they are not very versatile when it comes to color and design.
Covers Made for Hot Weather and Sweaty Hands
Sometimes hands sweat a lot during driving. And sometimes, sweating doesn't have to do with the hot weather at all. It's just how it is, and it's not pleasant, to say the least. Not to mention that sweat can ruin the leather.
Many of you have probably tried to prevent sweating with different skin products like powders and lotions. In the end, you probably got tired of rubbing such products on your hands every time you're behind the wheel.
However, there are steering wheel covers out there that can help you solve this problem. They are made out of materials that absorb sweat and do not irritate the skin. Most of them will stay cool enough even when the temperatures outside skyrocket during summer.
So, how do you find one? Manufacturers usually like to boast about the no-sweat feature, and you will probably be able to google such covers instantly. Or you can simply continue reading this review. There are a few entries on the following list that might grab your attention.
15 Best Steering Wheel Covers on the Market (2023)
1. Valleycomfy Leather Steering Wheel Cover
Valleycomfy is a genuine leather product that comes at a reasonable price. The cover is soft to the touch and will give you an incredible amount of comfort while you steer. Moreover, your hands will feel well-rested even if you travel long distances.
With this cover you can forget about the usual wear and tear that happens over time — the quality of the leather is astonishing, and so is the sewing! Seeing this product will make you believe that it can withstand a considerable amount of stress.
In spite of its sturdiness, Valleycomfy incorporates a sleek and classy design that comes in different colors too. So, you'll probably be able to find one that matches the interior of your car.
Above all, this cover will provide you with a tight grip even if your hands sweat excessively. So, no more slipping while you're steering! Though I have to warn you — it might be a tad bit harder to put on the wheel. But if you are patient enough and if you follow the instructions closely, you will prevent creases from showing up.
Finally, you should know that Valleycomfy supports all standard steering wheels that range from 14.5 to 15.5 inches in diameter. Furthermore, customers usually praise how this cover fits on most BMW models.
---
2. SEG Direct Microfiber Leather Car Steering Wheel Cover
If you're on a tight budget but also need a durable cover that looks decent, then you should check out Seg Direct. It looks expensive, and it feels expensive, but still manages to come at a great price.
This cover is made out of high-quality microfiber that is also eco-friendly. It feels nice to the touch, and it won't irritate your skin even a bit. The tightly-sewn padding is as soft as a cloud — but that doesn't mean your hands will slip if you take a sudden turn.
Moreover, Seg Direct comes in multiple different colors, and it can match various car interiors. Yet, I really need to emphasize the sheer beauty and classiness of the black and beige variant.
You'll be able to put this cover on all standard medium-sized steering wheels with a diameter between 14 ½ and 15 inches. According to some users, the installation is a breeze when compared to other similar products. They also mentioned that Seg Direct withstands high air temperatures without any problem.
However, you shouldn't expect this one to last as long as a genuine leather cover. But if you consider its price, Seg Direct is probably one of the best cost-effective substitutes for the real thing.
---
3. BOKIN Universal Steering Wheel Cover
Bokin would be a great option if you're looking to add a dash of vibrance to your vehicle. However, it also comes in black. Unlike other entries on this list, this cover has a slightly rugged appearance due to the padding on the sides. But in spite of its looks, it's extremely comfy while providing a secure grip.
Bokin will look great in any SUV or Volkswagen vehicle. However, it supports all standard steering wheels from 14 ½ to 15 inches in diameter.
Also, the materials used for this cover are top-notch even though they are synthetic. The viscose and microfiber leather won't be susceptible to extreme weather temperatures and will withhold a fair amount of stress.
In other words, this product's durability shouldn't be a problem. But if you're still unsure about its quality, then consider that it comes with an 18-month guarantee.
With Bokin, you will be able to leave the car parked in direct sunlight for hours without the cover getting unbearably hot. Moreover, since it's made out of synthetic materials, you'll be able to clean it without hassle.
The downside is that you might need extra strength to stretch it over the steering wheel. But consider that as a one time job if you do it right. So arm yourself with patience and don't give up too easily.
---
4. Motor Trend GripDrive Pro Synthetic Leather Steering Wheel Cover
Motor Trend is well known for producing durable and quality products that are also affordable. The GripDrive steering wheel cover is one such product.
Remember how I mentioned that there are covers made specifically with sweaty hands in mind? Well, if your hands sweat excessively, GripDrive should be your cover of choice. The breathable materials used for manufacturing provide good insulation and absorb sweat in hot weather.
Even though the material is synthetic, it will stay cool even after being exposed to direct sunlight for a while. In other words, you can forget about waiting for the steering wheel to cool off when you park in such conditions.
What most people like about this model is the sleek and unobtrusive design. It will blend in perfectly with the steering wheel, and it won't stand out from the rest of your car interior.
Most importantly, the manufacturer states that the cover is airbag certified. No one wants to buy a cover that will potentially get in the way of an airbag, so this information really puts my mind at ease.
Also, if you already had a steering wheel cover, you're probably aware that some of them leave that chemical smell behind. The good news is that GripDrive is completely odor-free.
The bad news is that it will only fit small steering wheels. More precisely, only those that have from 13.5 to 14.5 inches in diameter.
---
5. Mayco Bell Steering Wheel Cover
Mayco Bell's steering wheel cover is, above all, eye-catching. It's classy, elegant, and comes in so many different variants and colors that you will have a hard time picking one.
The manufacturer states that it fits a wide range of vehicles like Toyota, BMW, Cheetah, Chevrolet, Fiat, Ford, and others. It's no wonder — it supports all standard steering wheels that go from 14 ½ to 15 inches in diameter.
The leather imitation used for this product is of high quality, and it won't wear off easily. The padding is soft enough for the hands to feel comfortable, but it also provides a decent grip.
On the downside, it might be a little hard to put on the steering wheel because it was intended to fit snuggly. Still, the manufacturer states that you should put it in hot water first in order to loosen it up a bit.
All in all, Mayco Bell's cover is one of the better entries on this list. It will add style while preventing your hands from slipping down the wheel.
---
6. Vitodeco Luxury Genuine Leather Wheel Cover
Let's face it. Entering a car and smelling something weird is one of the worst things that can happen. In some cases, the main culprit of such an odor will be none other than your steering wheel cover. But not all covers are like this. For example, Vitodeco's cover is made out of exquisite one-piece leather that is completely odorless.
What's also amazing about this product is that it's scratch, sunburn, and wear and tear resistant. So, you can expect to use this one until its design bores you to death.
The downside is that design variety is limited when compared to some other entries on this list. Namely, you will be able to choose between the usual colors like brown, beige, gray, and black.
Users mostly praise this cover for its dragon-scale pattern that provides an outstanding grip. Moreover, they also praise it because it's easier to install than other products from the same price range.
The standard variant of Vitodeco's cover fits steering wheels that go from 14.25 to 14.75 inches in diameter. However, there are also small and large options for vehicles with non-standard steering wheel types.
---
7. Rayauto Steering Wheel Cover
If you're a sports car enthusiast or simply like the idea of having a sports car, then Rayauto's design will bring some racing spirit to your car's interior. This cover is robust, rugged, and simply put — completely badass.
Most steering wheel covers look alike, but this one really stands out from the rest. And it's not just about the way it looks; it's also about its top-notch characteristics that will actually help you while you drive.
First of all, Raysell obviously put a considerable amount of effort to make its Rayauto cover completely odorless. Second, they put extra thought into making it heat-resistant. You can expect that this product will stay cool during summer and warm enough during winter.
The choice of materials is also a benefit. Most users will realize that it absorbs sweat with ease and that it doesn't irritate the skin while providing a secure grip at the same time.
The only downside is that some may find the colors too bright for their car — they might not blend in well with older or more elegant car interiors. Nevertheless, you shouldn't worry when it comes to its size compatibility. Raysell states that Rayauto fits most standard steering wheels that are around 15 inches in diameter.
---
8. Moyishi Leather Steering Wheel Cover
Moyishi's weaved leather pattern on the sides looks both manly and classy. Moreover, it also prevents the hands from slipping even during sudden u-turns.
Even though Moyishi is made out of PVC leather instead of the genuine one, it is still quite durable and will sustain an incredible amount of stress before it wears out.
On the other hand, PVC leather might irritate the skin after prolonged use. So, drivers with sensitive skin should maybe look for another option, just in case.
Moyishi is easy to install. It won't require too much strain on your part in order to place it, especially if your steering wheel is somewhere between 14.5 and 15.25 inches in diameter.
Aside from being odorless, another extra benefit of this cover is the wide variety of different designs. And I'm not only talking about colors, but also textures! Some of the options imitate mahogany and are combined with different shades of beige. They look absolutely stunning, so make sure to check them out.
All in all, once you place Moyishi on your steering wheel, it will look like it was installed at the factory.
---
9. Sino Banyan Cystal Steering Wheel Cover
Sino Banyan really takes the design of steering wheel covers to a whole new level. There are covers that look classy and elegant, but this one screams luxury all the way.
Sino Banyan is all about the bling and is made for the most confident drivers out there. However, its design never crosses the line of good taste.
There are numerous variants of this cover. Some of them come in purple plush, while others imitate black leather. In any case, you should at least check them all out even if your car is not as luxurious as the latest Mercedes-Benz S-class.
The rhinestones might feel a bit uncomfortable if you travel long distances. However, some drivers will argue that they can simply massage their palms and relieve fatigue. In the end, it all boils down to personal preference. But you should know that the padding is soft enough to provide an amazing amount of comfort during short trips.
The manufacturer states that Sino Banyan will fit most steering wheels that are around 15 inches in diameter. Yet, they also say that potential customers should feel free to contact them if they have any further questions.
In conclusion, this product is definitely something out of the ordinary. And if you like your car all pimped-up, you will love Sino Banyan. But before you click on the shopping cart icon, let me give you one last piece of advice.
I wouldn't recommend going with the plush version if your hands sweat a lot. Such a cover will feel itchy and extremely uncomfortable, especially during hot summer days.
---
10. Rueesh Microfiber Leather Car Steering Wheel Cover
Another microfiber entry on this list comes from Rueesh. The manufacturer emphasizes its sturdiness by stating that it weighs more than an average steering wheel cover.
Whether that's true or not, this product indeed looks durable. Moreover, the manufacturer also gives a two-year warranty. If the product doesn't live up to your expectations, you can simply return it, exchange it, or even get a refund.
What I would really like to emphasize about Rueesh's steering wheel cover is the incredible grip that allows better control on the road even when it's slippery. So, all those reluctant new drivers should consider checking this cover out.
Finally, Rueesh's cover will fit most middle-sized steering wheels. Yet, it will be perfect for those that have between 14 ½ and 15 inches in diameter.
---
11. Ethnic Style
Ethnic Style by A-Lighting is a perfect choice if you want to add a dash of color and vintage spirit to your van or car. Moreover, it's also cheaper than others because it's made out of woven coarse flax cloth.
Such material is great for drivers with sweaty hands. It will absorb all sweat and feel pleasant on the skin during the ride. With this cover, your palms will be grateful, and there will be no chance for them to slip down while you steer.
On the downside, the colors may fade if you leave the cover exposed to direct sunlight for a long time. Yet, it's quite resistant to wear and tear due to the quality of the material.
A-Lighting's Ethnic Style will fit snugly on all steering wheels that are about 14.5 inches in diameter. But you can also contact the manufacturer for extra details if your steering wheel is slightly bigger or smaller than that.
All in all, if this cover rocks your boat at first sight — don't have second thoughts about purchasing it. Just release your inner hippie and go for it.
---
12. Aumo-mate
Some Aumo-mate designs may be a bit over the top for most drivers out there. However, there are a few select variants that are more down to earth.
Whether you like its style or not, you should at least consider buying this product, especially if you're on a tight budget. It comes at a great price and offers great durability.
Moreover, as soon as you put your palms on it, you'll realize how comfortable it is. The leather is smooth beyond belief, and the padding is as soft as a cushion. It's perfect for all drivers who spend long hours behind the wheel.
The design is also ergonomic and will provide you with a secure and non-slip experience. You will be able to grip the steering wheel tightly without putting too much strain on your palms.
Also, you'll find this model to be extremely durable, especially in high temperatures. The manufacturer states that it can withstand temperatures that range from 76°F to 464°F.
Moreover, this cover is compatible with a wide variety of steering wheels that have up to 15 inches in diameter. However, I wouldn't recommend it for wheels that are smaller than that because you'll need to deal with creases that will show up each time you steer.
---
13. Dee-Type
Dee-Type's steering wheel cover incorporates a modern design that can freshen up the interior of your seasoned vehicle. You'll be able to fit it on all standard steering wheels that have around 15 inches in diameter.
Aside from all-black, this cover also comes in black and white, black and brown, and black and red. Sports car drivers will also love its two-color design because it's sleek and distinctive but still unobtrusive.
However, this cover is not just about the looks. The grip that it provides is phenomenal due to small ergonomic bumps on the sides. Moreover, the padding is soft enough for long rides and its contours provide a massage-like effect.
Dee Type decided to use eco-friendly leather imitation for this product. Such material is breathable enough, and it won't irritate your skin. It's also of high-quality and resistant to wear and tear.
Once you put this cover on, it will fit tightly and remain stable even if you need to steer aggressively. And if you're worried about leaving it exposed to direct sunlight or high temperatures — don't be. Dee Type's cover will maintain its shape no matter what.
Even though it might not be the cheapest cover on this list, you can consider it as a high-end budget option. You should definitely check it out if you're looking for a reliable product that also looks surprisingly nice for its price range.
---
14. JYPC
JYPC's cover is another exclusive anti-sweat option in this review. The manufacturer opted to use a BPA-free silicone for this model, which makes it completely odorless. Thanks to it, you can also forget about skin irritation and allergies.
Out of all synthetic materials, a BPA-free silicone is one of the best choices for a steering wheel cover due to its characteristics. It will never lose its shape because it's waterproof and its color won't fade if left exposed to sunlight. Also, you'll find it to be completely resistant to wear and tear — unless you decide to damage it on purpose.
Silicone is easy to maintain. It won't withhold sweat, and you will be able to wipe off all filth with a bit of water and a simple tissue.
But what makes the JYPC's model stand out from the rest is the embossed 3D grip design. It increases friction, and it will prevent your hands from slipping down. Also, its bumpy surface will massage your palms and relieve fatigue during long rides.
Another amazing feature of this cover is that it's thick enough to reduce vibration of the steering wheel. With less vibration, you will forget about hand strain. Moreover, you should know that it will fit all wheels that range from 13 to 15 inches in diameter.
All in all, if you don't feel like buying this world-class cover, wait until you see its price. It's not made out of leather, but if it's the performance you're looking for, JYPC's model should be at the top of your wish list.
---
15. Wheelskins
All those who want a genuine leather product should take a look at Wheelskins. Its design is straightforward and simple. If you simply want to show the world that you have a luxurious and high-quality leather cover, then this product is for you.
Wheelskins is hand-crafted out of domestic cowhide, and it comes in numerous different tans. So, you will be able to match it with your car interior with ease. Yet, if your car has a lot of shiny wood inside and maybe even some gray or beige seats, you should check out the burgundy variant. It may be an unusual choice, but it will definitely enhance the classiness of your vehicle.
This cover supports all wheels that have an outside diameter between 14 ½ — 15 ½ inches. In other words, owners of small or large wheels will have to contact the manufacturer and see whether they can order a custom one.
---
How to Install Your Steering Wheel Cover
Usually, installing steering wheel covers won't pose a problem. Yet, some are harder to put on than others. For example, you can simply stretch some covers over the wheel while you'll need to stitch over others. In any case, the installation difficulty will depend mainly on the position of the wheel, its size, and of course, the cover model.
But if you're not sure how to put on a cover — don't fret. Go to the linked article, and you'll see a detailed guide with instructions and examples that will ease up the installation process for you.
More Reasons to Get a Steering Wheel Cover
Steering wheel covers are a great way to update an outdated and worn out steering wheel. Yet, their purpose is not only to enhance the style of your vehicle.
Such covers also provide comfort during long rides and prevent your hands from slipping down the wheel in some crucial and risky situations. And if you feel that your hands are sweating too much behind the wheel, then you should definitely consider buying one that will absorb sweat.
Finally, if your cover still heats up when exposed to direct sunlight, you should also check out this nice windshield sunshades. Aside from other solutions, they are one of the best ways to protect your steering wheel from sunlight during hot summer days.
YOU MAY ALSO LIKE: