Cars are as much about attracting attention as they are about transport. Appearance is just as important as performance, and your vehicle should be spotless from top to bottom. A car may be fast and flashy, but it's no good if it's covered in dirt. That is where the best tire shine for your car steps in.
Front and back bumpers, spoilers, exhausts, and neon lights should not be more important than wheels. For some reason, when it comes to cleaning car tires are somewhat neglected. Imagine wearing a flawless, sharp suit coupled with muddy, worn-out shoes. Such a sight would definitely raise a few eyebrows, right?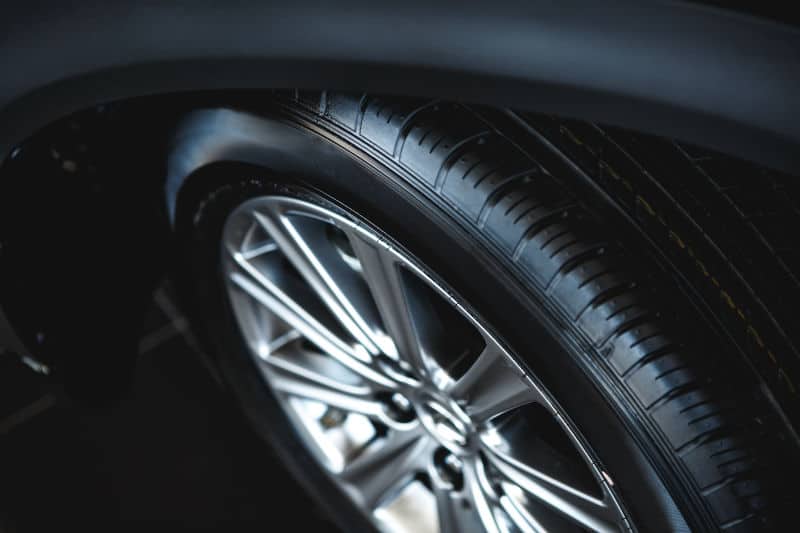 Different Types of Tire Shine Products
Tire shines, or tire dressings, mostly come in two different types, both of which are equally present in today's market. The first type uses non-water based carriers, while the second type is water-based. Both of these types have their benefits and peculiarities that will be considered in this review.
Non-Water Based Tire Shine
Some see solvent-based tire shines as somewhat risky to use. The main issue with dressings based on solvent is that they are considered to be VOCs (volatile organic carbon compounds) like benzene, methylene chloride, and tetrachloroethylene.
The proper way to apply this kind of tire shine is in thin layers because solvent-based tire shines tend to evaporate more slowly. That ensures preventing tire sling, which could occur if the dressing is applied in thick layers.
Water-Based Tire Shine
Unlike solvents, water-based tire shines are eco-friendly and much less sticky. That means that even if they sling and end up on car paint, there's less chance they'll do significant damage. Also, they show more versatility in terms of use and can be used for cleaning other parts of your car. Don't be afraid to use them on door seals, unpainted bumpers, wheel arches, or dashboards.
10 Best Tire Shines on the Market (2023)
Some people might not be familiar with tire shine products. Also, there are other people who might be familiar with this kind of product but indecisive about which one to go with. For these and other reasons, I decided to review 10 best tire shines available right now.
1. Armor All Extreme Tire Shine Gel
When it comes to personal preferences, some people like sprays more than gels. The reasons behind this personal choice are directly related to usage. Sprays are somewhat easier to use and require less effort. Nevertheless, gels are much less messy and are usually more durable.
This product from Armor is a gel-based tire shine that is hard to resist. After applying it, the tires will have a slick, dark, wet look and a truly stunning appearance. It is extremely durable and doesn't come off easily at all. Armor All Extreme Tire Shine Gel offers long-lasting protection against sun and rain, as well as other harmful elements like UV rays.
There is another thing to consider regarding this gel-based shine. If you opt to buy this product, you are guaranteed 100% of your money back in case you decide that it hasn't lived up to your expectations. Personally, I am always thrilled with such offers, and I'm never afraid to exercise the right to a refund.
The gel comes in an 18-ounce bottle, which is pretty much the standard when it comes to tire shines.
Main Features:
Great durability
Less mess
Refund guaranteed
Dark wet look
---
2. Adam's Tire Shine
Yes, there might be cheaper products than Adam's Tire Shine out there on the market, but this particular product is designed for a specific type of customers. If you are looking for a deep shine or a wet tire look, then you might find this product interesting.
Adam's Tire Shine is a silicone-based, banana smelling shine for tires. It gives you options for two different looks, depending on your preferences and application. Using the spray bottle will give your tires an ultra high gloss look. On the other hand, using an applicator will make your tires look much less glossy, giving them a natural wet look.
After the final touches, the only thing left is to wait. Ideally, for long-lasting shine, you should wait for about half an hour. Nevertheless, a 15-minute wait will do the job if you're looking for a short-term gloss. Also, this product comes in a 16oz bottle, which can be enough for a few months if used properly.
Main Features:
Deep, dark shine
The option of two different looks
Banana scent
Silicone-based
16-ounce bottle
---
3. Cardifant Ultimate Tire Shine
Carfidant Ultimate Tire Shine is a fine product that comes in the form of a spray. Its 18-ounce bottle is pretty straightforward and easy to use. First, you have to wash your car and clean the tires. After that, just spray the shine, and your tires will look as good as new.
This product features a nano-polymer formula that ensures longer protection against all kinds of weather conditions. UV rays, grime, salt, and dirt will never bother you again. It is also free of any components that could harm your tires, such as dyes and scents. A free applicator is provided if you wish to treat your tires more thoroughly and carefully.
Furthermore, it will prevent yellowing and cracking and will provide your tires with all the care and protection they need. The shine is dark and slick and will definitely make your tires stand out. It is also worth mentioning that you can control the shine by choosing to apply one or more coats. This shine offers good value for money and would be a solid choice for anyone looking for a quality tire dressing.
Main Features:
Nano-polymer formula
Free of volatile chemicals
Free applicator provided
Long-lasting shine
Dark and slick shine
---
4. Chemical Guys TVD11316 Tire Kicker Extra Glossy Tire Shine
Tire Kicker Extra Glossy Tire Shine by Chemical Guys is a water-based shine for tires. Applicable materials include rubber, plastic, and vinyl, so you can also clean some other parts of your car. This product will provide your tires with a deep black shine. Furthermore, it will also ensure the tires don't fade due to exposure to sunlight.
Its state-of-the-art formula ensures easy application and stunning shine. When applying, you can use a brush, or an applicator, just like with other products of this kind. This shine will protect your tires from the volatile UV rays, which can lead to cracks and discoloration. It is worth mentioning that this product is very versatile and you can use it on both the exterior and interior of your car, as well as engine bays.
As I've already mentioned above, this product is extremely easy to use. The first thing you should do is clean your tires. After that, shake the bottle well and apply 2–5 sprays. Be sure to apply the spray evenly, then just rub it in thoroughly and leave it to dry for about 10 minutes.
Main Features:
Versatile
State-of-the-art formula
Extra glossy
Water-based
Deep black shine
---
5. Griot's Garage 10938 Black Shine Tire & Trim Coating
Griot's Garage 10938 Black Shine Tire & Trim Coating is a premium product with a wonderful finishing touch. The shine is brilliant with superb coverage and control and second-to-none durability. If you are experiencing trouble with your tires durability-wise, this might be a worthy solution for you. After all, your tires require the same attention to detail and treatment as the rest of your car.
Griot's Garage Black Shine offers an efficient shield against UV, grime, and dirt, as well as a fine-looking dressing. It is water-resistant and can also be applied on plastic and trim. This product also features a pleasant scent to improve user experience, which is a really nice touch from Griot's. Some might find this particular feature unnecessary and even pointless, but why not give your tires a nice smell in addition to a nice shine?
Being aerosol-based, this product is easy to apply and dries fairly quickly. Some of the spray may end up on your paint job, but that's not unusual with sprays. Lastly, Griot's Garage 10938 Black Shine Tire & Trim Coating comes in a 15oz bottle, which is a bit less than the standard.
Main Features:
Great durability
Aerosol-based
Has a nice scent
Water-resistant
Pleasant scent
---
6. 303 Products 30387 1 Pack Tire Balm and Protectant
303 Products 30387 Tire Balm and Protectant is a prime example of its kind and clearly shows why tire shine products are so popular.
It goes without saying that this particular product ticks both of those boxes. If you want a more subtle look for your tires, then one coat will be enough. If you are looking for a more extravagant appearance, simply add a few more coats. Believe me, whichever of the two you prefer, you'll be left speechless.
When it comes to protection, look no further. It doesn't get much better than this. There's no need to worry about the tires cracking, as that's not happening with this balm. This shine features a supreme UV protection and an effective non-sling formula.
Before using the product, you ought to shake it well. After that, gently apply the balm on your tires. The drying period is approximately 15 to 30 minutes. It comes in a 16oz bottle.
Main Features:
Adjustable shine
Superior protection
Non-sling formula
16-ounce bottle
---
7. Trinova Tire Shine Spray
The Trinova Tire Shine Spray might be a bit pricier than some, but it's an absolute game-changer. It is quite long-lasting and can last up to a few weeks, so you don't have to think about cleaning your tires every few days. This spray will ensure your car tires have a lovely, wet shine. Also, it prevents cracks and fading while removing all that stubborn dirt and grime.
A great thing about this shine is its silicone base. It means it's not volatile and won't ever damage your tires. Although the shine this product creates is nice, it's not as strong as with some other similar products. It seems to be more of a protectant than a dressing.
This product is highly recommended by most users and for a good reason. It is extremely easy to apply and protects your tires from wear and tear. After applying it, you won't have to worry about UV rays damaging your tires anymore. All you have to do is spray the tires, and then leave them for some time. It sells in an 18-ounce size bottle.
Main Features:
Lasts several weeks
Very easy to apply
Strongly recommended by many users
Wet shine
18-ounce bottle
---
8. Tire Dressing Aircraft Grade Rubber Tire Care Conditioner
Aircraft Grade Rubber Tire Care Conditioner is a unique product and somewhat different than other products featured on this list. As a matter of fact, this tire shine was originally meant to be used on aircraft tires! Furthermore, being designed for aircraft, this product meets Boeing Aircraft Specifications!
This tire dressing is solvent-based and features a high-quality formula. If you prefer a glossy or a wet look, then this shine is probably not for you. It provides the tires with a classy matte or satin finish and a fresh look. Don't worry about dirt and dust, though, as this product ensures a high and long-lasting protection.
Being it's a spray applying this product is easy and doesn't require more than a few minutes of your time. The lasting period is about three weeks, which is extraordinary and a big plus. Besides dust and dirt, it also shields the tires from UV rays and harsh weather conditions. You can use it on vinyl, rubber, and plastic.
It is sold in a container, and a hand pump comes with it, so it's quite easy to use. Also, one of its main strengths is versatility. Trucks, cars, ATV, and aircraft tires can all be treated with this shine.
Main Features:
High versatility
Matte or satin finish
Highly durable
Solvent-based
High-quality formula
---
9. Meguiar's NXT Generation Insane Shine Tire Coating
Meguiar's NXT Generation Insane Shine Tire Coating lives up to its name as it produces the most extraordinary shine. It gives the tires a sensual, deep black look more than worthy of your car. This product truly goes well above and beyond the call of duty when called upon.
This shine from Meguiar's features Engineered Synthetic Polymers that stick to the rubber in such a way that you won't have to even think about it for a few weeks. Furthermore, this product prevents yellowing, fading, and aging that come from everyday use and exposure to weather. These polymers help the coat last quite long, longer than most other shines.
This product is actually an aerosol formula that is quite easy to use and dries quickly. It will make your tires look wet and extremely shiny. The dressing doesn't come off easily and is there to stay. The protection from grime and dirt is supreme, and there's nothing to worry about on that end. You could even live in the desert, but the sun's UV rays wouldn't pose a problem for your car's tires.
To apply, simply approach your car and use the spray on your tires. If there's any excess of the shine, you can remove it by a piece of cloth. It couldn't be any easier.
Main Features:
Extreme shine
Features ESP
Very long-lasting
Engineered Synthetic Polymers
Aerosol based
---
10. Tire Shine Gel by CarGuys
This particular product from CarGuys might be the best one around. This car shine comes in the form of a gel and is highly efficient and reliable. Just apply it, let it dry, and it will stick around for a long period of time. After you're finished, your tires will look super fresh and glossy.
This shine is not volatile so you can also use it on other plastic, rubber, or vinyl parts of your car if you wish. Putting on just one coat will give your tires a classy matte finish. If you are in dire need of more gloss, just add another layer, and you'll see the difference. It features a stunning polymer additive that protects tires better and gives them a restored look.
This shine will prolong the life of your tires and protect them better than most shines. Furthermore, it doesn't contain any chemicals that could damage the tires. The only concern is that it comes in an 8-ounce bottle, which is too little compared to what you have to pay for it. Also, a microfiber applicator is included, although it is one of low quality.
Main Features:
Silicon-based
Contains polymer additive
Glossy or matte finish
Contains polymer additive
Microfiber applicator
---
Features That Make a Good Tire Shine
There are certain things that not everyone might be aware of when considering to buy a tire shine. Drivers who just recently got their license, for example, might not be familiar with tire shine products, their benefits, or how and when to use them.
Things like UV protection and ease of application are something every (good) tire shine should feature. On the other hand, applicator pads don't come with every tire shine, and finish results can vary from product to product.
UV Protection
UV protection gives tires a shiny, glossy finish as well as protection from the sun's volatiles rays. Most tire shine products contain UV protection, more or less. Those who live in areas that get a lot of sun throughout the year might want to consider getting a tire shine with stronger UV protection.
Ease of Application
Tire shines usually come in the form of either a gel or a spray. The use of both gel and spray is effortless, and it is extremely easy to apply either on your tires. Using spray is pretty straightforward as all you have to do is spray your tires to the point when you think is enough. On the other hand, the gel needs just a bit more attention and might take a bit more time to apply.
Shine Control
Besides a shiny, glossy finish, some products offer a more subtle finishing note for your tires. If you don't want your tires to gleam and sparkle, you can opt to go with a product that gives you kind of a classy satin or matte finish.
Applicator Pads
Applicator pads are used to rub in the tire dressing. Rubbing it in properly will give your tires an even, flawless coat. Some products don't come with applicator pads though, so they have to be purchased separately.
The Right Way to Apply Tire Shine
Each product has its own application and set-up instruction. Nevertheless, there are some general rules you should follow when using tire shine. The next few concise and easy-to-follow steps will help you apply tire shine properly and efficiently.
Wash Your Tires
First and foremost, your tires need to be clean before the application of tire shine. The best thing to do would be to wash the outside of the car entirely (including tires). It wouldn't make much sense applying a shine on something that's dirty. Moreover, it would only make the dirt and grime stick to your tires and make it more difficult for you to clean the tires afterward!
Dry Your Tires
After washing and cleaning the tires, it is an absolute imperative that you dry them properly. Just use any kind of cloth or a towel and make sure that you remove all excess water. Wet tires will prevent shine from sticking and could lead to it slinging onto your car's paint job.
Apply the Tire Shine
After you're done with the prep work, it's time to apply the shine. When using a spray, you should keep the bottle as close to the tire as possible to give you more control. Additionally, you should also look to use an applicator as it helps apply the shine evenly. You can use applicators such as a curved tire applicator pad, a tire dressing brush, or a microfiber pad.
Additional Tips
After applying the shine, remove all excess of it and let it dry thoroughly. But don't leave your car under direct sunlight, as it can prevent the shine from sticking properly. Another weather aspect you should avoid is rain.
Benefits of Using Tire Shine
The benefits of using tire shine on your tires are of dual nature, meaning that there are two equally important aspects that you ought to consider.
First of all, there are good looks, something that's inseparable from the image of a perfect car. No matter if they're old or new, cars are meant to be tip-top which can't be accomplished if a car is covered in dirt and grime. Tire shine gives tires a dark and wet look, making them appear extravagant and spotless.
Secondly, besides making tires catchy, there is another benefit that should be taken into consideration. Tires are not indestructible and are not meant to last forever, but their life can be prolonged if treated properly. Tire shine will help tires wear-out less and keep them in good shape for a longer period of time.
Other FAQs About Tire Shines
Is Tire Shine Bad For Your Tires?
Well, that depends on several factors. First of all, it depends on whether you use the product properly. Each product has its own application instructions, and these are usually given on the back of the product. Always try to follow them for best results and you should be fine.
Secondly, it depends on the type of product you use. As I've already mentioned, there are two types of tire shine products. There are mostly no concerns with the water-based ones, but the non-water based are potentially dangerous and harmful, so extra care must be taken when using them.
All in all, if you follow the instructions carefully, there shouldn't be any problems, even if you use a product with a petroleum base. Just make sure you read the label and product reviews.
How Long Does Tire Shine Take to Dry?
After applying the product, it is essential that you let it sit for a certain period of time as it needs to dry. Otherwise, you'll just undo all the hard work. Instructions that come with the product always contain information regarding the drying period, so make sure you follow them. Generally speaking, between 10 and 20 minutes is usually enough.
Final Thoughts
Tire shine products are becoming more and more popular. The market for this kind of product is blooming, and their numbers are increasing almost every day. Options are numerous and can give customers a hard time when faced with a decision which one to opt for. There are many people who might have never used them and don't know where to start.
Stepping into the unknown is never easy, and a bit of help always goes a long way.
Hopefully, at least some will find this review and buying guide helpful.
RELATED POSTS: