Sometimes we travel to new places. Sometimes our work or family takes us to neighborhoods that make us feel a bit nervous about our cars. Sometimes, we just want to park our cars while we work and not worry about whether or not the rims and alloys are going to be there at the end of the shift.
Theft of wheels, rims and other like accessories are a real problem. YouTube has videos of thieves making off with these pricey items and it is painful to watch.
So, don't put your safety and your ride at risk. Take some time and read our top 8 picks for the best wheel locks and go where you want with peace of mind.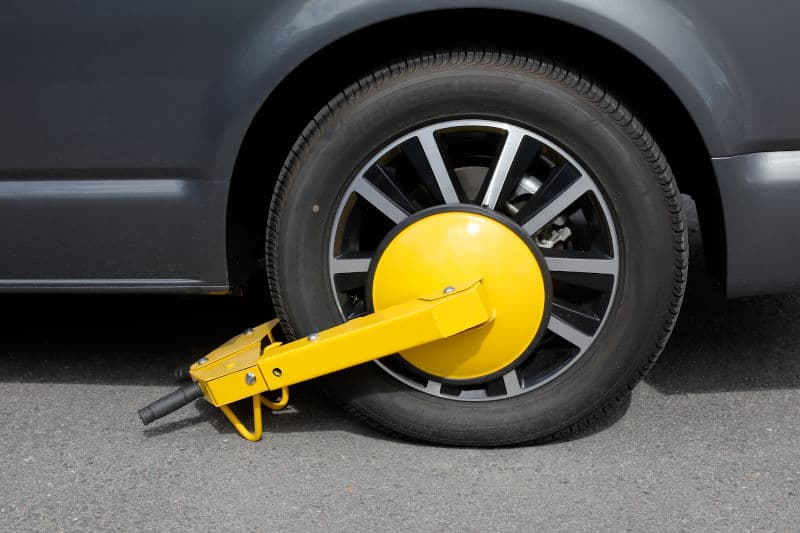 Features to Look for When Buying Wheel Locks
Curious about what to expect when you are shopping for these products? Here are a few things to consider…
Where It Goes
Does this wheel lock go on your lug nuts or tire? Which one will be easiest for you? What are your fears– are you afraid custom rims will be stolen or your car as a whole? For instance, some wheel locks go over lug nuts.
Meanwhile, a tire wheel lock will fit over one of the tires, rendering the car inoperable unless it is removed.
Material
All of the items we chose today feature good, quality construction of mostly stainless steel or other heavy metals. The Club, for instance, can resist freon and saw attacks. What do thieves in your area use? Make sure you look at reports of theft and how the criminals executed their attacks and choose wisely.
Another important aspect of the construction is the finish. Chrome is one of the best as it can withstand the salt, water, and other road debris that your wheels are going to see.
Fit
Not all of us are looking to protect a car, per se. Maybe you have a go-kart, trailer, antique car, or another special vehicle that needs a special-size wheel locking device. Be sure the one you are interested in fits the vehicle you need to keep safe.
Purpose
Do you need to protect your rims/wheels, or the entire car? Be sure the device you are interested in does what you want it to.
Visual Deterrent
Want to let thieves know to stay away? Using a brightly colored boot style of wheel lock will keep some thieves away. If you prefer a more low-key deterrent, lug nut covers will be more your style.
8 Best Wheel Locks for Cars (2023)
Now we can show you the best products useful in keeping your cars where they belong: right in your parking space or driveway. We chose these based on their reviews.
1. TMS Wheel Lock Clamp
The bright yellow colors of this wheel lock are one great way to prevent thieves from taking what is not theirs. It is an easy to see visual deterrent that lets them know this one is not for the taking.
Affordable, easy to use, and highly visible, this wheel clamp lock comes in a single pack or up to four. If you own many special vehicles or operate your own landscaping business, for instance, this makes an excellent item for you to keep in your arsenal.
You can use it to keep lawn mowers, ATVs, and trailers safe when they are parked on the jobsite or parked at your home. If you have kids that are not to use the go-kart unless an adult is supervising them, this is a good wheel lock to keep on so that children stay safe.
If your aim is to use this to keep your custom rims from being stolen, it is advisable to buy the four-pack and use them with pride. After all, the soft wheel clamp will not damage the beauty of the rims.
It works by way of the included key. You simply attach it to the wheel and lock it into place with the key. Afterward, unlock them and place them back in the trunk or wherever they go.
They are weather-resistant and made of tough steel, so it takes a lot to break them. Indeed, only a thief with the utmost of time and tools would take their chances of stealing your item when you make use of these great wheel locks.
Main Features:
Brightly colored, easy to see
Completely stops vehicle wheel from turning
Fits a variety of cars like go-karts, trucks, motorcycles, even lawn mowers
Made of top-quality tough steel
Clamp is soft-coated and will not scratch wheels
---
2. HOMDOX Wheel Lock-Heavy Duty
Here we go with another great and highly visible wheel lock for your safety and peace of mind.
This is a really great and easy to use wheel lock that can go with you anywhere you do. It's easy to store in the trunk, so if you plan on taking your car on a road trip or far away destination to see family/friends, this one is the way to go. It is easy to see even in the dark, so thieves will see it and be deterred.
The construction of this wheel lock is high quality, featuring tough steel that is easy to lift but won't rust out or weaken if you use it in the rain. We found that it looked exactly like it did in the item picture and the PVC coating is truly a blessing for those of us with precious custom rims.
To use this item is very easy to do: simply press down the keyhole to lock it up and then when it is time to unlock just have the key handy and you can unlock the boot. The final measure of protection was the needle included, which would puncture the tire if moved/damage the rim, therefore making it that much harder if thieves tried to drive the car with the boot on.
This would be a great one for all car owners, it is easy it is to keep your ride safe.
Main Features:
Can be easily adjusted to varying rim and tire sizes
Clamp features PVC coating which will not damage wheels or rims
Easy to lift and store in the trunk
Will not rust when kept in the rain or snow
Bright yellow and easy to spot
---
3. MCGARD Chrome Cone Seat Wheel Locks
This wheel lock is for the prevention of theft of rims and wheels. I was immediately attracted to these because they do feature that strong but good-looking chrome finish. They will not detract from your ride's slick look.
These look and function like the standard lug nuts that you would expect, but you must have a special key to both install and remove them. There is a steel collar on the key that guides it right into the lock pattern, the process of unlocking these locks is smooth as butter. The collar will hold the key in line so that alignment as well as removal is a breeze.
Each key design is created by computer, and so there is an unlimited number of key patterns generated. Nobody will have the same as you. These locks are made of tough steel that is made exclusively for McGard and will impress you with how secure this metal is.
McGard is also the only company that we know of that provides 8 different key hex sizes that will match the original lug wrench of your vehicle. This is important if you ever have to change a tire on the side of the road.
In short, this is an affordable and worthy investment for those of us who have rims and tires that need protection.
Main Features:
Comes with 4 locks and one key
Features 19mm and 12 mm dual hex sizing
28" length overall
Looks beautiful with the nickel and chrome plating
Made of tough alloy steel
---
4. Gorilla Guard Wheel Locks
These are wheel locks that will prevent only wheels and rims from being stolen-not the whole car like you get with some of the clamp products I have shown here.
These are perfect for drivers who have put a lot of stock into their wheels or rims and cannot afford to lose them. These are triple chrome plated wheel locks that come with a registration sticker as well as a unique key pattern for security purposes. The key will engage very smoothly and the durability on these is worth noting.
They fit very easily and blend well with OEM lug nuts, report other users. The sticker located right on the key head will help you keep easy track of which key fits which set of wheel locks in the event you have to change a flat. And if you ever should lose the key, Gorilla will help make a new one-all you have to do is provide that registration number on the sticker.
We linked the product to the 1.50" version, but rest assured there are plenty of different varieties that can fit your car. Make sure to look it up-sometimes "Amazon Garage" reports that the item won't fit but it really will. Ask friends or do a Google search to find out.
With even stock wheels going missing in these tough times, it's worth it to get hold of these wheel locks.
Main Features:
Comes with 4 locks and one key
Features a 1.50" length overall
Different sizes available
Easy-Guide key makes installation process smooth
Chrome-plated, looks great
---
5. DPA Accessories Black Wheel Locks
If black is your color, these are the wheel locks you need to consider before you buy anything else. These provide the security your tires need so that you can park and enjoy the rims and wheels you own without fear of theft.
Great design and a secure build are the name of the game when it comes to DPA accessories. These come with a unique key that no other owner has, so rest assured nobody can simply buy a set and then lift your wheels from your car. Users report the set works as described, with one boasting they looked like they belonged on his Honda Civic.
Indeed, there is nothing flashy or crazy about these wheel locks. They quietly get the job done and keep others from taking what is not theirs. We featured this particular model in the M12x1.5 size, but you can choose from many other sizes out there. There is also a chrome option for those of you that feel it would look better on your ride.
These are easy to install and just work. They are a sure bet for vehicle owners everywhere.
Main Features:
Install one locking lug nut per wheel as recommended by manufacturer
Includes four black wheel locks and one key that matches all
Keys are unique to each set sold
---
6. Honda Genuine Wheel Locks
The Honda name is synonymous with reliability, longevity, and popularity. Look around your neighborhood and you can likely find older Honda sedans, newer Civics, CR-Vs and Ridgelines everywhere you go. Therefore, we decided to include these Honda wheel locks that will be perfect for you.
These match very well to the standard lug nuts that you will find on your Honda. Users from across the spectrum found them to be useful for their car. One individual discussed the instance of parts being stolen from the apartment complex they lived in, including tire theft of a Honda. These lug nut locks did the trick for the 2007 Civic they owned.
Meanwhile, another user driving a 2017 Civic found them to be perfect. Aside from the great look and ease of use these wheel locks offer, I really liked the tough construction of these lug nut covers. One thing that did cause me worry upon first getting this product was that it came in a poly bag instead of a clamshell plastic package. However, the product is still genuine.
Main Features:
Exclusive to Honda
Made of hardened steel
Features a chrome plated finish
Comes with a storage pouch so you can keep the key safe
---
7. Utopicar Wheel Locks
When you need protection but don't have a lot to spend, this is going to be your go-to. The favorable reviews and expert look of these covers make them a real winner for everybody.
I noticed right away that these were not as varied in size as some of the other brands I covered in this review. However, they do get high marks from me because their customer service is seriously the best and the affordability of these are just out of this world.
You can get these cone locks in sizes 12×1.25, .5 inch, 14×1.5, and 12×1.5. This covers the bulk of autos on the road today. These are forged with OEM specification as the standard, and I think you will be happy with their performance.
One user even wrote that when a defect happened in their locks, namely, a lock popped off while being tightened on, they had a replacement in just a few days. Other users indicated they would happily reorder these products if necessary and really loved the fact that the item came with a helpful storage pouch to keep the key in a safe place.
These are easy to install, and you will find that the instructions to do so are easy to follow. Tire and rim theft are not something you will be so concerned about.
Main Features:
Free key replacement if you end up misplacing yours
These are guaranteed against chips, rust and peels for life.
Handy storage pouch included with purchase
Cool chrome finish looks great
---
8. KSP Acorn Lug Nuts
These are good lug nuts, so we'll just get right into the review. For starters, these look REALLY sharp-however, there are some details about these you should be aware of.
Firstly, I want to make it clear that you are NOT to use an impact wrench or a torque gun to get these things off. The paint may come off. Just use a hand wrench for the best results.
These come in a large range of sizes that will very likely accommodate your car. You can buy these in 12×1.25, 12×1.5, 1/2-20, and 1/2-20 thread pitch. Some feature the spline shape and others the hex.
And although the quality is definitely here with these locks, I was very disappointed to find that the sizes of 12×1.5 and ½-20 did not come with a key. Sure, these feature a rust-free construction and top-notch customer service, but the fact that some of these did not include a key bothered me a bit. Had it not been for the favorable reviews, I would likely have passed on these.
In short, I liked these wheel locks for their good look, quality and great customer service, but given that some do not come with a key may be a pain point.
Main Features:
These are constructed to be anti-crack as well as resistant to rust.
These come with a 30-day refund and 12-month free replacement policy.
These are great for Toyotas, Acuras, Fords, Dodges, Jeeps and Hondas
Slick black color looks great on all cars
---
The Pros and Cons of Using Wheel Locks
Wheel Lock Pros:
These devices are not very expensive
They are constructed to provide function and form on your car
Some of these devices are highly visible and usually deter casual thieves.
Wheel Lock Cons:
There is no 100% effective way to stop wheel and rim theft. Thieves are crafty.
No savings on auto insurance offered that I was able to find.
You may lose the keys to your vehicle security devices and have to call a locksmith or the manufacturer and wait for a new key to come.
Staying Smart About Wheel Theft
So, you have decided upon one of the quality products listed above. You have made sure to carry comprehensive insurance on your auto policy. You read up on what car thieves in your area are doing.
Let's now talk about some other ways to stay smart about parking your car:
Lock the car 100% of the time: Do whatever it takes to remember this. Have somebody remind you or put a sticky note in the car. This is the easiest way for car thieves to break in or take stuff that belongs to you – leaving it totally open.
Park smart: Put the car near a streetlight or security camera so that thieves are less apt to break in. After all, if they are seen, they could be tracked and caught. You might even hide a camera inside your car or install a camera outside on your home to watch your vehicle when not in use.
Consider turning the wheels: If possible, turn the wheels when you park your car. The Reason for this? The wheels are harder for a thief to remove as they are stuck inside of the wheel well. Furthermore, the steering column lock will make the wheels that much harder to turn as there is no key in the ignition.
Invest in safe parking: If you pay a little extra for a space inside a monitored parking garage, or even go so far as to install an alarm with sensors that can be affixed to the wheels, they could be the peace of mind that you need.
You need to know that every measure you take is much cheaper than having to replace all the rims and tires on your ride.
To Conclude
Wheel theft can and will happen, no matter how savvy anti-theft tech gets. It can happen to any car, after all, a thief that needs what you have is going to do anything to get it.
Stay smart and safe, get yourself one of these great products and rest easy knowing your car is that much safer.
RELATED POSTS: