The smell of gasoline has different effects on different people. Maybe you're one of the people who like it. Regardless of how you feel about it, inhaling gasoline does have serious health consequences. So today, we're going to talk about cleaning up gasoline spills in the trunk of your car.
It happens to us all — you need to have an extra canister of gas on hand for a long trip through the countryside. Or you might just be carrying the gasoline from point A to point B. Well, if you forgot to tighten the cap all the way or the canister itself gets damaged, you could have a puddle of gasoline on your hands. Don't worry, I've got your back.
This is actually a pretty easy fix, as long as you take all the necessary precautions. After all, too much gasoline inhalation can cause headaches, dizziness, and shortness of breath. Worse, you may seriously damage your lungs and throw up or pass out as a consequence of carbon monoxide poisoning.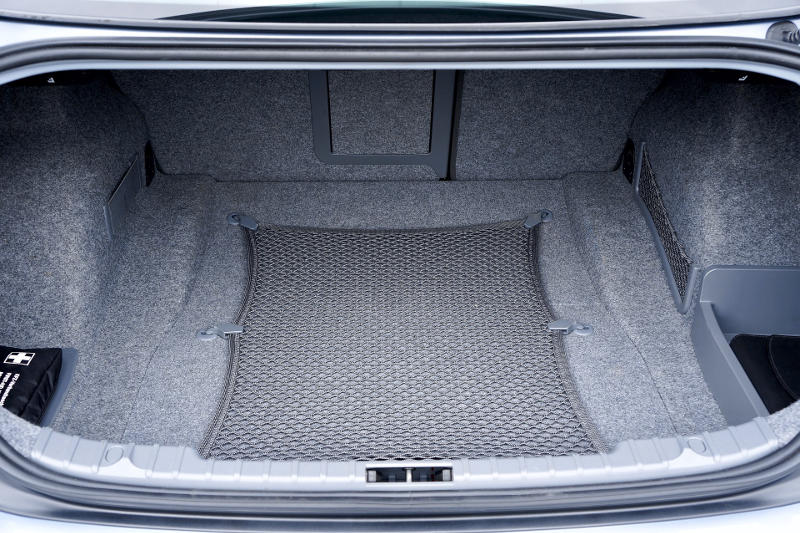 Suffice to say, you'll want to deal with any gasoline spills the moment you notice them. You wouldn't want other drivers on the road with the kind of symptoms I've just described, would you? So don't make other drivers worry about driving next to a swerving lunatic — here's how you can clean up a gas spill.
1. Find the Spill and Get Supplies
The first thing you need to do is find the source of the stench and get some gear ready. Obviously, if you've noticed the smell of gasoline, your nose is already involved. From here on out, you should cover it with a scarf or a mask (like these charcoal ones). Remember, we're trying to minimize the damage to your lungs at this point.
If you can't quite place where the smell is coming from, try to remember whether you or someone else used the vehicle in question to transport gas recently. I'd say that the trunk is a safe bet, but you may also have brought the gasoline into the car on the bottom of your shoes.
If you determine that your carpeting is the source, take it out, and give it a good wash. However, if the smell is coming from the trunk, feel around for a wet spot with your hands. Once you've located it, you can prepare some of the following items:
Old rags, dryer sheets, or something else that will absorb the wet gasoline
Coffee grounds, baking soda, kitty litter, or commercial odor-eliminating spray
Possibly a vacuum cleaner
A waterproof tarp
These things should be all you need to get rid of the gasoline. However, you may also replace each of them with an item that performs a similar task. You'll need to absorb the gasoline first, then wash the area and get rid of the remaining odor. So if you know something that does these things better, you can use that too.
2. Soak Up the Gas and Air Out the Car
As I've previously mentioned, you'll need to start by drying the area. With your mouth and nose covered, you can feel for the wet spot with your hands. Of course, you'll need to wash them thoroughly afterward, since gasoline can cause a red rash and swelling.
First, press old rags onto the spill. You can pad the entire area and put something heavy on top. If the weather is nice, you should also leave the car outside to let the odor air out for a few hours.
Now, you don't really have to use rags for this step. Newspapers are also very absorbent, so you can use those. Likewise, salt and cornmeal could help absorb the oil. And I've even heard of people using their babies' diapers for this step.
And why not? They're certainly absorbent enough. In fact, they'll actually draw the gasoline up from the carpeting. Just open them up and spread them out over the spill, then put something heavy on top to make sure the diaper stays open.
Even if the original spill has dried out entirely, you can rewet the spot by spraying it down with water. That will make it easier for the diaper to absorb all of the gasoline it can before you roll down the windows to let the rest of the odor dissipate. Since gasoline can't mix with water, you need to absorb it and let it dry before trying to clean the area.
3. Choose the Best Way to Clean the Area
Generally, the gasoline will still be noticeable even after you give it some time to dry. So this is where you'll hit it with a cleaning solution.
Now, there are many ways to clean the carpeting in a car. For one, you can always use commercial carpet shampoo. Just mix it in a with some warm water and apply it to the area. However, there are also some homemade solutions you can try.
Many people use equal parts vinegar and club soda and add half a measure of dish soap. After all, dish soap is meant to remove grease residue, so gasoline isn't too far away from that. In fact, you can also use boiling water and dish soap, with a few spoons of Borax, to remove the stain and the odor. Really, if you add baking soda and vinegar to any solution, they should boost its stain-lifting power.
No matter which of these you end up going for, the way you use them will be the same. First, you'll pour a generous amount of the solution over the stain. Then, you can scrub the area with your nylon bristle brush or an old towel. Circular movements are the best if you want to lift the stain.
Finally, wait for about 10 minutes for the solution to really sink in before rinsing it with water. You can actually repeat the shampooing step as many times as you feel you need to.
However, you should also keep in mind that water can potentially cause rust or mold. So make sure to soak up the solution with newspapers or towels after you're done. You can also use a hairdryer to speed up the process or just let your car dry in the sun for a few hours.
4. Deal with the Smell
Finally, it's time to deal with any of the remaining odors. As long as your car smells of gasoline, you could be causing damage to your lungs. Fortunately, many commercial products and household items could help fix this problem.
First of all, if the smell isn't as bad after the previous steps, essential oils could help a bit. Orange or lemon oils work pretty well, and so do lemongrass and tea tree oils. You can use an oil diffuser or combine more than one of these oils in some water and spritz them around the car as needed.
If the trunk is still quite pungent, you can cover the stain with baking soda. Let the powder sit for a few hours, then vacuum it up. Coffee grounds can be used in a similar way, except they'd need to stay in place for a week or so. Additionally, kitty litter should be able to absorb the moisture and the odor all in one sitting after a day or two.
Since these products are dry, you'd be able to repeat these methods as many times as you'd like. And while we're on the subject of household objects, dryer sheets would also do the trick.
Of course, if all else fails, you can also use commercial odor removers. The ZorbX unscented odor remover claims to be non-toxic and biodegradable. It could be just the thing to use if you don't want to add one smell on top of another. Unlike some of the other odor removers, you wouldn't need to air out the car after application.
Additionally, some people have used brake cleaners to get rid of gasoline odors. However, these products also give off a strong smell. Still, according to the people who've tried this solution, the smell should disappear completely after a while.
5. Protect the Car from Future Spills
If the smell of gasoline still permeates the air even after all this work, you may just need to say goodbye to the carpeting altogether. Take the trunk liner out of the car and leave it outside to air out completely.
Going forward, you may want to invest in a waterproof trunk liner if you're prone to having these kinds of spills. As far as I know, there are two types of trunk liners — fabric ones for transporting pets and rubber ones that only line the floor and have tiny walls on the sides. These liners aren't universal, as many vehicles have differently shaped trunks.
But really, I wouldn't be that concerned with the shape of the thing. In fact, you can just use any old plastic tarp you have lying around to line the inside of the trunk. If you don't have anything like that, you can get something like this multipurpose tarp.
When you're not using it to protect your trunk from spills, you can use it to cover your car to protect it from rain or sun damage. Hey, you can even use it to protect your floor the next time you paint your walls — all for a cozy price of about $20.
Final Thoughts on Cleaning Gas Spills
By now, you've probably realized that getting the smell of gasoline out of your vehicle will be a lengthy process. However, it's all worth it for the sake of your health.
Even though you're bound to have hours between each step while the car airs out, the amount of work you'll have to do is really minimal. And it results in a clean trunk and a healthy pair of lungs — what could be better than that?
RELATED POSTS: