Your spine is what supports your body, allows you to stand up straight, and lets you perform your daily tasks. Unfortunately, it bears a lot of pressure in the process, and thus becomes weaker and tends to flare up over the years. As a result, you could end up with severe back pain, even after doing something as simple as sitting in a car. To make your life bearable, you should consider purchasing a lumbar support cushion for your car.
These pillows are designed to improve your posture and can help you if you suffer from sciatica or other types of chronic back pain. However, with so many different options, it can be tricky to find the best model.
A high-quality and poor-quality lumbar support cushion will make all the difference to your back. Still, there are quite a few things you'll need to consider before settling on a lumbar support cushion for your car. For example, you have to think about the firmness and durability, as well as consider whether it would even fit the seat. Also, ideally, you'd want to choose a model that features a breathable cover material that won't get sticky or stink up your car.
As you can tell, there are quite a few factors you'll need to think about before settling on a product — and we'll talk more about that later. But before anything else, let's see whether lumbar support cushions are actually worth spending your money on.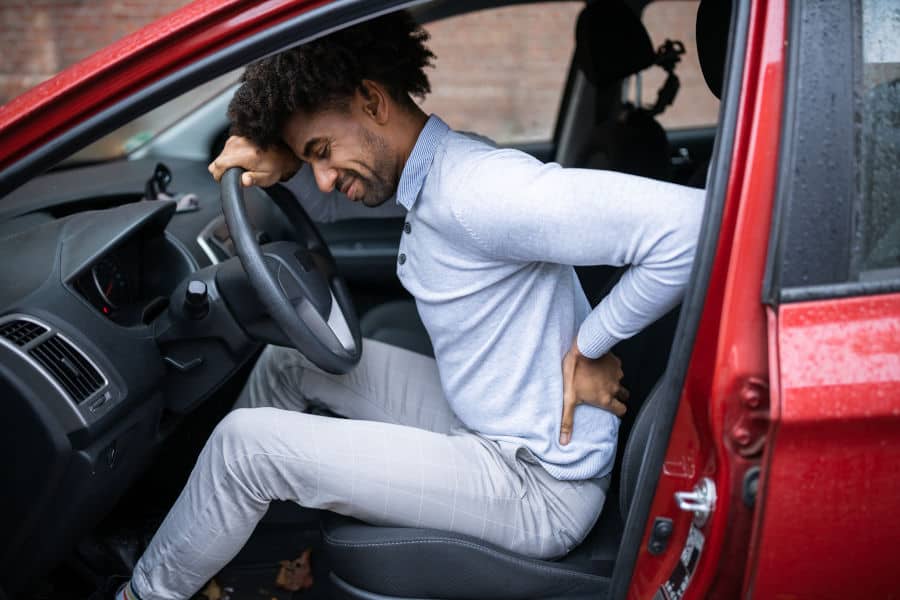 Benefits of Getting Lumbar Support for Your Car
There has been some research on how lumbar support cushions can increase your quality of life. These studies were mostly done in cooperation with large companies to showcase how much employee productivity grows when employers invest in cushions for their chairs. Still, you can apply the knowledge to your average driving conditions, especially if you spend a lot of time on the road.
A high-quality lumbar support cushion will make driving possible for those who experience strong, chronic back pain. Also, it makes driving much easier for those who go through mild pains or spend a lot of time sitting in their car. Here's what car lumbar support cushions can do for you:
Prevent Slouching
Back cushions make you sit up straight, and thus prevent you from constantly slouching. Moreover, they reinforce the natural curvature of the spine and make you sit in a more natural way. Therefore, your spine won't have an unnatural bend to it, and you'll avoid muscle tightness and nerve pinching.
Encourage Better Posture
In addition to preventing slouching, a good lumbar support cushion will also make you adopt a healthier posture in the long run. Having good posture doesn't only make you look more attractive — it also helps you avoid potential back injuries, and strengthens your core and back muscles.
Save Money
Most car lumbar support cushions can also be installed in wheelchairs, office chairs, etc. So, you can take your cushion with you and use it every time you need to sit for a long period of time. That way, you won't have to keep buying new chairs every couple of years, as you'll have one product that you can use for everything.
Additionally, by having poor posture, or slouching, you risk suffering a back injury or chronic pain. In either of these two scenarios, you'd probably have to pay for a chiropractor. However, by investing in a quality car lumbar support cushion, you'll avoid the expense altogether.
Now that you know just how beneficial car lumbar support cushions can be for you, it would be crazy not to consider purchasing one. To help you out, I have composed a list to aid you in finding the very best car lumbar support cushions.
Top 10 Best Lumbar Support Cushions for Cars (2023)
I've sorted the products starting with the ones I've most helpful for the majority of drivers. Also, I've kept in mind all of the important criteria I have mentioned so far. So, from my favorite to least favorite — here are my picks for the 10 best car lumbar support cushions.
1. Goodyear GY1015 Back Support Pillow for Car/SUV
Goodyear is a well-established brand that's loved by many car aficionados all over the world. The company has won its customers over with quality materials, and the GY1015 lumbar support cushion is no different. The cushion is slightly on the firmer side, but it's pretty comfortable, and you won't feel like it's pushing you out of your car seat.
This model is quite lightweight and features adjustable straps that can be set up loosely or tightly against your body. So, you can use it in most standard vehicle seats, as well as in an airplane or a wheelchair. Additionally, the high-grade memory foam molds itself to the shape of your back to make driving around for hours comfortable.
The material is also extremely durable, and won't collapse after years of use. The seat cover is made from plush and ensures your skin doesn't rub against the seat and become irritated. It's also easy to remove it, and you can throw it in the washing machine with your clothes, and give it some time to dry before using it again. This is one of my favorite features, as Goodyear's GY1015 cushion doesn't sacrifice practicality in order to accommodate style.
Finally, this seat cushion literally has an edge over the competition. At 18", it's taller than most lumbar support cushions. You can use it even if you have more severe back issues, as this cushion offers the right height, weight, and sturdiness.
Main Features:
Sturdy
Durable
High-quality materials
Reputable brand
Easy to clean
---
2. Samsonite SA5447 Ergonomic Lumbar Support
The Samsonite SA5447 cushion features a sleek, elegant design, and offers a great deal of lumbar support. Additionally, it's made of high-quality materials, including high-grade memory foam that molds itself to the shape of your lower back. It's one of the few models I've seen that are sturdy enough, without pushing you forward and making you fidget while driving.
The model also comes with an adjustable strap that makes installation quite simple. Also, this strap is what makes the design universal for the majority of car seats, and ensures the cushion doesn't slip while you're driving.
The cover features a plush material and it's removable and machine-washable. So, they're easy to clean, and you can even throw them in the dryer when you need to wash and install them quickly.
The SA5447 cushion is perfect for all long trips, and Samsonite claims it won't move even if you're off-roading. Finally, because of the quality make of this model, it will likely outlast the majority of other lumbar support cushions. Thus, the cushion is great for those who struggle with chronic back pain and need a more permanent solution.
Main Features:
Durable
Great design
Quality materials
Offers a lot of back support
One of the best models for those with back pain
---
3. Anyshock Lumbar Support Cushion for Car Seat
Anyshock has manufactured its lumbar support pillow specifically for car seats. The ergonomic design helps support the natural curvature of your spine and makes sitting down for long periods of time easier. Also, the premium quality memory foam forms itself to the shape of your lumbar — so the support pillow doesn't end up pushing you out of the seat.
The design is quite sleek, and the cushion will fit right in with any standard car and SUV seat. This model also comes with a removable, machine-washable mesh cover. If the interior and upholstery of your car are black, you won't even notice the cushion. It will let your skin breathe, and you can easily remove it when you need to wash it. Also, you can adjust the pillow to your seat as you see fit with the help of adjustable straps.
Anyshock's lumbar support pillow is by far one of the most comfortable ones I've tried out. However, it's not the most stable model I've come across, and sometimes I feel it will slip off while I'm driving.
Main Features:
Comfortable
Clever design
Adjustable straps
Great back support
---
4. RS1 Back Support Pillow by Relax Support
RS1's pillow offers the perfect balance of firmness and support, and is perfect for long drives. However, it's not so hard that it would bounce you off the seat or cause you any discomfort. The pillow also features patented ArcCountour technology and unique convex shape to help you alleviate back pain.
This is also what makes the pillow stay sturdy even after years of use. RelaxSupport offers two versions of the product, one of which is softer and gives even more lumbar comfort.
The pillow is made from high-quality memory foam and features a breathable cotton cover, which is removable and machine washable. The fabric is breathable and will keep you cool for hours on end. The RS1 back support pillow also features the "steadfast grip" strap that makes your pillow stay in place. Finally, if you're not happy with your pillow — you can take advantage of the 100% money-back guarantee.
Main Features:
Not too firm
Helps alleviate back pain
Perfect for long drives
Breathable, removable cover
High-quality memory foam
100% refund policy
---
5. Tusscle Lumbar Support Cushion
Tusscle offers a D-Shaped lumbar support cushion, that's perfect for both pregnant women and passionate drivers. The pillow is quite firm and encourages good posture even if you spend hours in your car. It's also lightweight, so you can take it with you when you're traveling or install it in your office.
The cover is made of a 3D ventilative mesh, so it's quite breathable and it circulates air pretty well. Also, it's removable, and you can clean it in the washing machine, as well as leave it out to dry for a few hours before using it again.
However, even though the cushions are made of a high-quality sponge, they're not as thick as I prefer. The pillow will likely deflate a little bit as soon as you sit down, even if you're not on the heavier side. So, if you're looking for a sturdy cushion that will stay firm even after years of use — this is not the right product for you. Still, Tusscle offers a generous 60-day refund policy, so you can get your money back if you aren't enjoying the product.
Main Features:
High-quality materials
Lightweight
Not too stiff
Good for relieving muscle tension and fatigue
60-day return policy
---
6. LoveHome Memory Foam Lumbar Support Back Cushion
LoveHome's cushion features a great design that supports your back and makes sitting down for long periods of time much more comfortable. It comes with two adjustable straps, so you can install it in nearly any seating space. You can use it in your car, on your office chair, recliner seat, etc. Its design and make ensure the cushion will stay in place, and won't sag or slip out from under you while you're driving.
The cushion is made of premium quality memory foam, to prevent it from flattening even after years of using it. The 3D ventilative mesh cover helps the cushion keep the temperature in check, and stops your back from sweating. Another great benefit of the LoveHome cushion is that its cover is removable, and machine washable.
Unfortunately, some customers complain of the cushion not lasting them as long and flattening out after regular use. Still, if you end up not enjoying this product, you can take advantage of the 60-day "love it or return it" policy.
Main Features:
Removable, machine-washable cover
Adjusts well to most seating spaces
Great for those who experience low to moderate back pain
Comfortable
---
7. Vremi Premium Memory Foam Lumbar Support Pillow
Vremi's lumbar support pillow is perfect for anyone whose back needs some love and support while sitting down. It's the perfect size for office chairs, as well as car and airplane seats. The cushion is 100% made of memory foam, which molds to the shape of your back, without flattening out too quickly.
Moreover, it features curved, forward-facing sides and the orthopedic design is what helps you relieve sciatic nerve pain. Vremi's pillow also comes with adjustable dual straps that ensure it stays in place even after hours of driving.
The mesh cover is hypoallergenic, breathable, and machine washable. Thus, you'll have cool air circulate through the cushion, and your back will stay dry and sweat-free all day long. I find Vremi's lumbar support pillow to be one of the best ones I've tried out so far. In addition to the design, what truly sold me on this product is that it's quite durable, and won't bend or flatten after long periods of use.
Main Features:
Durable
Made of memory foam
Great for sciatic nerve pain
Two adjustable straps
Easy to clean
---
8. Winjoy Ergonomic Lumbar Support Pillow
Winjoy offers a thick solid design that offers a lot of back support for those who experience chronic back pain. The design is also quite modern, and I personally enjoy it as it's different from most other support pillows. Also, it's what supports your back and helps it stay in a more relaxed state. By fitting the natural curvature of your spine, it will prevent your back from spasming.
This lumbar support pillow can also help you relieve muscle aches and back soreness, and make sitting down more comfortable. The Winjoy ergonomic lumbar support pillow is eco-friendly as it's made from memory foam and high-density bamboo charcoal fiber. The inner cover is machine-washable and quite soft to the touch, as well as incredibly breathable. So, there won't be any moisture or foul odors gathering on the inside of your cushion.
The seat is designed to fit most vehicles, and you can adjust the straps to fit the majority of drivers. You can also return the support cushion if you're not fully satisfied with it.
Main Features:
Eco-friendly
Breathable mesh fabric
Machine-washable
Two adjustable straps
Returnable
---
9. Mesh Back Support Cushion by Kingphenix
Kingphenix's lumbar support cushions feature an ergonomic design that molds itself to your body to give it comfort and support while driving. The cushion can even help you improve your posture and make sitting for long periods of time much more bearable. The fabric is wear-resistant, breathable, and quite easy to clean and maintain. So, it will make sitting down much more pleasant and easier on your back.
To ensure you get even more comfort, you can adjust the cushion height from 5.3–7 inches by moving the high-elastic belt. You can also install the Kingphenix support cushion in any area of your home and office, as it fits most seats. Finally, you'll get quality customer assurance and great customer support.
Main Features:
Breathable fabric
Adjustable straps
Wear-resistant
Customer satisfaction guarantee
---
10. ZIRAKI Lumbar Pillow Support Seat Cushion
This support cushion was designed with wheelchair users in mind, but can also be used on office chairs as well as car seats. It's lightweight and has a carrying handle, so it's quite easy to travel with it. ZIRAKI might not have the most visually appealing seat cushion, but the quality of the foam is difficult to beat at this price point.
ZIRAKI lumbar pillow is firmer than most models, and as such can help you retain good posture while driving. It's meant to hold everything in place and keep you from fidgeting in your seat. However, some find this cushion very restrictive, so it's definitely not for everyone.
Still, it's quite easy to travel with as it's lightweight and comes with a mesh handle. ZIRAKI's cushion cover is made of velvet, so it's more comfortable to sit on. The cover is removable, although velvet is notorious for being difficult to clean and maintain.
Main Features:
Sturdy
Comfortable
Luxurious velvet cover
High-quality foam
---
Features You Should Expect From Your Lumbar Support Cushions
Each body is different and unique in some way. Thus, we all moving or sit down differently, and we need to find products that best fit our bodies. That being said, there are some things we should all look for when purchasing lumbar support pillows.
By being picky and knowing what to ask for, you'll ensure you get the most out of your car cushion for years to come. These are some of the most important features you should expect:
The Quality of the Make
The quality of the make is what determines if your pillow will be firm and plump even after years of constant use. Sure, under some circumstances it's unreasonable to expect that the foam won't get any dips after a while, but that shouldn't happen a couple of months after purchasing it.
Ideally, you should look for a pillow that's made of memory foam and possibly some extra materials, such as organic fibers. Also, I personally prefer thicker, longer, and wider seats to smaller ones, as I find them more comfortable. You should also look for reliable brands that are known for making high-quality products.
The Weight & Sturdiness
Weight is often a great determiner of the quality of a lumbar support cushion. Sure, its weight shouldn't make it difficult to carry around. However, if you think the cushion seems too light to be comfortable — you're probably right.
Even if you prefer sitting on a softer foam pillow, go with one that's just a bit sturdier. This way, it will adapt itself to your posture and soften up after you've been using it for some time.
The Cover
Let's face it, we all get sweaty backs while driving. As there's no running from this, we need to find ways to keep our lumbar support cushions as clean and smell-free as possible. To do so, you'll need to get a model with a removable cover that's easy to clean by hand or in the washing machine.
It's much more convenient to have a removable cover, as cleaning it and re-installing it won't take more than a few hours. By cleaning your cushion's covers clean regularly, you'll ensure they smell good and last even longer.
The Straps
The straps are what prevents your cushion from shifting around as you're driving. If your cushion moves when you don't expect it to, you can put yourself as well as other drivers in a dangerous situation. Even if it doesn't, you'll constantly have to re-adjust your backrest manually.
So, it's incredibly important for the straps to be sturdy, as they can mean the difference between life and death. Ideally, I would also get a model that features double straps, as they offer even more safety.
Overall Comfort
Yes, that sounds like an obvious aspect to focus on, but it's easy for anyone to fall victim to a flashy design or user recommendations. So it's important for you to know what you're looking for before actually placing your order. For example, do you prefer cushions with soft, gentle foam, or thick and sturdy ones?
Also, think about your average body temperature. If it's on the higher end, you might want to avoid 100% memory foam pillows, as they can get hotter quicker. Instead, you should look for a pillow that has a breathable cover, and helps keep your body cool.
The Intended Use
Keep in mind that many manufacturers create their products to fulfill a specific purpose on the market. For example, some cushions, although they can be used for most seating spaces, are made with office chairs in mind. In the same vein, others are made specifically for car or SUV seats.
The biggest difference is that car support cushions are designed to support your head, neck, and back while driving, and are typically larger than other types of cushions. So, whenever possible, try to find a support cushion that's made for vehicles, as it will likely fit your car and your spine better.
The Refund Policy
Sometimes, what works for most people might not work for you. So it's important to have a backup plan, or in this case — a good refund policy. That way, you won't be stuck with an uncomfortable pillow that you use just because you feel guilty you've splurged on it. Also, you'll be able to get your money back and find a model that fits your needs, and helps you with your back pain.
Lumbar Support for Cars: Final Thoughts
As you know by now, investing in a high-quality lumbar support cushion can do a lot of good for you if you suffer from chronic back pain. Also, a good pillow will improve your posture and prevent you from slouching. It will even help you save money you'd spend on going to the chiropractor every few months.
Arguably, there's no better way of keeping yourself, your passengers, and your back safe at all times. By now I hope you've learned what the best car lumbar support cushions are, and how to find one that fits your needs.
However, keep in mind that investing in a car lumbar support cushion is only half of the puzzle. The best thing you can do for your sore back is to exercise regularly and take breaks from sitting whenever possible.
RELATED POSTS: