Has your car stayed out in the sun for too long and doesn't have that shine anymore? Did the chrome plating on your rims or exhaust oxidize, and now it looks dull? Well, if that's the case, it sounds like you need to get your hands on the best chrome polish for cars.
But once you dive into the world of chrome polishes, you'll see that the selection is almost endless. So to help you in your quest, here are my top 10 choices for the best polishes on the market.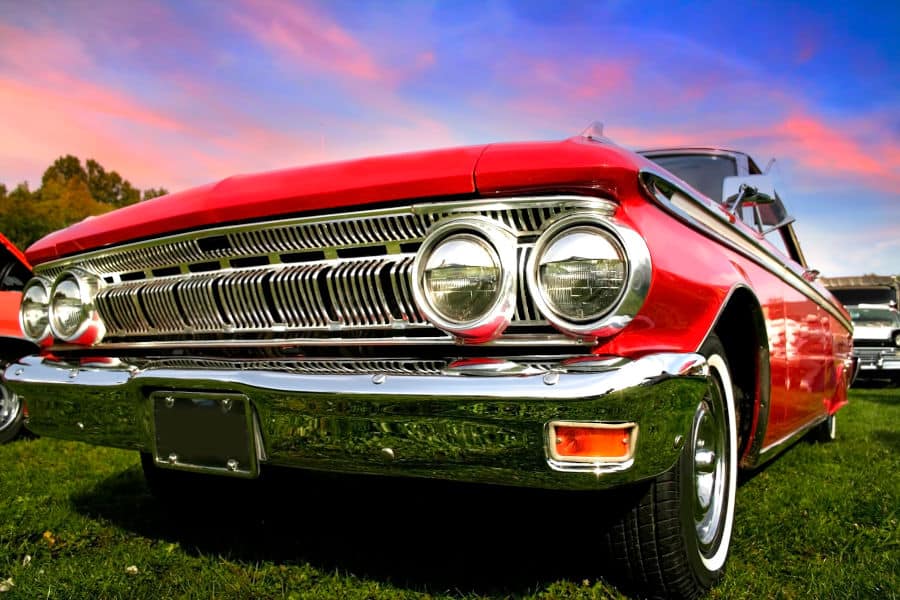 Some outdated methods for getting rid of oxidation were to scratch it off using abrasive materials. But doing that will also take off your paint's protective coat, and the oxidation will come back bigger and stronger.
So instead of causing unnecessary damage to your paint or plating, you can use a chrome polish. It's a unique, non-abrasive formula that will remove the oxidation without destroying the protective layer.
In fact, most of the chrome polishes I'm going to show you also have a protective coat in them. Not only will they protect your cars from rust and oxidation, but they'll also restore shine.
1. 3M Chrome and Metal Polish
3M has been in the auto industry for a long time, and they're famous for making top-shelf products with high-quality ingredients. Their chrome and metal polish is a new and advanced formula that can remove surface rust, corrosion, stains, and oxidation with ease.
What's more, you can use the 3M polish to get rid of dirt, grime, and water stains. You can use it on more than just chrome, including copper, brass, bronze, and stainless steel. So, in addition to your wheels, 3M's formula is safe for bumpers and trims, and you can apply it using a dry cloth or buffing tool.
Also, since it's a paste, it will remove even the toughest stains. Now, when you first open the container, you might notice that it has a big air pocket. But don't worry, you're still getting the full 10 oz, and a little bit of it will go a long way.
Once you've applied the polish to your wheels, you can buff it in with a detailing microfiber cloth to get the best shine. 3M claims its product is perfect for showroom cars or those that are often on display.
However, I wouldn't recommend using the 3M chrome polish if you only want to restore shine. Since it's pretty abrasive, you're better off using it on oxidation stains or if you have metal spotting.
Features:
Removes metal spotting, rust, and oxidation stains
Works on chrome, bronze, stainless steel, and more
Restores shine
Easy to use
Can be too abrasive
---
2. Turtle Wax Chrome Polish and Rust Remover
Turtle Wax is another massive player in the auto detailing industry that makes a wide variety of different products. Their chrome polish is one of the best formulas to restore shine to soft metal, aluminum, and chrome.
Similar to the 3M, the Turtle Wax polish works on wheels, bumpers, and different chrome accessories on your car. With it, you can get rid of dust, dirt, and grime, while restoring shine.
What's more, Turtle Wax's unique formula will also leave a protective film after you've applied it, and it will preserve your car from harmful sun exposure. Not only that; it will also prevent any future oxidation marks.
In addition to chrome, you can also use this polish on plastic trims and black rubber. The product is liquid and comes in a 12-ounce bottle. Also, it's extremely easy to use, and you can apply it to your car using a cotton or microfiber cloth, or with a foam pad.
Compared to the 3M, this formula is less abrasive and won't work as well on stubborn rust stains. Another thing to note about Turtle Wax's polish is that it has a bit of a strange smell.
Features:
Works on chrome, aluminum, and soft metal
Cleans and polishes
Easy to apply with a cloth
Not suitable for persistent rust stains
---
3. Mothers Mag and Aluminum Polish
The Mothers Mag and Aluminum polish is one of Amazon's top-rated polishes and my personal favorites. It is a paste that comes in a 5 oz or 10 oz tube that can get rid of grime and dirt while restoring shine. You can even buy it in a one-gallon container or as a 12-pack bundle on Amazon.
The Mothers company claims its product is gentle enough for regular use, and that you can put it on aluminum, brass, stainless steel, and other alloys. It's pretty easy to use, and all you need is a cloth to apply the product.
Just like the Turtle Wax formula, this polish will also leave a protective layer on your car to prevent oxidation. Also, a bit of product goes a long way and it can last you a long time.
However, I wouldn't recommend this polish if you're dealing with a serious case of oxidation. It simply won't be strong enough to get all of it out, and it works best for polishing purposes.
Also, you might need to apply some elbow grease when working with the Mothers Mag. But once you get the hang of it, it is entirely worth it as it's one of the best polishing products on the market.
Features:
Comes in a couple of different sizes, including 5 oz, 10 oz, and 1 gallon
An excellent choice for regular use
Works on all metals
Long-lasting
Not suited for severe oxidation marks
---
4. Simichrome All-Metal Polish
One of the biggest selling points for the Simichrome polish is that you can see it taking effect in just 30 seconds. It's one of the strongest polishes on the market — it can eliminate rust, oxidation, and polish the metal.
Also, as the name implies, the all-metal polish works on different surfaces, including copper, chrome, bronze, gold, and silver. You can even use it on sterling, magnesium, pewter, and stainless steel.
In addition to cleaning and polishing, the all-metal paste will also protect your car. Once you've applied it, it'll leave a thin film that can help prevent further oxidation.
The polish isn't too abrasive, and you can use it regularly. In fact, I even recommend using the Simichrome polish on delicate pieces of chrome, like antique clocks or watches.
The only downside to the Simichrome paste is that it comes in a 1.76-ounce tube. Even though a bit goes a long way, you might find yourself shopping for a new one shortly. What's more, it takes a bit of finessing to make the product work, and you'll have to put in a bit of elbow grease.
Features:
Quickly takes effect
Polishes metal and strips oxidation
Works on most metals
Leaves a protective film
Small tube
---
5. Blue Magic Metal Polish Cream
The metal polish cream from Blue Magic's formula works on copper, brass, aluminum, and chrome. You could also use it on stainless steel, gold, sterling silver, and plastic.
Blue Magic's formula brings three levels of care to your chrome accessories and metals. First, it'll clean any dirt or dust build-up while also removing any stains. Then, the cream will polish your chrome and restore its old shine before coating it with a protective film.
You can apply Blue Magic to your chrome using a dry, microfiber cloth. But for even better results, I recommend using a buffer or polisher, like the Black & Decker one. If you need to cover a bigger surface area, using these power tools is the most efficient way to go.
One thing to keep in mind about the Blue Magic formula is that it was created to get rid of the toughest oxidation and rust stains. With that said, it is pretty abrasive, and the product contains ammonia.
So I wouldn't recommend using it in your home or garage unless they're well-ventilated. Instead, you might be better off taking it outside to avoid breathing in the harmful substance.
Features:
Works on most metal surfaces
Removes rust and oxidation stains
Leaves a protective layer
You can use it with a cloth or waxer
Abrasive formula with a strong ammonia scent
---
6. Quick-Glo Chrome Cleaner and Rust Remover
The Quick-Glo is another popular product that most auto detailing shops have because it's extremely versatile. To start, you can use it on cars, boats, motorcycles, and so on. In addition to chrome, you can also use it on stainless steel, copper, porcelain, and silver.
But one of the biggest benefits of using the Quick-Glo is that it also works on mirrors and windows. So when you're polishing and detailing your car, you don't have to use multiple products to get it to shine.
The company says that their product is non-toxic and environmentally friendly, as well as strong enough to remove rust and oxidation stains. Also, unlike the Blue Magic formula, this product doesn't give off any harmful fumes, and you don't even need to wear gloves when handling it.
However, one of the biggest cons of the Quick-Glo is that, if exposed to high temperatures or humidity, it can change its consistency. It will go from a paste to a liquid, and once it does, it's unusable. So I wouldn't recommend it to those of you living in warmer states or those who don't have a cold storage space for it.
Features:
You can use it on cars, boats, motorcycles
Works on chrome, aluminum, porcelain
Environmentally-friendly formula
Changes consistency when exposed to heat
---
7. Eagle One Original Nevr-Dull Wadding Polish
The wadding polish from Eagle One will remove rust, corrosion, oxidation, and even tar from your chrome. You can use it on your wheels, car accessories, fishing gear, silverware, and metal trims. Similar to Blue Magic's formula, Eagle One's formula works in three steps — cleaning, polishing, and protecting your metals.
Now, the Nevr-Dull is a pretty mild abrasive, and you can use it often. Also, just a bit of it goes a long way, which is fortunate, considering you only get 5 oz of product.
But one of the biggest selling points of the Eagle One polish is how easy it is to use. All you have to do is tear off the wadding pads and start cleaning. There's no chance of accidentally spilling something and making a mess if you knock it over.
However, keep in mind that wadding polish can quickly dry out and become useless. Also, even though the company advertises it, the pads aren't as abrasive as cream or paste, so they won't get rid of any rust or oxidation. I would recommend this product only for polishing, not restoring.
Features:
Works on wheels, fishing gear, and silverware
Polishes and protects metal
Mild, non-abrasive formula
Extremely easy to use
The product dries out quickly
---
8. Surf City Garage Killer Chrome All Metal Polish
You can buy the Surf City Garage Killer in 8-oz and 16-oz bottles, and it's supposed to be a non-abrasive, scratch-free product. Due to its unique formula, this polish won't leave any scratches or streaks on your car. Once you're done polishing, you'll see a mirror finish.
In addition to chrome, you can use this metal polish on aluminum, stainless steel, and brass. Since it is a cream product, you can use a dry, microfiber cloth to buff it into your car. However, you can also use a rotary buff and fine polishing pad to get even better results.
What's more, Surf City claims that their Garage Killer is twice as efficient as any other product on the market. In fact, the product is so popular that it's the official chrome polish of the American Muscle Car Collection Association.
Similar to the Eagle One wadding pads, I wouldn't recommend using this product for persistent rust or oxidation stains. Instead, you're better off using it for cleaning and polishing your chrome.
Features:
Comes in two sizes
Non-abrasive, scratch-free formula
Easy to use
Doesn't remove rust stains
---
9. Chemical Guys Heavy Metal Polish
The Chemical Guys is a world-renowned car care brand that manufactures everything from accessories and tools to cleaning products. Their famous heavy metal polish is a cream that comes in 4-oz and 16-oz bottles.
You can use it to remove light rust stains and oxidation from chrome bumpers, aluminum trims, and stainless steel exhaust tips. Furthermore, it works on silver, gold, brass, and copper.
In addition to cleaning, the polish has advanced polymer sealants that will help protect your metalwork from the elements. You should also use it on the diamond plate metalwork to remove any contaminants from it and thoroughly clean it.
The heavy metal polish is pretty easy to use, and you can apply a dime-sized amount on a microfiber cloth. Then, rub the product in with the cloth to get it sparkling clean.
In addition to the heavy metal polish, Chemical Guys also do a light metal version that will give you some extra shine. If you want to get both, I recommend using the heavy one first, and then the light metal for detailing.
Features:
Comes in two sizes
Removes oxidation and rust
Works on chrome, silver, gold, and more
Cleans, polishes, and protects
Requires a bit of elbow grease
---
10. Meguiar's All-Metal Polish
Meguiar's all-metal polish is another paste product that doubles as a foaming cleanser. It's essentially a motorcycle polish that you can use on all chrome and aluminum metalwork. What's more, the product is formulated with special oils that can cut through dirt and grime without scratching the surface underneath.
Also, it contains a unique polymer blend that will protect your chrome and aluminum parts. Not only that, but Meguiar's also claims that the polymer blend makes your surfaces shine longer than any other polish on the market.
Since it is a paste, the formula is somewhat abrasive, and you can use it to remove rust and oxidation from your car or bike. All you have to do is apply it with a clean and dry microfiber cloth and rub in the polish.
In Meguiar's all-metal line, you can also buy a Mist & Wipe Detailer, a Spray & Rinse cleaner, as well as liquid wax. You can even purchase cleaners for leather seats and plastic.
Features:
Paste product that also works as a cleanser
Removes rust without leaving scratch marks
Polymer blend extends the shine time
Takes up a lot of shelf space even though it has 6 oz of product
---
Things to Consider Before Buying Chrome Polish
Before you settle on any chrome polish, you should think about which of the following features are essential to you.
Versatility
If you have more than just one type of plating on your car, you should buy a polish that works on multiple surfaces. For example, some polishes work on aluminum, steel, nickel, and gold.
What's more, there are some chrome polishes that you can also put on brass, copper, glass, and plastic. But before you use them on any surface other than chrome, make sure to check out the instructions on the packaging because they might not all be compatible.
Longevity
One of the key things to look for on every polish is that it's formulated to provide long-lasting shine and protection. Without it, you'd have to reapply the solution every month, which can be time-consuming.
Also, and this goes without saying, check how much product there is in every bottle or tube. The bigger the packaging, the longer it'll last you.
Ease of Application
There are different types of polishes on the market, including creams, liquids, paste, and wadding pads. They will all have different methods of application, and some might require you to use special tools.
On the other hand, some polishes have sprayers, and you can apply them to your chrome plating in a couple of minutes. So when looking at which polish to buy, make sure you also have the tools you need to apply it.
Types of Chrome Polish
As I mentioned, there are four different types of chrome polishes you can buy right now. All of them come with their own pros and cons, and they're all in various price ranges.
Paste
Paste chrome polishes have the densest consistency, and they're usually kind of tricky to apply. But when it comes to getting rid of persistent oxidation stains or rust, they're your best choice. Also, make sure you're wearing protective gloves when working with a paste polish because it can be pretty abrasive.
Cream
Now, cream polishes aren't as thick as a paste, but they can handle different levels of cleaning and polishing. If you have any microdamage, surface-level rust, or fading, I recommend using a cream polish because that's what is used in most professional settings.
Liquid
Liquid polishes have been all the rage in the past few years because of how easy they are to apply. What's more, with them, you can thoroughly clean your car as they won't leave any streaky marks on it. However, you can only do a surface clean with a liquid polish — it won't get rid of any corrosion.
Wadding
Although once popular, you won't see wadding pads as often on the market right nowadays. Even though they're as effective as any other type of polish, they can easily dry up. Once that happens, the product becomes utterly useless. Also, due to their unique consistency and size, I would recommend using wadding pads for smaller projects.
How to Use Your Chrome Polish the Right Way
Before you can get to polishing, you should first clean your entire car, especially the chrome parts, and get rid of any dust. If you don't know how to do it or what to use, here's my list of the ten best car soaps and shampoos that work every time.
If you're cleaning your wheels, I recommend using a soft-bristled brush so that you don't scratch them. Also, don't forget to clean your lug nuts and the wheel wells. Once you're happy with how you've cleaned everything, you can take a dry cloth to wipe the excess water away.
Now, when you start polishing your wheels, go one at a time, to avoid getting streaky lines. First, apply your chrome polish to the wheel, and using a cloth or sponge, start rubbing in the product. If you have a power drill, you can even get something like Mothers PowerBall tool to spread the polish.
Then, using a dry cloth, wipe away any excess polish from your wheel and repeat the steps on the other three. If the dirt is persistent and your wheels still aren't shining, you might have to repeat this step a few more times.
To ensure your chrome stays gleaming, you can apply some wax to it. Not only will it give your wheels more shine, but it'll add additional protection against the sun and rain. If you don't want to splurge on an expensive wax, I recommend using carnauba or paraffin.
Once you've applied the polish, use an applicator to put the recommended amount of wax on your chrome. If you repeat this process every one to two weeks, you won't have to clean or polish your car as often.
Benefits of Polishing Chrome
After a while, no matter how fancy or luxurious your car is, it'll start losing its shine. Since they're exposed to the elements, your bumpers and wheels will look faded and dull. What's more, having these lackluster elements will make your car look dirty. Luckily, a high-quality chrome polish can reverse these effects and more.
What's more, as your chrome oxidizes, it won't be able to protect the steel under it, which can easily rust. But the polish will protect the steel elements that are underneath the chrome plating.
Another benefit of using chrome polish is that it will clean your car from all of the dirt and rust particles. By cleaning and polishing your car on a regular basis, you can retain its resale value better. Even if you don't want to sell your vehicle in the near future, doing this kind of maintenance will keep your car in good shape for years to come.
Final Thoughts
There you have it  — my top ten best chrome polishes for cars, bikes, and metalwork. As you can see, most of these products are incredibly versatile, and you can use them on a wide variety of different metals. What's more, the majority of them will not only polish but also remove rust and oxidation stains.
However, before you make your final purchase, consider where and why you're using the polish. If you need something for a big restoration project, I would recommend an abrasive paste. On the other hand, if you just want to polish your metalwork and restore shine, go for something liquid or in a spray bottle.
RELATED POSTS: