Convertibles are amazing, but like any other car, they require constant care and maintenance. More often than not, the convertible's top is the part that needs the most attention. I've learned that first hand when I bought my first convertible years ago. As an owner, I need to keep the top clean at all times and to do that I need the best cleaners, as well as the best dust and dirt protectants.
For that reason, I've decided to share with you my own list of the best convertible top cleaners and protectants of early 2023. In addition, you'll get to read a brief buyer's guide that will let you know what to look for when buying convertible top cleaning products.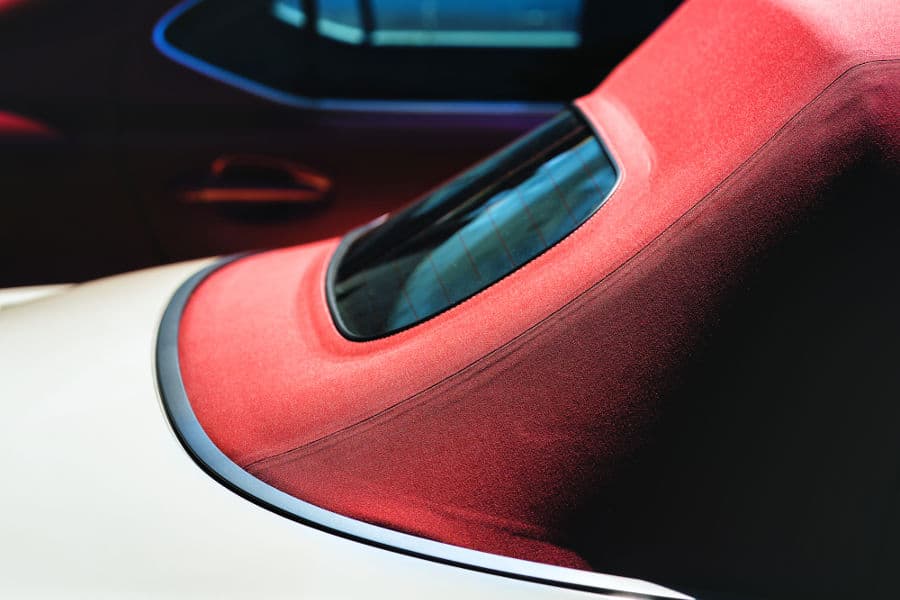 10 Best Convertible Top Cleaners and Protectants
1. Surf City Garage 109 Top End Convertible Cleaner and Protectant
Let's start this list off with the perfect product for vinyl soft tops. Surf City Garage 109 is both a cleaner and a protectant. As someone who appreciates a good bargain, I'd suggest getting this product based on that fact alone.
Of course, there's more to 109 than just cleaning and protecting. In fact, I've neglected to tell you that it's actually not a 2-in-1 agent, but a 3-in-1. Aside from being a cleaner/protectant, the 109 is also a powerful conditioner; in other words, it won't just make your top clean and dust-resistant, but it'll also remove any stiffness and rigidity.
In terms of protection, the 109 can handle most outdoor elements like dust, debris, and so on. Moreover, it's a great agent to use against UV rays. You will no longer have to worry about the sun wearing out your convertible top and dulling its colors.
One last detail I purposefully left out is just how versatile Surf City Garage 109 is. Yes, it's perfect for vinyl tops, but you can just as effectively apply it on any fabric top out there. For my money, that's definitely a plus.
Features:
Offers amazing protection against UV rays
3-in-1 cleaner, protectant, and conditioner
Works on different types of convertible tops
Easy to use and non-toxic
---
2. Raggtopp Convertible Top Vinyl Cleaner and Protectant Kit
Raggtopp is a brand that customers across the USA adore. After all, it has been manufacturing high-quality products for years and it hasn't failed us yet. That's why it's no wonder that one of their convertible top cleaning kits would end up on this list.
Looking at the product, I can definitely understand why so many customers see it as their #1 choice. Within its handy bag, you'll find both a universal cleaner and a vinyl-only protectant, as well as a brush and a cloth.
The spray bottles make it easy to coat the top with the agent inside which is, at this point, an industry standard when it comes to convertible top cleaning products.
What's amazing about the cleaner is just how strong it is. I've used it on some pretty nasty, strong stains and it removed them without a hitch. But at the same time, the formula is so gentle that it feels like a smooth, soft liquid, making it perfect for fabrics.
Like all great kits, this Raggtopp product is environmentally friendly and biodegradable. Not only will it be safe for the environment around you, but it'll also have no negative effect on your own health.
Features:
Kit includes both a cleaner and a protectant in easy-to-use spray bottles
Environmentally friendly and biodegradable
The cleaner removes tough stains without harming the exterior
The products leave no residue behind
---
3. Griot's Garage 10855 Convertible Top Cleaner
I've known about Griot's Garage for some time now, and I can say with some confidence that their products are amazing. They get the job done quickly and your top looks amazing afterward. So, when I saw the 10855 cleaner, I had to try it out.
Unlike most manufacturers I run into, Griot's Garage doesn't really "boast" about how effective its products are. And if there's one thing I love about a product, it's when it speaks for itself without fancy advertising. One look at this cleaner and you'd think it's the most basic thing in the world. However, its potent formula makes it perfect for fabric tops, as it isn't too strong or too crass to damage them.
Naturally, what I loved the most is just how well 10855 works on my vinyl top. I've had some minor mildew problem, and after using this cleaner, the mildew didn't start growing back for months. More importantly, the top itself didn't start to crack or break after I used the product on it.
I should note that 10855 is both a cleaner and a protectant. Once you apply it, it'll protect your top from dirt, dust, and other particles effectively. And since it's perfumed and made of natural products, you'll wish you could use it over and over again, even when your top is clean.
Features:
Both a cleaner and a protectant
Effective on both vinyl and fabric
Great against mildew, sand, dirt, and dust
Perfumed and made from organic materials
---
4. SoftTopp Vinyl Jeep Top Cleaner and Protectant Kit
If you own a Jeep with a vinyl top, you'll want to pay attention to this SoftTopp kit. While it might contain a universal cleaner, it definitely works a bit better on vinyl than it does on fabric tops.
The cleaner uses a biodegradable, non-toxic formula. On top of that, it's not silicone-based, nor does it contain any petroleum solvent. Both of these chemicals would damage the convertible top if you were to use them; I've met more than a few people who have used low-grade silicone cleaners and ended up having to buy a new top altogether.
Because of its ingredients, the cleaner does wonders with stubborn stains and dirt patches. However, it's soft enough not to cause the color of the top to fade and it works just as well with tiny dirt particles.
Finally, I should point out that both the cleaner and the protectant work wonders against UV rays. If you happen to drive around in direct sunlight, this SoftTopp kit will be your Jeep's best friend.
Features:
Not silicone-based and petroleum solvent-free
Works on both soft and hard stains
UV protection
Non-toxic, biodegradable formula
---
5. Bestop 1121500 Vinyl Care Kit
The good people at Bestop tend to make products specifically for Jeeps. However, I can assure you that their 1121500 kit works just as well on any vinyl soft top. Moreover, it works on fabric tops equally effectively.
This particular Bestop kit comes with 3 separate products:
Top cleaner
Top protectant
Vinyl window cleaner
And just like any other Bestop product, all three are non-toxic and biodegradable. In other words, you can clean your convertible top and save the environment at the same time, which is a neat little bonus in my book.
But there is more to Bestop's formula than safety. Because it's low pH, anti-oxidant, and residue-free, this product (or rather, all three) stays calm on the surface of the top and, more importantly, only removes the stains. In short, it doesn't damage any of the paint or the materials.
Finally, there's the versatility of the product. I already noted that it works great on both vinyl and fabric tops. However, since it's so safe and residue-free, you can use it on seat covers, interior and exterior vinyl, as well as other fabric or vinyl parts of your car. That way you can save money you'd otherwise give on interior-specific cleaners and protectants.
Features:
The kit comes with three separate products
Works well on both vinyl and fabric
The formula leaves no residue and removes nothing but the stains
Environmentally-friendly and biodegradable for a safe coating
---
6. Chemical Guys HOL_996 Cleaner and Protectant Kit
If Griot's Garage 10855 had the basic, simple design, then the Chemical Guys HOL_996 is the exact opposite. The bottles that come within the kit look like expensive, aged whiskey. Of course, that feature is not at all important when it comes to cleaning convertible car tops, but it's an added little bonus that I can't help but adore.
Aside from the cleaner and the protectant/repellent, the HOL_996 kit also comes with a horsehair brush and several high-quality microfiber towels. When you combine these tools, you get one of the most efficient convertible top cleaning kits on the market. And like any other kit worth its salt, the HOL_996 can clean both fabric and vinyl tops with ease.
Fading or dimming colors can make your top look unappealing. Luckily, this cleaning kit is well-suited for all colors as it doesn't have any dye-specific additives. More importantly, it's water-based; no traces of silicone or bleach can be found in either the cleaner or the protectant.
Finally, the Chemical Guys' kit is perfect for UV and dirt protection. One thin layer of the protectant is enough to repel any scorching sun rays and keep the top looking as clean as the day it came out of the factory.
Features:
UV and dirt-repellent
Full kit containing a horsehair brush and microfiber towels
Works well on both vinyl and fabric tops
Water-based and silicone-free
---
7. Meguiar's G2016 Convertible Top Cleaner
The G2016 might just be a cleaner and not a cleaner/protectant combination. However, the reason why I decided to place it on this list is that, as a cleaner, it gets the job done better than 90% of its competitors. And since it's a Meguiar product, you can't really expect anything short of amazing.
As a cleaner, the G2016 is quite handy, since it can cover both fabric and vinyl surfaces. In addition, the spray bottle design is easy to use and store, so you'll have no problem getting rid of stains on your top.
Interestingly, even though it's not classified as a protectant, this product does offer amazing post-cleaning repellency. For example, once you're done cleaning, you can say goodbye to dust and dirt for a very long time. In addition, because of its formula, the G2016 will make your top water-proof for a while after it dries.
But probably the best feature of this cleaner is that you don't need to do any hard scrubbing when you spray it onto a stain. Once you apply a small amount, it will start foaming up and you only need to wipe it away after a while.
Features:
Amazing cleaner with some protectant properties
Easy to use and store
No need for hard scrubbing
Handles both soft and hard stains on all types of convertible tops
---
8. 303 (30520) Convertible Fabric Top Cleaning and Care Kit
It's nice to see a kit that looks simple, yet effective and to-the-point. 303's famous 30520 is one such kit, since it packs a lot of punch for a product that's packed in a tiny, cardboard box.
So, what do you get in the 30520's box, then?
Each kit contains both a universal top cleaner for vinyl and fabric roofs and a fabric guard. The first of the two is a high-ranking cleaning product that can get even the most stubborn stains out of any top. On the other hand, the fabric guard might just be one of the best fabric top protectants I had the pleasure of using. It's so powerful that the top of my old convertible looked as if it were 10 years "younger".
The two products are both water-based and contain no harmful materials. Moreover, once you use them, they'll provide some basic water resistance to your fabric top, which is important if you live in an area with lots of moisture and rain.
Finally, the 30520 is odorless and contains no dye residue. In other words, it's perfectly safe to use on most fabrics and it won't leave any nasty scent behind.
Features:
Odorless and dye-free
Water-based with zero harmful chemicals
Perfect for all fabric convertible tops
Provides water resistance to the fabric
---
9. Blue Magic 707 Convertible Top Cleaner with Trigger
What would you say if I stated that Blue Magic 707 can clean boat curtains and truck bed covers almost as efficiently as other, more expensive products out there? Yes, needless to say, I was as surprised as you when I found out just how potent this amazing cleaner can be.
First off, your average 707 pack comes with 6 spray bottles. That's more than enough top cleaner to last you a whole year! But more importantly, each and every one of the bottles is incredibly easy to use. All you have to do is spray some onto the top and wipe it off with a microfiber cloth.
Next, this Blue Magic product uses a special, quick-drying formula. You will literally be able to drive your convertible mere minutes after you've cleaned its top, and it will look fantastic.
Finally, there's the benefit of using the 707 on both fabric and vinyl tops. Versatile, plentiful, and quick-drying — that, to me, is a recipe for success and it earns the 707 a place on this list.
Features:
Quick-drying
Easy to use
Multiple bottles in a single pack
You can use it on both vinyl and fabric tops
---
10. AutoGlym Convertible Soft Top Clean and Protect Complete Kit
"Passion for perfection" is the AutoGlym's motto. This British manufacturer has been making amazing car-related products for years, and I honestly couldn't wait to try its Clean & Protect kit out. And considering it's on this list, you can guess what my original reaction was.
The AutoGlym kit comes with a cleaner, a protectant, and a soft cleaning sponge. The cleaner is so powerful that you can spray some of it on the stain, leave it overnight, and wake up to see the stain completely gone. Moreover, it's just as effective on stubborn stains as it is on simple ones.
But the cleaner would be nothing without a good repellent by its side. The AutoGlym protectant can provide some decent waterproofing to your vinyl or fabric top. In addition, it will protect it from any micro debris such as dust, dirt, and sand.
Both products are made from organic, biodegradable material and contain no harmful chemicals. You won't have to worry about your health when you use them, nor will they cause the color of your top to fade.
Features:
Kit comes with a cleaner, a protectant, and a sponge
Made from non-toxic, organic material
Cleans stubborn stains and protects from outside elements
Easy to use
---
What to Look for in a Convertible Top Cleaner or Protectant
In order to get the best possible cleaner for your convertible top, I'd suggest getting to "know the market", so to speak. With that in mind, here are a few quick tips on how to shop for top cleaners and protectants.
Fabric or Vinyl
Most convertibles are made from either vinyl or a specific type of fabric. Both have their advantages and disadvantages in terms of performance and maintenance.
Fabric Tops
An average fabric top is soft and somewhat easy to get dirty. In addition, it's not as strong as the vinyl option. However, it's also incredibly easy to clean and unlike vinyl, fabric doesn't catch mildew or get cracks when exposed to harsh weather.
Vinyl Tops
A vinyl top will always look more appealing than a fabric one. It's sleek, shiny, and doesn't stand out from the rest of the convertible. In addition, vinyl is a more durable material than fabric, so it can handle rain, snow, and other types of precipitation.
On the other hand, due to age or constant exposure to weather, vinyl can crack or mildew can start growing on its surface. Unfortunately, once that happens, you can't repair the top and have to replace it altogether.
Which Cleaner or Protectant Will Work, Then?
Both vinyl and fabric tops have their own specific cleaners. However, I also suggest buying universal cleaners that can handle both. More often than not, their cleaning capabilities are the same as those of top-specific products.
More Than Just a Cleaner
Getting rid of dust, dirt, and stains is one thing, but you need to think about keeping the top clean in the long run. In other words, when deciding on whether to buy a cleaner or a protectant, you might want to consider actually getting both.
Of course, you can always find a product out there that's an "X-in-one" cleaning agent. All you should do is spray it on and you'll be good to go. Still, some manufacturers prefer to sell kits that contain more than one product; you can get a cleaner, a dirt repellent, and a microfiber cloth or a brush.
Ease of Use
Naturally, if I were buying a cleaning product, I'd want it to actually clean well. But doing it in an easy, accessible way is, in my opinion, equally important. Not only would I want it to be in a container that I can use right after I take it out of the box, but I'd also want it to dry quickly. That way I can apply it fast and drive my convertible as soon as possible.
Quantity
Convertible tops are by no means the biggest part of the car, but they are quite wide and spacious. With that in mind, I would probably need more than a single bottle of cleaning fluid.
Based on the size of your top and your budget, I'd suggest buying a few bottles right away. Even if you don't use everything at once, you will still have a lot left over for the next time you have to clean the top.
Getting a Kit
Speaking of quantity, I would definitely recommend getting a cleaning kit rather than just a cleaner or a protectant. Usually, a typical kit consists of these two products, but it will also contain a few microfiber cloths and a cleaning brush. Granted, you can use your own brushes and cloths, but sometimes it's better to get the cleaning supplies that were tested with the brand you're using.
The Color Issue
Some convertible tops are black, others are brown, others are white, etc. Based on that, you would be right to ask "should I pick a cleaner/protectant whose color matches the top?"
Personally, I always get universal cleaners that match all colors; they are usually transparent and, aside from matching all colors, they also tend to match all surfaces. However, there are cleaners out there that contain some amounts of dye. If you can't afford a universal option, make sure that the dye within the cleaner matches that of your convertible top.
Fragrances
Yes, the scent of your convertible top is just as important as its cleaning. So, I'd suggest getting any protectant or cleaner with a nice, natural fragrance. Just remember to avoid anything with citrus or bleach in it, as those can ruin the top.
Chemicals and Natural Materials
Obviously, there's no real debate about the following: you should try to get a cleaner or a protectant that's environmentally friendly and avoid any potent, harmful chemicals.
When getting a product made from natural materials, you get to clean your car without damaging your environment. More importantly, these types of cleaners are safer than others, since they don't cause any immediate harm to your health. Nevertheless, always wear rubber gloves when applying them on your convertible top.
Of course, sometimes you just can't avoid getting a cleaner with lots of harmful chemicals. If that's the case, make sure you do the cleaning in a well-ventilated area or outside. In addition, check if there are any legal restrictions when it comes to what chemicals you're allowed to use.
How to Clean a Convertible Top
Below is a list of quick steps on how to clean a convertible top. I'll cover both fabric and vinyl tops briefly; for more detailed information, I recommend this handy article. Naturally, these are just the basic, general steps; in order to use your specific cleaner and protectant properly, make sure to read the instructions carefully.
Fabric Tops
Wet the fabric down softly and begin applying the cleaner
Start brushing it with a soft bristle brush
Rinse the cleaner off with warm water
Apply the protectant with a microfiber towel or a sponge
Vinyl Tops
Either vacuum up or brush off any loose debris
Wet the top down completely
Apply the cleaner and wait for 15 minutes
Gently apply the cleaner with a soft bristle brush in circular motions
Rinse the cleaner off with warm water
Dry the top by softly patting it with a microfiber towel
What to Avoid When Buying and Using Cleaners and Protectants
Not all cleaning products are good for the car, despite what they're advertised as. Here's a handy little guide on what to avoid when buying convertible top cleaners and protectants:
If your convertible has a fabric top, avoid using bleach, citrus, silicone, or any glossing agents
If you have a vinyl top, avoid using ammonia, alcohol, or vinegar
Never apply the cleaner or the protectant in direct sunlight
Avoid using them outside when it's windy, as it can spray dirt particles and slow down drying
Make sure the top, fabric or vinyl, is completely dry before applying the agent(s)
Final Thoughts
Each of the 10 products that make up my list ranks high with various online retailers. Of course, none of them is perfect and there are plenty of other cleaning products out there. So, if you want the best product that might not be on this list, feel free to peruse my buyer's guide and find the one that suits your needs.
Do you have any other suggestions regarding the best convertible top cleaners and protectants of 2023? If so, please post a comment down below.
RELATED POSTS: