A clean windshield and car window can do much more than just give off the appearance of a pristine, well-kept car. It improves the driver's vision and decreases fatigue for an overall safer ride. Although cleaning car windows is a relatively easy job; it can be challenging to choose the right product that won't leave you with a streaky finish.
So, if you want to clean your windows efficiently, take a look at my list of the very best car window cleaner tools. First and foremost, before selecting the perfect tool, let's take a look at the best techniques you should use for cleaning your car windows.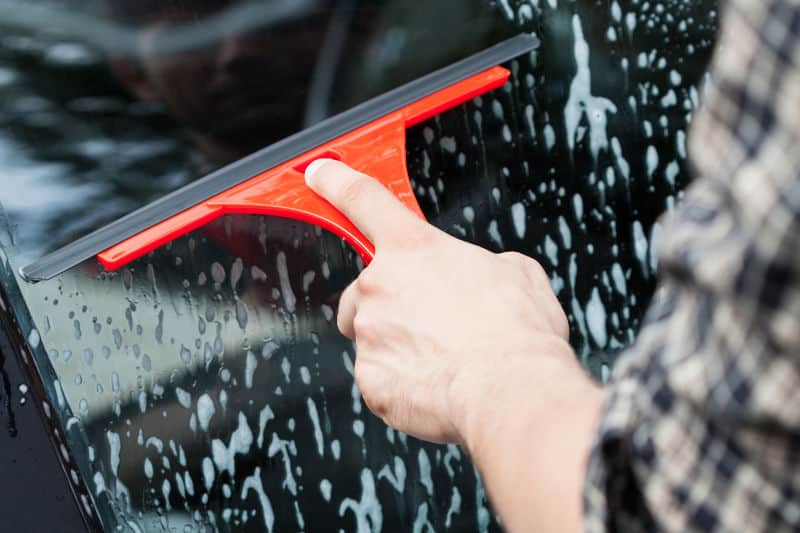 Cleaning the Inside of Your Windows
To properly clean the inside of your car windows, and not leave any streaks along the way, always spray your glass cleaner on a cloth. You can use any of the products I'll be listing in this article to scrub away the dirt accurately.
Take your time and make sure you reach all the nooks and crannies; so you don't have to keep going over the windows. Also, avoid wiping your windows in a circular motion, as it leaves more marks.
Avoid spraying the cleaner directly onto the window, as it can drip and stain or damage the plastic trim of your car. Some people advise using newspapers or paper towels to clean your car windows. However, I don't recommend using them.
Newspapers will leave ink residue all over your car, and paper towels shred easily, so you'll have to use a lot of them. If you're still tempted to try these cleaning methods, be my guest but remember that curiosity killed the cat!
Cleaning the Outside of the Windows
The first, and perhaps most important step in cleaning the outside of your car window is making sure you start with a blank slate. Wash your car before you do anything else in order to get rid of dirt and debris as much as possible. You can spray your choice of cleaner directly on the glass to dissolve any insects that are stuck to your window.
When cleaning your windshield, it's best to do it in sections so that the cleaner doesn't dry off before you get to it. Wipe in an up-and-down and side-to-side motion to prevent any streaks.
Never clean your windows during hot weather to avoid your window cleaner from drying up too quickly. Also, don't apply a cleaning solution onto dirty windows, as you'll pile up more dirt.
Now that you know the best techniques for cleaning your car windows and windshields, let's talk about the best tools to use. Below, I'll list the best store-bought products money can buy, as well as a DIY hack you can use to get your windows to shine.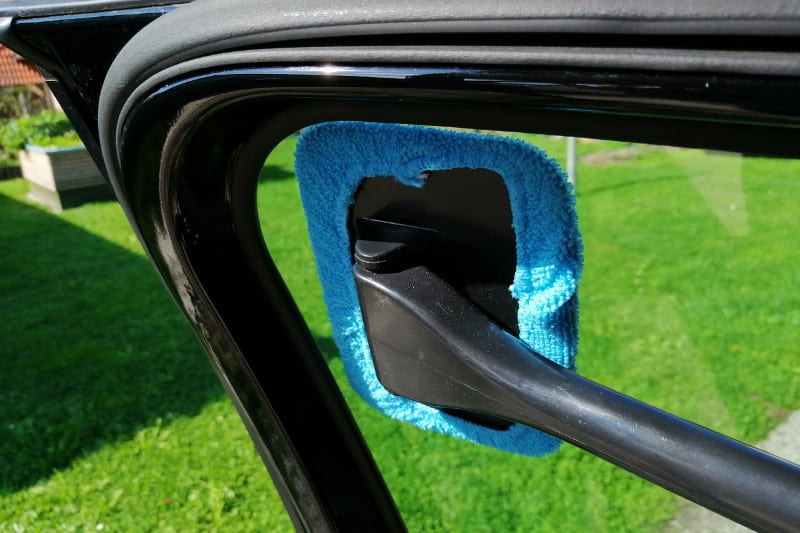 Best Cleaner Tools for Windshields and Windows
1. Squeegee for Shower, Window and Car Glass
Squeegee is an all-purpose tool for wiping tiles, shower doors, windows as well as car windshields. Each package comes with three dual-edge blades, which will last you for quite some time. It also comes with a detachable non-slip handle that allows you to have a firmer grip when you're cleaning your car. Squeegee claims to be able to help you clean your windows without leaving any streak marks.
However, because the handle is made of foam, it can soak up water or the cleaning solution, and get a bit slippery. On the other hand, this Squeegee comes with a high-quality guarantee and a 1-year warranty. You can also return your Squeegee within 40 days if you're not completely satisfied with it. If you're still sitting on the fence about Squeegee, you can check out this YouTube video and see how it works.
Main Features:
Suitable for cleaning most glass surfaces
Inexpensive
1-year warranty
40-day money-back guarantee
Slippery handle
---
2. Titan Tools Mini Razor Scraper
Titan Tools' mini razor scraper is another multi-purpose tool that you can use on both glass and ceramic surfaces. It features an ergonomically designed polypropylene handle which provides you with maximum grip and control. It also comes with a standard, stainless, single-edged blade, which you can be loosened and tightened.
Titan Tools' mini razor scraper can help you remove stickers, labels, and other adhesives from your car's windshields and windows. However, it might not be the best tool for you if you clean your car windows more often than most. The scraper is quite heavy-duty, and you won't need to use it every day. The overall quality of this mini razor isn't quite top-of-the-line, and can easily deteriorate over time.
Main Features:
Good for removing adhesives
Can be used for ceramics and glass, and even scrape off caulk
Inexpensive
Not the best quality
---
3. XINDELL Brush with Detachable Handle
XINDELL's windshield cleaner comes with a 2-pad towel, 30ml spray bottle, and a detachable handle, which you can take apart for easier storage. It's made specifically for washing both the interior and exterior, and should, therefore, make the whole process of cleaning much easier. Moreover, the brush itself is easy to clean and can remove a lot of dust, dirt, and debris from your windows and windshield.
You can also use this brush to clean foggy glass, especially after a misty morning. But, one of my favorite features of this brush is that it comes with a long, ergonomic handle. The extendable brush allows you to gain easy access to all parts of your windshield.
However, some customers complained about the quality of the XINDELL brush. Apparently, it can easily break if you put too much pressure on it. Therefore, when assembling the brush, make sure to handle it with care and don't try to force any of the parts to avoid damaging or breaking them. Nevertheless, XINDELL offers a 100% customer guarantee; so you can exchange your brush if you end up not liking it.
Main Features:
Long and detachable handle
The bonnet is machine-washable
Works great as a fog & moisture removal tool
Not very sturdy
---
4. BESTEK Telescopic Window Vacuum Cleaner
BESTEK helps you clean and dry your windows faster, and with more efficiency than a standard cleaning brush. It's cordless and features an adjustable extension pole which extends from 10 to 40 inches. This window vacuum cleaner is incredibly easy to use and adjust. BESTEK claims that it will help you get your windows clean and streak-free in a matter of seconds. It can run for 35 minutes nonstop and can handle both wet and dry use.
The window cleaner also comes with an LED indicator light, which will signalize if the battery is full, running low or completely empty. Moreover, it will also signal if there's an issue with the motor. Additionally, the company offers a 30-day refund policy and an 18-month warranty.
However, there are some complaints about the quality of the BESTEK vacuum cleaner. Some customers complained that the window cleaner stopped working within 6 months of purchase. Others argued that the suction of the vacuum is not optimal. However, it can still be good enough to clean your windows.
Main Features:
Wireless
30-day refund policy
Clean and dry window fast and effective
18-month warranty
The cord can be a bit too short for some users
---
5. Invisible Glass Reach and Clean Tool
Invisible Glass features a removable microfiber cleaning bonnet, which is reversible and washable. It's great for those tough-to-reach spots in your car, as you can easily extend its pole. The company promises that the Invisible Glass cleaning tool will leave your car windows and windshields both lint-free and streak-free.
However, there have been some issues with the cleaning bonnet not fitting the flexible head part of the tool. Moreover, some people claimed to have received different sizes and sewing patterns when they ordered a spare pack of 3 bonnets. If you're not sure if any of these statements (good and bad) ring true, you can check out this YouTube video, and decide for yourself whether this tool is the right fit for you.
Main Features:
Removable microfiber bonnet
Reusable
Extendable
Leaves the glass streak-free
Issues with the fit of the bonnet
---
6. Microfiber Towels
Microfiber towels are one of the best all-purpose cleaning tools. Although they sometimes take a back-seat to the newest, cutting edge gadgets, they are still the go-to product in many homes all over the world. They are great for cleaning tiles, microwaves, showers, etc., and can help you clean your car inside out. Microfiber towels are extremely absorbent, and won't leave any streak marks or damage your car in any way. Find the best microfiber towel for you in link below
How to Make a DIY Window Cleaner
If you don't feel like investing your time and money in a new cleaning tool, you can create your own DIY mix, and clean your car with items you already have in your home.
You'll need:
½ teaspoon of dish detergent
¼ of white vinegar
2 cups of water
A bucket
A spray bottle
Water (to spray the car clean)
A soft-bristle brush
How to use:
To clean the outside of your car, mix the dish detergent, white vinegar, and the 2 cups of water in the bucket. Dip the soft-bristle brush into the mixture, and use it to scrub your window. Once you are done cleaning your outside windows, rinse off the mixture thoroughly, make sure to do so before it dries up. Put the cleaning mixture in a spray bottle and use it for the inside of your car to avoid flooding it with water.
See also: Best Car Wash Soaps and Shampoos
Final Thoughts
If you're a true car lover, you know that proper maintenance will help you keep your vehicle at its best. Whoever said that cleaning your car regularly is a matter of vanity, is a fool. Cleaning your car windows is not just about looking good, it also helps you stay safe on the road. Also, who wants to look at dead bugs and grease marks on their windshield while they're driving?
If you ask me, all of the products I have listed in this article are worth trying out. And, it's only a matter of preference to know which one suits you the most. Depending on your budget, lifestyle, and needs, there are a lot of great products you could go for. However, if you're indecisive in general; you could always opt-out for a product that has a generous refund policy, to see if you like it.
If all else fails, it's good to stick with the classics. If you don't want to make an investment and want a cleaning tool that is truly versatile, I would recommend getting a microfiber towel. Even if it doesn't end up working out for your windows, you can use it to clean almost anything else in your home and car.
RELATED POSTS: