Most of us ignore the fact that, in order to keep a car running smoothly, we need to have a well-functioning engine. If I have learned one thing after owning a car for many years now, it is that maintaining the engine can go a long way in extending the lifespan of the vehicle.
Typically, the automobiles you see on the road today are more than 11 years old. Nowadays people tend to purchase pre-owned cars instead of new models. And they already have lots of miles covered, unless they are a classic.
To maintain high mileage engines, you need to take extra care. The engine mechanism has a lot of rotating and moving parts that need to be lubricated in order to function properly. After you run the car for thousands of miles, the oil present in it degrades. It starts to break down under high temperature and loses its lubricating capacity. That results in friction, which causes parts to wear off and the car's performance starts to drop.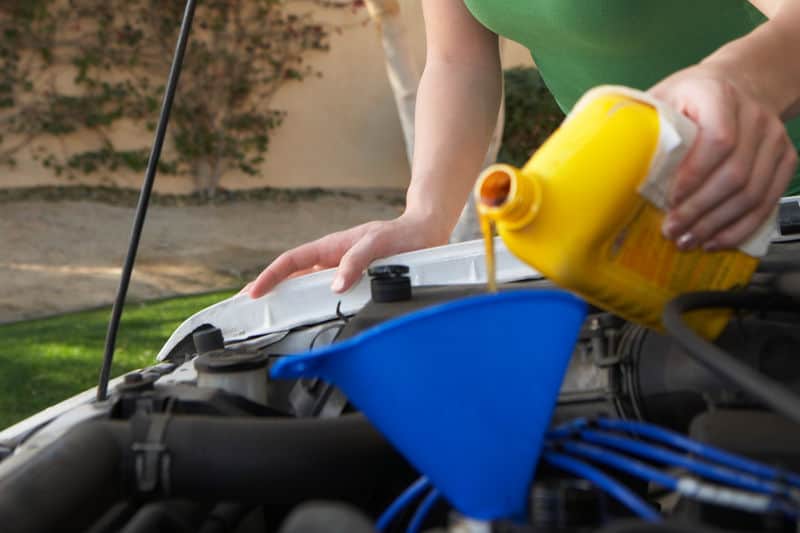 That's why it's really important to change the engine oil regularly and keep its level topped up. It lubricates the moving parts such as pistons that rub against cylinder walls, and it also takes away any debris that might have accumulated in the engine. In addition, it helps cool down the whole unit. All of this helps restore the car's speed and fuel economy.
So to help you out, I decided to list out the top six best motor oils currently available on the market. These are specially designed for old engines with high mileage, which will surely make your car run as new.
1. Royal Purple 5w-30 High-Mileage Synthetic Oil
Founded in 1986, Royal Purple is one of the oldest synthetic oil brands that produces full synthetic oil in a purple color. That's how the company got its name in the first place. Their US trademark and the API license in place makes them one of the reliable brands in motor oils.
If you have a car that has a lot of miles on it, you should definitely consider the ROY11748. It is an ideal choice for many drivers. In fact, it is also one of the top-rated motor oil on Amazon.
The ROY11748 is formulated to condition, shield, and revive performance. It contains a special combination of zinc and phosphorus, and is designed to reduce wear.
Furthermore, it helps minimize oil consumption, which is a very common problem in every car engine. And its lubricating properties also ensure that problems like misfires and loud idling, disappear over time. It will condition your engine seals and rejuvenate your engine back in no time.
What's more, you can't ignore its rather appealing bright purple container either. The advantage here is that you don't have to search all over the garage to find your motor oil. You can easily spot the purple packaging.
And if you don't know already, the ROY11748 can be used year-round. It can withstand both summer and winter temperatures with equal effectiveness. However, some users complain that the change in performance isn't as prominent as advertised. And some also believed that it decreased their gas mileage.
Other than that, most customers were highly satisfied with it and think that it is a perfect solution for cars having mileage more than 75,000 miles.
Main Features:
Reduces friction
Acts as an anti-wear compound
Reduces oil consumption
No remarkable change in performance
---
2. Valvoline High Mileage 5W-30 Synthetic Blend Motor Oil
With more than 150 years of experience in manufacturing motor oils, Valvoline offers top-notch synthetic blend oils. It is one of the most famous and oldest motor oil brands in the US. You can depend on Valvoline to offer you only the best for your car.
The Valvoline High Mileage with MaxLife Technology 5W-30 Synthetic Blend Motor Oil is highly recommended for aging engines. With its rejuvenating properties, it brings a new life out of the old engine.
First things first, the extra cleaning detergent present in the Valvoline High Mileage with MaxLife Technology 5W-30 Synthetic Blend Motor Oil goes a long way in keeping your engine sludge-free. We were glad that the manufacturer went an extra mile to keep the deposits from forming.
Furthermore, the seal conditioner makes sure to prevent leakage. It also provides the much-needed lubrication to the engine parts so as to avoid any unnecessary wear.
Moreover, its dedicated customer support system deserves mention too. They have a team of staff who is there to provide you with quick assistance regarding the use of the product. So if you are living in a tight budget, we would definitely suggest you consider Valvoline High Mileage with MaxLife Technology 5W-30 Synthetic Blend Motor Oil. It perfectly qualifies as one of the most affordable yet effective products.
To sum up, you can expect performance benefits for high mileage and new engines. It will help maintain fuel efficiency and also protect the engine in extreme temperatures.
Main Features:
Extra cleansing detergents to prevent sludge formation
Extra engine wear protection
Seal conditioners agent to stop leaks
Not Dexos approved
---
3. Castrol High Mileage 5W-30 Synthetic Blend Motor Oil
The Castrol 03102 GTX High Mileage 5W-30 Synthetic Blend Motor Oil can treat any car that has traveled over 75,000 miles. Castrol is one of the oldest and most prominent manufacturers of synthetic oils on the market. As industry giants, they can't afford to offer anything less than stellar synthetic motor oil.
And their Castrol 03102 GTX High Mileage 5W-30 Synthetic Blend Motor Oil is just that. It is exactly what you need to keep your engine running efficiently.
Old engines often face catalytic converter failure. Catalytic converter overheats due to improperly burned gas, which in turn leads to failure. Formulated using a less phosphorus additive, the Castrol 03102 GTX High Mileage 5W-30 Synthetic Blend Motor Oil uses advanced technology — invented and patented by Castrol — that helps prevent such failures. In addition, it also protects your engine from system failure.
It is natural for old engines to have debris and grime built up. This high mileage oil helps ward off the sludge build-up in your engine. Not only that, but it also protects your engine from burn-off way beyond industry expectations. Furthermore, it also prevents unwarranted wear, thanks to its advanced additive.
Apart from all that, its main highlight is that it economizes your fuel usage. After all, who doesn't like to save some money? Furthermore, the Castrol 03102 GTX High Mileage 5W-30 Synthetic Blend Motor Oil composition is based on API and ACEA for volatility specifications.
In a nutshell, it is a great choice for aging engines that need proper care, and are still in good condition.
Main Features:
Improved fuel economy
Prevents leaks
Protects the engine
Exceeds industry standards
---
4. Mobil 1 120768 High Mileage 5W-20 Motor Oil
Undoubtedly, Mobil 1 is one of the best motor oil brands — specifically known for producing premium motor oils for high mileage engines.
Mobil 1 5W-30 High Mileage Full Synthetic Oil is one such product that promises you over 75,000 miles of extended engine performance.
Mobil 1 5W-30 High Mileage Motor Oil is a pure synthetic oil with an appropriate blend of additives to rejuvenate your engine. It provides lubrication for your vehicle and helps protect critical engine parts.
The further seal conditioning and detergent additives ensure remarkable wear protection and also keep the sludge and deposits away from the engine. In fact, it also helps prevent leakage which is caused due to hardening. It is safe to say that it outperforms conventional products.
Moreover, the additives present in Mobil 1 5W-30 High Mileage Full Synthetic Motor Oil clean more than any other additives present on the market. Thus, the engine automatically performs better when it is cleaned out, and it automatically has a longer usage expectancy.
The good news is that it serves almost every kind of vehicle including trucks, light vans, and SUVs. However, it is not compatible with the aviation and the two-cycle engines.
What's more, the Mobil 1 5W-30 High Mileage Motor Oil comes in a 5-quart plastic container so that you can easily carry it while traveling. It ensures that if you are in the middle of a highway with no mechanic shops nearby, you can simply add oil to the engine, and be on your way.
Overall, Mobil 1 5W-30 High Mileage Motor Oil is an ideal choice for high mileage vehicles who want to switch from conventional oils.
Main Features:
Can withstand extreme temperatures
Boosts overall engine performance
Prevents leaks
Not suitable for cars with heavier viscosity
---
5. Rotella T6 Synthetic Diesel Motor Oil 5W-40
For those who don't know, Shell is a company well-known for making the best oil for diesel engines. They carry an experience of 40 years in the industry. So if you are looking for motor oil that can help extend the longevity of your engine, then look no further. We would recommend the Shell Rotella T6 5W-40 synthetic diesel oil.
To begin with, this is a fully synthetic diesel oil. Owing to its versatility, you can use the oil in nearly all kinds of diesel engines — cars, trucks, motorbikes, and more. And if your heavy-duty vehicle has a low emission engine, you will see even more effectiveness from using Rotella Synthetic Diesel Motor Oil.
Furthermore, you will notice that it keeps the engine free of any kind of dirt and also keeps the parts well-lubricated to avoid any friction. Thus, it directly impacts the lastingness of the engine. In fact, it is noted that it provides 34% better performance than any other formula in case of preventing tears.
Moreover, it also protects the engine from acid formation that is a common consequence of combustion or the aging oil. The best part is that you don't have to change the oil as long as the engine is dirt free, saving you the trouble.
Main Features:
Reduces friction by lubricating metal surfaces
Increases fuel economy
Extends the longevity of the engine
May cause a slight increase in oil pressure
---
6. Pennzoil Platinum High Mileage Oil 5W-30
From the makers of the leading brand, Pennzoil motor oils are well-known to boost the performance of the engines. Founded in California in 1913, since then the company has been serving quality motor oil for its consumers.
If you are looking for a great all-rounder high mileage motor oil, then Pennzoil Platinum High Mileage Motor Oil 5W-30 is the best choice to consider.
The Pennzoil Platinum High Mileage Motor Oil 5W-30 is made using the PurePlus Technology, which has been patented by Pennzoil. The process involves the conversion of natural gas into high-quality synthetic base oil.
Designed specifically for high mileage engines, the oil contains a unique blend of additives. It protects against excessive wear that is caused due to the old age of the engine. Furthermore, it prevents the sludge build-up in the engine, and the conditioning seal helps keep seals in good condition, thus reducing leaks.
Another best feature of the Pennzoil Platinum High Mileage Motor Oil 5W-30 is that apart from improving the performance of the engine, it also economizes on fuel. To add, you can use it in almost every kind of vehicle including the SUVs, passenger vehicles, and heavy commercials.
However, it is a bit costly. So if you are on a tight budget, you might hesitate to buy it. But for what's it worth, it totally justifies its price with its functionalities.
Main Features:
Over 75,000 miles of the engine performance
Good oil viscosity control
Formulated using PurePlus Technology
A bit expensive
---
Now that you know which are the top six best motor oils for high mileage engines, let me answer the most important question now.
How Often Should You Change Oil in High Mileage Cars?
I have often seen my readers inquiring about this one simple question — how often should I change the oil in my high mileage car engine?
I hate to break this to you, but there is no concrete answer to that. However, with every routine service of your car, the mechanics will change the oil in your engine, if necessary. How often that happens depends on your driving habits.
With prolonged use, the engine oil starts to lose its viscosity and lubrication properties. But there is a certain exception to it. Those who drive their car at different speeds and are generally abusive of it, they might need to change their engine oil earlier than needed. And needless to say, for those who maintain their car well and drive it smoothly, the vehicle service intervals are spaced correctly for the motor oil to be changed.
Other than that, storage is also a dominant deciding factor in it. If you have no intention of using for a long time, you should change the oil before you stop using it. Or if you missed doing that, then it's advisable to change the engine oil before you start using it again.
What to Look For When Choosing Engine Oil
I know there are so many types and brands of oil available, and it may look incredibly confusing at first. But let me break down things for you to help you make an educated decision while choosing the best motor oil for your vehicle.
Recommended Viscosity
While getting motor oil for your car engine, you can't toss away the importance of viscosity of an oil.
For those who don't know, viscosity means the ability of the fluid to resist its flow. The viscosity depends on the temperature — in high heat, the oil will be thinner than it is when the temperature is low. It affects heat generation in cylinders, gear sets, and bearings, and it also governs the rate of oil consumption. Plus, it is responsible for the smooth operation of the engine in varying temperature conditions.
.
So you need to know the appropriate viscosity rating for your car. Earlier it was quite easy to determine — using the "##W-##" formula. The number before the letter 'W,' which stands for winter, refers to oil's viscosity properties during a cold start and the number without the letter refers to the high operating temperatures.
However, additives have completely changed the game these days. Nevertheless, you don't have to understand how those numbers affect the oil's performance. Simply follow what your car's manual has to say and buy the oil with appropriate viscosity recommended for your vehicle.
Additives
Additives are chemical products which are blended into base oils. They usually have three primary effects:
Improving the lubrication properties of oil in overall operating conditions
Reinforcing and increasing the performance of the engine
Reducing or eradicating undesirable oil properties
Oil additives make all the difference when it comes to the formulation of different brands of oils. Each contains a unique combination of different additives — detergents, antioxidants, seal conditioners, corrosion inhibitors, foaming agents, and anti-wear agents.
Understand the Labels and Certification Logos
If you didn't know already, all motor oils in the US are tested by the American Petroleum Institute.
That's why I always make sure to check for the API's star logo on the pack before picking one up. To display the API logo on the packaging, the oil needs to meet the minimum requirements set by API. In fact, there is also an API service 'donut' symbol you should look for. For instance, designations like "API Service SA indicates that the oil is made for use in cars built prior to 1930. Similarly, there are other designation marks. Oils with designations such as SG, SH, and SF are considered obsolete and not fit for use in vehicles built in the past 20 years.
So as long as you find these two logos on the packaging, you can rest assured that the oils meet the API standards even if they belong to inexpensive brands.
Furthermore, there are other certification marks such as General Motors' Dexos certification. It has a higher benchmark than API. However, if the manufacturer passes the minimum requirement and wishes to display the mark on their bottle, they need to pay a certain licensing fee for that. And that's why not all companies decide to use it.
Types of Motor Oil – High mileage
If you go to the store, you will find shelves with oil labeled for all kinds of specific purposes: new cars, high-tech cars, high mileage cars, heavy-duty SUVs, and more. In addition, you will need to check the viscosity as well.
Premium Conventional Oil
Conventional oil has its base made from crude petroleum materials that come out of the ground and is refined until it has the appropriate qualities. And then it is blended with various additives such as viscosity index improvers, detergents, and rust inhibitors to attain certain attributes. Earlier, you could differentiate between conventional and premium conventional oil. Now, it is used interchangeably. Any car suited for conventional motor oil uses the premium version of it.
On a general note, synthetic oil is considered much better than petroleum-based oils. However, in certain cases like antique engines, it still runs on conventional oil and is also less expensive as compared to synthetic oil.
Full Synthetic Oil
Full synthetic oil is made for high-tech engines — almost every newer car uses this oil. It is chemically made from petrochemicals and undergoes transformations to achieve the exact molecular qualities required. The thing is that it has a superior, longer-lasting capability in all the critical areas — from protection against deposits to the viscosity index. Moreover, it maintains peak lubricity at high temperatures and flows better at low temperatures. And that's why it all adds up to the higher cost of synthetic. Not all engines can use synthetic oil, especially if they're old. Always follow your car manual to see what type is best suited for your car.
Synthetic Blend Oil
Synthetic blend oils are a mix of conventional and synthetic oils. They are cheaper than synthetic oils, so they offer a sort of compromise on performance and price.
Synthetic blend oils can't handle extreme temperatures the same way full synthetic oils can. In fact, many vehicle enthusiasts try to make their own blends by mixing conventional with synthetic oil in a certain ratio. There's no harm in doing that. What's more, you can also easily switch back and forth between conventional and synthetic oil.
High mileage oils are specifically designed for high-mileage vehicles. Today, almost two-thirds of the vehicles on the road have covered more than 75,000 miles. That's why the manufacturers decided to formulate a new oil blend, that can withstand such distances.
If you wish to see your car driving into the six-figure mileage, you should consider high mileage oils. The special blend of additives and formulation will make a huge difference.
With time, crankshaft seals harden and lose their flexibility, and thus they start leaking. The seal conditioner additive in the high mileage oils flows into the pores of the seals to reinstate their shape and also increase their flexibility.
Furthermore, they also have more viscosity index improvers in them. They help seal piston-to-cylinder clearances better. They also don't squeeze out as readily from the larger engine bearing clearances.
High mileage oil may also contain the antiwear additive that will slow the wear process. So it all boils down to the overall condition of your vehicle. Once you assess that, you'll be able to choose the right combination of additives, ideal for the state of your engine.
High Mileage Oil: Final Thoughts
So that's it. The older your car gets, the more maintenance and upkeep it needs. If you want to prolong your vehicle's longevity, always choose a good high mileage oil. It will do the trick for you. And if you are not sure about which one to pick, you can always select one from the comprehensive list of best high mileage engines I have laid out for you.
You should also note that high mileage oils are generally not designed for relatively young engines. They are more compatible with aging engines or which have 'high mileage' on them.
To conclude, I would like to give you one last suggestion. It is not necessary that all engines which have managed to cover over 75,000 miles are broken. Your engine may be old, but you need to check whether it is misbehaving and in need of any fixing. You might be in luck — perhaps everything is working perfectly, and there's no need for any fix-ups. Either way, high mileage oils are often the best choice for cars that are used often and for long distance trips. But you should switch to high mileage oils only after a definite assessment.
RELATED POSTS: