Ridesharing is an easy and convenient way to get around without having to worry about car payments, insurance, and parking. If you're commuting on a regular basis or just need a quick ride while you're traveling, companies like Lyft and Uber have made it easier than ever. However, some people have wondered how to pay for these services if they don't have a credit card.
You cannot pay cash for Lyft, as they accept most major credit cards, as well as Apple Pay, Google Pay, or other electronic wallet accounts like Venmo or PayPal. Another option is to load a gift card onto your Lyft account. You can also tip your driver in cash if you wish.
In this article, I'll explain the different payment options for Lyft and other rideshare companies, and I'll discuss some of the options available to you through their apps.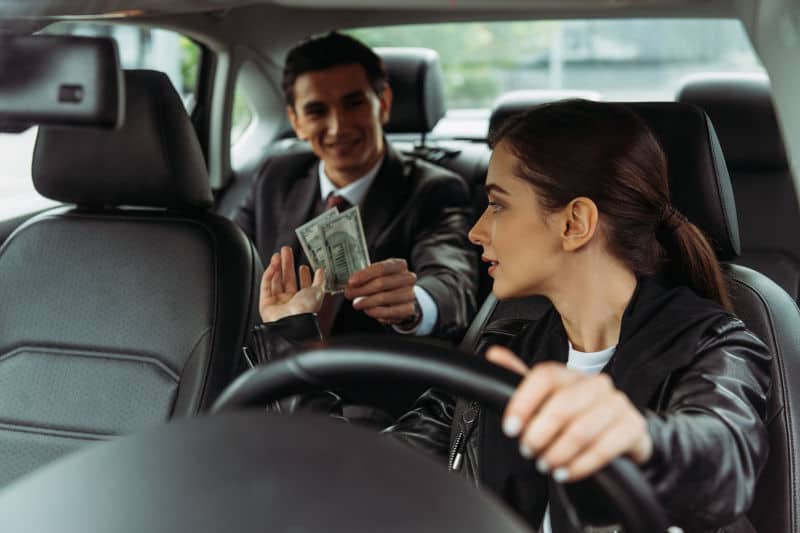 How to Pay for Lyft
Rides with Lyft must be paid for using the Lyft app, as drivers do not accept cash or other payment methods outside of the app. Before you can schedule a ride, the app will let you set up a preferred payment method.
You can link a Venmo account to your Lyft account to fund your rides, which pays Lyft directly.
Lyft also accepts major credit cards, such as Visa, Discover, American Express, Mastercard, debit cards, and prepaid cards. Other electronic payment methods include Apple Pay, Google Pay, and Paypal. All methods must be linked to your Lyft app to process payment.
Tipping Your Lyft Driver
If you decide to tip your Lyft driver, you can do so through the app anytime after the ride is complete and up to 72 hours after the ride. Using this method will charge your default payment method the amount of the ride plus the amount you submit for a tip.
Most Lyft drivers also accept cash for a tip if you prefer. However, Lyft and other rideshare companies are intended to be cashless, so payment through the app is always preferred.
What Is Lyft Cash?
Lyft Cash is a payment option through the company's app that allows you to budget your rides by adding a predetermined amount of funds to your Lyft account. It's important to note that riders in Canada don't have access to Lyft Cash, and not everyone can use this feature for every type of charge.
In the "payment" screen on the Lyft app, you can add funds to your account from a credit, debit, prepaid card, or a gift card purchased at a retailer. Payment methods like Apple Pay and Venmo are not available to add funds to your Lyft Cash account.
When you load funds into your Lyft Cash account, they're available immediately to pay for rides. However, you can still toggle this feature "on" and "off" to switch between this and your other existing payment methods.
For people who use Lyft frequently, there is an option to turn on the "auto-refill" feature for Lyft Cash.
With this setting enabled, your Lyft Cash will automatically be replenished using your default payment method whenever your balance drops below $15.
How to Pay for Lyft Without a Credit Card
If you don't have a credit card, it might be challenging to use a rideshare app like Lyft. You will need some form of electronic payment to set up your account and secure a ride.
You can use Apple Pay or Google Pay linked to a checking account or debit card to fund your Lyft rides if you have a supporting device. Similarly, electronic wallets like Venmo and Paypal allow you to link to a checking account or debit card rather than a credit card.
If you don't have a checking account or debit card, you can purchase a prepaid card from most supermarkets, pharmacies, or a few convenience stores. You can buy a prepaid card using cash and then load the prepaid card onto your Lyft account.
Another option would be to share a ride with a friend and pay them the cash for your portion of the ride, as long as they can schedule and pay for the ride using their own Lyft app.
Does Uber Accept Cash?
In general, Uber does not accept cash. In most locations, Uber only accepts payments through the Uber app. There are some cities where Uber may accept cash, but you would have to use the app in those areas to know if you can use cash.
It would be most convenient for you to plan not to use cash for a ride with Uber because the chances are unlikely that you will be in one of the markets where cash payments are accepted. Uber mostly accepts cash in most cities in India, Africa, and South America.
However, like Lyft, Uber also has an Uber Cash option where you can prepay for your rides using one of your existing payment methods.
How to Get a Ride With Cash
In today's world, it may be difficult to get a ride using cash.
Most rideshare platforms rely on their apps for booking and paying for rides, which requires the account to be linked to a credit card or electronic payment method.
The best option to get around using cash is to use a standard taxi. Most taxis universally accept both cash and cashless payments. However, the difficulty you'll face getting one to come to pick you up may vary depending on your location.
Hailing a taxi in a big city like New York is as easy as walking to the street and raising your hand. You may have to call an agency to have a taxi dispatched to your location in other areas. The fees also vary depending on how far the car has to drive to pick you up and the distance to your final destination.
Most airports and train or subway stations have a taxi stand nearby if you're arriving somewhere for travel. In these areas, you will be able to approach idle cars available to take you to your destination.
There are even some apps to help you locate a taxi, which you can find by doing a quick search on the Google Play Store for Android users, or the App Store for iPhone users. Apps like Curb can connect you with taxi rides in much the same way that Lyft or Uber does, but you can pay your driver in cash.
However, Curb is only available in major metro areas in the U.S., so it may be more of a challenge in rural areas. Of course, Lyft and Uber are not available in many U.S. small towns, but taxi services are.
Using an app or contacting a taxi company directly are the safest ways to book a ride and ensure that you're getting into a legitimate vehicle. You should never get into a car that's claiming to be a taxi, Lyft, or Uber driver without some kind of proof.
Final Thoughts
While you can't use cash to pay for Lyft, other payment options will allow you to book a ride and get to your destination even if you don't have a credit card.
The best thing to do is set your default payment method to an electronic wallet, link your Lyft account to Apple Pay or Google Pay, or purchase a prepaid card using cash and use it to load your Lyft Cash balance.
If these options don't work for you, you can always call a tried and true taxi cab to take you to your destination.
RELATED POSTS: