There are many important factors to consider when you are looking to buy a car. With so many options, you may be wondering what types of cars are out there and which one is right for you.
There are several different makes and models which are divided into different categories based on the car body type. The main styles of car bodies are sedans, vans, wagons, hatchbacks, sport utility vehicles (SUVs), pickup trucks, and coupes. Several of these also have subcategories, which I will discuss in more detail below.
I will breakdown each body type and discuss their features and limitations as well as list some of the most prevalent makes and models.
What to Know Before Looking
When comparing cars, there are several different considerations. The comfort that each type offers is vital for most potential buyers. There is also the utility, which is the work that the vehicle can do — i.e. towing and hauling. Finally, there is performance, which looks at the power of the engine, the suspension which affects how smooth the ride is, and whether the car is front-wheel, rear-wheel, all-wheel (AWD), or four-wheel drive (4WD).
Before we compare each of these car types lets discuss a few of the essential components:
Engine Power
Engine power is commonly measured by the number of cylinders it has. More cylinders generally equate to more power, which means the engine can move more weight. The most common types are 4-, 6-, and 8-cylinders, although 10-cylinder engines are also available in vehicles such as trucks.
The Suspension
The suspension is what makes for a smooth or bumpy ride in a car. A soft suspension absorbs bumps and makes for a smoother ride and a stiff suspension makes for a rougher ride but gives better feedback from the road and is better at handling corners.
The suspension can also help lift the vehicle up and away from the ground. A higher suspension is useful for off-roading because the underside of the car doesn't hit the terrain.
The power of the engine, the cargo space, and the suspension determine the vehicle's utility. Engine power aids towing, while a high suspension is suitable for off-roading.
Front-wheel Drive
Front-wheel drive is when the engine supplies power to the front two wheels but not the others. It is the most economical system due to simplicity because the front wheels are closest to the engine.
They are also the most fuel-efficient because the engine only has to push power a short distance to two wheels. Having the weight of the engine over the drive wheels also means the car has better traction, especially in slippery conditions.
Rear-Wheel Drive
Rear-wheel drive vehicles have power supplied to only the back two wheels. Their advantage is that they have more even weight distribution because part of the drivetrain is in the rear end of the car. Rear-wheel drive also improves hauling and towing because the powered wheels are closer to where the cargo is in the back of the vehicle.
However, having the drivetrain distributed results in a hump inside the vehicle that runs down the middle and takes up valuable interior space.
A good explanation of the differences can be found in the article below.
AWD
AWD supplies power to all four wheels of the vehicle. This type of drivetrain offers improved traction and power on paved and well-groomed dirt and gravel roads. AWD vehicles are not meant for off-roading.
4WD
4WD vehicles also supply power to all four wheels. However, they usually have a low and high range. The low range is when you need maximum torque to tackle steep terrain or heavy-duty towing in an off-roading capacity. 4WD is made for off-roading conditions.
AWD & 4WD
AWD & 4WD are both more complicated drive systems. Their complexity means they add to the purchase price (approx. $1,500 – $4000), and they are more costly to maintain. Thus, you should only choose these options if you will need them in your day-to-day use.
This video does an excellent job of explaining the difference between the different types of drivetrains.
Different Types of Cars
Ok, now that you are familiar with some of the basics. Let's take a look at the different types of cars and how they compare. At the end, I will discuss which type is best for which driver.
Amazon also has an excellent section for comparing cars, which can be found here. On their site, you can sort and compare cars by the features we will be talking about here as well as many more, including top-rated/reviewed.
Included in each section is a link to the Amazon page for that type of car.
Sedans
Different types of sedans are grouped by size. They include subcompact, compact, mid-size, full-size, and sport—also called performance saloons.
These vehicles are fantastic for small families. They are also suitable for daily commutes, running errands, and light towing. Sedans are generally fuel-efficient, especially the hybrid and electric models.
Common makes and models are also inexpensive to maintain as their parts are cheap, and their systems are usually simple.
Because their suspension rides at a medium height, they are generally meant for roads. Still, they can handle grass, gravel or dirt trails, and shallow mud.
Most luxury cars are four-door sedans and cost $40,000+. The luxury and full-size models often have larger engines that offer more power but also reduced fuel efficiency.
Makes and models:
Chevrolet Impala
Honda Acord
Toyota Camry
Ford Taurus & Crown Victoria
Performance
Subcompact/compact/mid-size:

Most have 4-cylinder engine (low power but fuel-efficient)

Most have front-wheel drive

Full size/luxury:

Turbocharged v4 or v6 (more power but less efficient)

Most are front- or rear-wheel drive
Utility
Medium height soft suspension
Trunk/boot sizes are variable but can handle medium to larger sized objects

Some have backseats that fold down to increase carrying capacity

Can tow objects of equal or lesser size
Light off-roading
Comfort
Seats 4-5 people
Standard visibility
Average ride
Average comfort (except luxury models which offer above-average comfort)
Van/Minivan
These are usually low-cost vehicles that are great for families due to their large number of seats and ample cargo space.
They are among the highest in comfort as all that space means a lot of legroom. They also sport features such as screens in the back so passengers can watch movies and shows.
Minivans also have a lot of insulation, which cuts down road noise. All of these features make them great for longer journeys like road trips.
Because they are bigger, they are usually less fuel-efficient than sedans or other smaller vehicles. So, they are not the best type of vehicle for daily commuters.
Makes and models:
Honda Odyssey
Nissan Quest
Dodge caravan
Performance
4- and 6-cylinder engines (not a lot of power for a big vehicle)
Not great for winter in ice/snowy environments
No off-roading
Utility
Can handle low weight towing
Ample cargo space
Front-wheel drive
Comfort
Seats 7-9 people
Mini TV screens
A lot of legroom
Big windows and a higher ride give excellent visibility
Smooth ride
Quiet rides
Wagon/waggon (AKA Station Wagon)
Similar to minivans, these cars are family-friendly and have a lot of space inside. They do not offer as much legroom as minivans and usually have fewer entertainment options.
They can compete with SUVs for cargo capacity, but they are lower to the ground, which makes them easier to handle and safer.
They are generally not as fuel-efficient as sedans. However, they are more efficient than larger vehicles like minivans, SUVs, and pickup trucks.
Makes and models:
Subaru Outback
Dodge Magnum
Volvo V60
Volkswagen Golf SportWagen
Performance
6-/4- cylinder engine (low power)
Low riding suspension
Utility
Can handle low weight towing
Ample cargo space
Many have AWD and can handle rain as well as light snow and ice
No off-roading
Comfort
Seats 7-9 people
Medium amount of legroom
Big windows give superb visibility
Smooth ride
Quiet rides
Hatchback
Hatchbacks are well respected in the auto industry for their performance. They are well-rounded vehicles. Many have a soft suspension with a well-powered engine, for their size, making them suitable for off-roading.
They also come in at a lower price point than many of the other off-road options like SUVs and pickup trucks.
These vehicles come in models that have 2 or 4 passenger doors. However, because they have a large hatch in the back that gives access to roomy cargo spaces, they are usually said to have 3 or 5 doors, respectively.
Make and models:
Ford focus
Volkswagen Golf
Hyundai Veloster
Performance
V4 turbocharged (good power to weight ratio)
AWD, rear-, or front-wheel drive
Suspension range from stiff to super soft
Utility
Rally style off-roading with soft suspension models
Medium amount of cargo space
Can handle lightweight towing
Comfort
Seats 5-7 people
Visibility is decent on most models
Lower suspension makes them feel more sporty
Smooth ride with soft suspension models
SUV (Sport Utility Vehicle)
SUVs offer a balance between cargo and towing capacity while still providing ample room for passengers. They have above-average performance, comfort, and utility.
If you want one vehicle, but you need a more powerful engine to handle towing larger items, you need ample cargo space, and you want to seat a lot of people in a comfortable environment, then the SUV category is where you want to start looking.
Like pickup trucks, their powerful engines mean they are not fuel-efficient. As such, you should only consider an SUV if you will make regular use of the powerful engine daily.
Many are AWD or 4WD and can handle most weather conditions.
Makes and models:
ACURA MDX
Ford Explorer
Honda CRV
Toyota RAV-4
Mazda CX9
Performance
4-/6-cylinder, some are turbocharged (decreases fuel efficiency)
Most are AWD or 4WD
High, soft suspension
Utility
Ample cargo space
Can tow medium-sized objects
Can handle some off-roading, rougher gravel/dirt trails
Comfort
Seats 5-7 people
High suspension gives excellent visibility
Smooth ride

Note: high, soft suspension with a powerful engine means they are prone to body roll
Pickup Truck
Pickup trucks are built with utility in mind. Different varieties include pickup trucks, full-size, extended cab and crew cab.
Pickups can handle most weather, most terrains, and hauling most items. They are generally rear-wheel drive or 4WD, which improves their towing ability.
4WD models are also great options for off-roading as they have plenty of power to pull you through rough terrain and up mountainsides.
They have large open beds in the back that can fit large items. They are best if you are buying a vehicle intended to do regular work as they are big and hard to drive around town.
The crew cab and extended cab models have more seating inside, seating 6. The crew cab is the largest size, which has four full-sized doors and the most interior space. Extended cabs have slightly less space inside but still seat 6 people. Extended cabs may have no rear doors, half-sized rear doors, or full-sized rear doors.
Makes and models:
Ford F150
RAM 1500
Nissan Titan
Toyota Tacoma
Chevrolet Silverado
Performance
Large displacement engines V6/8/10 (a lot of power)
4WD or rear-wheel drive
High ride suspension
Utility
Powerful = a lot of towing power to move all kinds of things
Big cargo bed with no roof = can haul everything from construction equipment to recreational vehicles/equipment (jetski, dirt bikes, quad, boat etc.)
Comfort
Seats 2-6
Smooth ride in soft suspension models
High suspension gives good visibility
Coupe
These are two-door sporty cars. They are focused on performance, especially acceleration, and handling. They are enjoyable to drive but not practical for much else. Some have a backseat, but they are small and having only two doors means they are hard to get into.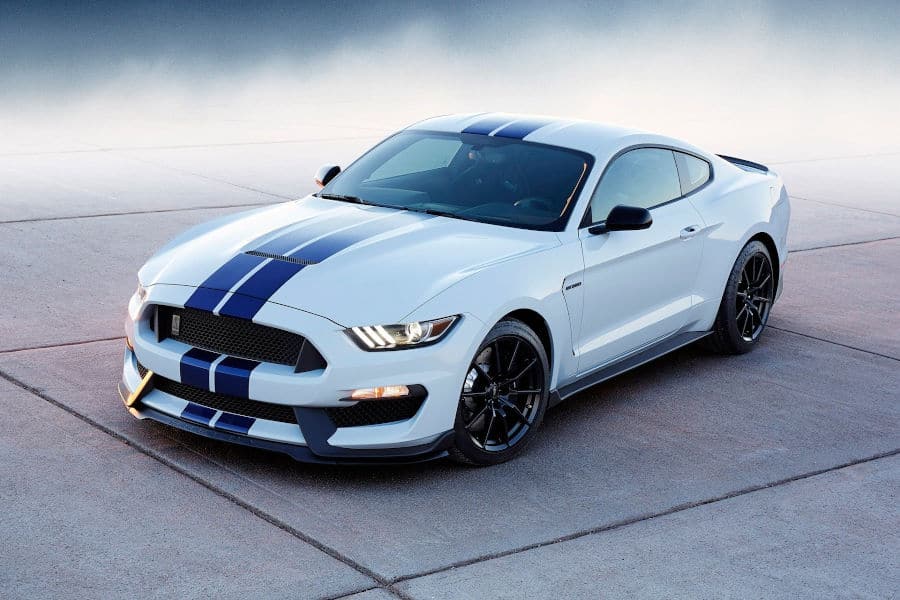 They have powerful engines that are not fuel-efficient, but they do go fast! Their engines are tuned for acceleration, so even though they have power, they are not suitable for towing. Using them for towing could damage the engine.
They are usually rear-wheel drive as this gives them better control in dry conditions, especially when accelerating. However, they do not handle any other weather conditions well.
Their suspensions ride low to the ground, making them a no-go for off-roading. Some have issues with bigger speed bumps. They are also stiff, which means you feel every bump. However, this gives you good feedback from the road, which you need when going at high speed.
They have small trunks/boots that can handle groceries, and that is about it.
Makes and models:
Ford Mustang
Dodge challenger
Chevrolet Camero
Toyota 86
Hyundai Genesis
Performance
4-/6-/8-cylinder (a lot of power for a lightweight car)
Usually rear-wheel drive
Low, stiff suspension
Utility
Small storage compartments
Low, stiff suspension
Despite the power, not suited for towing
Comfort
Seats 2 comfortably (some seat 4 uncomfortably)
Bumpy ride
Visibility variable
Which Car Type is Right for You?
There are a lot of variables to consider when buying a car and a lot of options out there, which can make choosing the right one seem insurmountable. To break it down, you want to consider what your primary use for the vehicle will be.
If towing and hauling is your main concern, then you will definitely want a truck. They are built to work. Pickup trucks are large and powerful, which enables them to get the work done. However, it also means they are hard to drive around the city and harder to park, especially in cramped urban settings. Trucks are also hard on fuel consumption and can be costly.
If you need a balance between towing and hauling capacity and the ability to transport people in a comfortable environment, SUVs are likely where you want to look. They have large cargo areas that are good for medium to larger sized objects; you can load up strollers, luggage, or even pets. They can tow larger sized objects like medium-sized trailers or recreational vehicles like dirt bikes, jet skis, and snowmobiles.
If a comfortable ride for a lot of people with ample cargo space is what you need, you'll want to look at minivans or wagons. They have largo cargo spaces and a lot of legroom for your passengers.
The minivan is king in the comfort world, offering amenities like screens in the back for watching movies and shows. They are great for road trips!
If you want a smaller vehicle for getting around in the city that still has generous space for your cargo, a wagon is a good option.
If you are looking for an excellent vehicle for off-roading that can handle any terrain, trucks or SUVs are the best option.
If you want a vehicle that can go from city to off-road trail, the hatchback is a great option. They are powerful for their size, have soft suspensions for smooth rides on and off the road.
If you want a car that is for your daily commute, running errands, or getting a smaller family around the city, then the Sedan is your best option. They are small in size, generally comfortable, fuel-efficient, and inexpensive in purchase and maintenance costs. For added comfort, check out the luxury sedans.
Finally, if you want something fast and fun to drive, you might want to look at coupes. Keep in mind that they are only really suited for someone who is single or a couple with no kids.