Ferrari is one of those brand names that everyone has heard of, even people who aren't really car enthusiasts. You can't really miss their iconic red color or their famed prancing horse logo beneath the Italian flag. In fact, it's one of those European cars that wealthy people in the USA tend to own because of their speed, performance, and outright beauty.
However, outside of what it looks like and how fast it runs, the general automobile enthusiast crowd doesn't really know much about this brand. If I were to ask one of my close friends who happens to be a car nut, he would recite the entire history of Ford, Chrysler, or Plymouth, but he will be stuck when it comes to European or Asian cars.
Interestingly, most people don't even know much about modern-day Ferrari, like who the current owner is. With this article, I hope to shed some light on that subject for anyone who's into this car brand.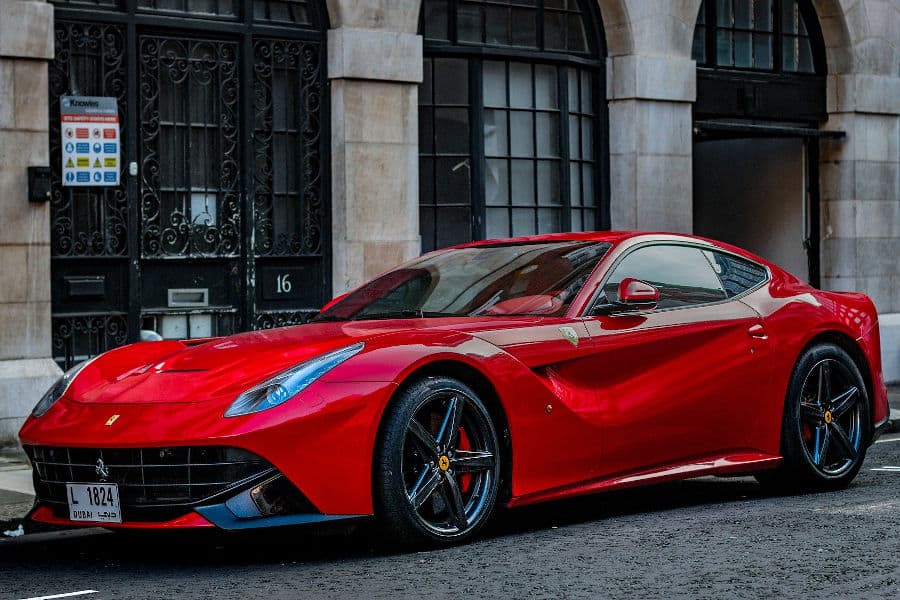 Ferrari: A Small Volume Brand
Most major car brands mass-produce their cars, selling millions of units a year worldwide. However, brands such as Aston Martin, McLaren, Pagani, and Wiesmann tend to make less than 10.000 units each year. These brands pride themselves on performance and quality and would oftentimes form cooperatives in order to preserve their presence on the global market.
Ferrari is also a small volume manufacturer. More importantly, it tends not to share the exact number of manufactured units, which official dealers state openly. The figures that are available to the public range anywhere from a couple of hundred vehicles to 15.000, though it averages around 5.000.
Interestingly, this hiding of actual figures isn't a move that the manufacturer made for any economic reasons. In fact, it's just one of many quirks that make Ferrari stand out as a brand. Anyone who has tried to buy a model will tell you as much. Couple that with the fact that they are still one of the most popular supercars on the planet and you can see why some people are tempted to own a model.
Now that we know a bit about this company, let's move onto who actually owns it.
Ferrari: The Current State of Ownership
Today, Ferrari is listed as an independent public venture, but that wasn't always the case. From 1969 to 2016, Fiat was the major shareholder and chief investor in the brand. However, they generally didn't meddle in the manufacturing process of the cars themselves. The restructuring of the business as Ferrari N.V. saw Fiat Chrysler Automobiles selling 10% of their shares and redistributing 80% among their shareholders.
At the moment, this is what the ownership of the company's stocks looks like:
67.09% Public
22.91% Exor N.V.
10.00% Piero Ferrari
Most people tend to think that Fiat still owns Ferrari, and I can understand the confusion. For nearly 50 years, Fiat has been playing a key role in the brand's growth and expansion. However, with more than 50% of the shares being public, Ferrari is by all accounts an independent business.
Exor N.V.
Exor is a Dutch holding company currently owned by the Agnelli family. As of 2019, they are the 24th largest group in the world with a net value of $24 billion. Their current CEO is John Elkann, a grandson and heir of Gianni Agnelli, and a powerful industrialist.
Aside from Ferrari, Exor has shareholdings in several major businesses. These shareholdings include:
Fiat Chrysler Automobiles
Juventus F.C.
CNH Industrial
PartnerRe
GEDI
Economist Group
Louis C. Camilleri
Louis Camilleri is the current CEO of the company. He initially started his career as a business analyst for several brands, but rose to fame in the 70s when he joined Phillip Morris Europe. He became the CEO of Phillip Morris in 2002 and would later act as the CEO of its spin-off brand, Philip Morris International, in 2007. Camilleri's current net worth is over $132 million.
The company's Board of Directors named Camilleri as CEO on July 21, 2018. The former CEO, Sergio Marchionne, had stepped down due to failing health. John Elkann was named as the chairman on the same day.
Piero Ferrari
Despite owning only 10% of the shares, Piero Ferrari is a key individual in the company. He is the only living son and heir of Enzo Ferrari, the founder and owner of the brand for 70 years. Moreover, he is an adept businessman and entrepreneur, acting as the chairman of his private engineering business venture, HPE COXA.
Personally, I think Piero is the most interesting individual who has a hand in owning the brand. He was an estranged child of Enzo and Lina Lardi, his mistress, and couldn't have a hand in his father's ventures as an illegitimate child. Moreover, divorce in Italy wasn't legal until 1975 and Piero had to wait until 1978 to get legitimized.
As a child, Piero loved tinkering with mechanics. He attended the Fermo Corni institute in Modena where he obtained his mechanical engineering degree in 1964. In other words, he had both the passion and the knowledge to inherit his father's stock when Enzo passed away in 1988.
Aside from Ferrari, Enzo's only living heir also has shareholdings in the Ferretti Group. His estimated net worth is around $3.3 billion dollars. Interestingly, a third of that net worth comes from his 10% shares in Ferrari, which just goes to show just how powerful the brand is.
Ferrari in 2022
The ownership of this brand looks a bit complicated and its history is long and interesting. However, a few details never change. Even today, the cars are made in Italy, in Maranello. Moreover, they are all hand-made with very little automation. Despite not being a part of a major car manufacturer, Ferrari remains a top seller worldwide and a synonym for excellence.
If you enjoyed this article on Ferrari's current owners, please leave a comment down below.
RELATED POSTS: