Cars can quickly become cluttered considering everything you need to carry when getting from one place to another. Despite all the storage compartments cars offer, we tend to place bigger items such as handbags or clothes in areas that are hard to reach, making the vehicle look untidy and spreading dirt and debris all over. However, there's always another option, and car headrest hooks are one of the best.
Car headrest hooks provide additional elevated storage by allowing you to hang items such as bags, clothes, and other things on your car seats. Installing the hooks is relatively easy and quick. These hooks will keep your car organized and secure your items within reach.
This article will showcase the best headrest hooks based on specific needs. I'll also discuss the advantages of using car hooks and teach you how to make DIY headrest hooks for a custom fit and optimal storage.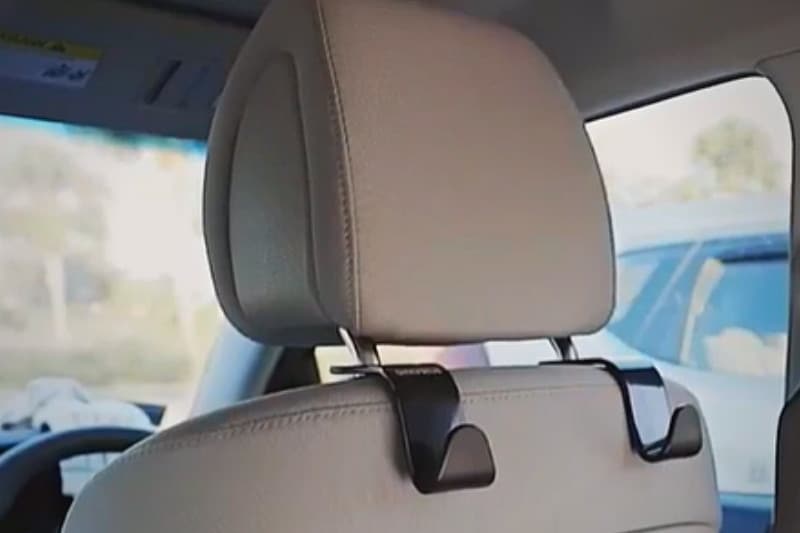 Best Car Headrest Hooks on the Market
There are so many car headrest hooks on the market, and it may seem like any one of them can get the job done. However, not all of them may be able to cater to your needs.
When shopping for car headrest hooks, you should consider the following:
Fit. Headrest hooks are relatively easy to install, and many of them will not require tools or the removal of the headrest. However, some are short and may not work well with thicker car seats. So, it's always good to measure your seats before purchasing headrest hooks.
Load. The load capacities of the headrest hooks vary depending on their design and materials. Always check if the hooks are strong enough to carry the items you intend to place there.
Functionality. Some headrest hooks have a 2-in-1 function and accommodate other items like phones and tablets. The added functionality may come in handy if you usually have rear-seat passengers.
Factoring in your needs and the size of your car seat will narrow down your search and help you pick the perfect set of hooks. Below are the best car headrest hooks, all available on Amazon.com, that you can choose from, depending on your needs.
1. Amooca Universal Car Hook (Best Overall Car Headrest Hook)
Overall, the Amooca universal car hook is the best because it ticks all the boxes in functionality, design, and practicality. This hook has a versatile design that fits most vehicles and even has a swivel function that allows you to conceal the prongs when not in use.
Despite its compact design, the Amooca car hook consists of robust materials and can carry 22 lbs (10kgs) per hook. There are also mounts for your mobile device, giving it added versatility.
No products found.
Pros
It gives you a bit of everything you need
It's very reasonably priced
It's easy to Install
The hooks tuck away when not in use
The swivel allows you to use them facing the front or back of the seat
---
2. High Road Contour CarHooks (Best Heavy-Duty Car Headrest Hook)
If you need hooks that carry heavier objects, then the High Road Contour CarHooks are the ones for you. These hooks are solid metal, and each hanger can carry up to 40 lbs (18kgs).
Aside from their stellar load capacity, the High Road hooks are also easy to install and have a closed-loop design to keep them from snagging bags or clothes. These hooks are ideal for big purses, groceries, and other heavy items that shift around while you drive.
Sale
Pros
They can carry heavy items
They're made of durable and robust materials
The rubberized ends prevent noise by keeping the hooks from hitting the poles.
These hooks are easy to install
Cons
They're relatively big and not concealable
They're unable to hold other items like phones or tablets
---
3. Akwox Universal Vehicle Hanger (Most Streamlined Car Headrest Hook)
The universal vehicle hanger from Akwox is perfect if you don't want something that sticks out like a sore thumb. These hooks are compact and rotatable, so you can hide them when not in use.
Despite their relatively small size, the Akwox universal hangers still have a decent load capacity of 17lbs (8kgs) per hook.
Pros
They're small and concealable
They have a decent load capacity despite the small size
These hooks are very affordable
Cons
They can't hold other items like phones or tablets
The headrest has to be down to keep them securely in place
---
4. Bakel Headrest 2-in-1 Tablet Holder (Most Versatile Car Headrest Hook)
If you plan on using the hook for lighter items and prioritize the ability to hold larger mobile devices, then the Bakel 2-in-1 tablet holder is your best pick.
The adjustable mounts can hold phones between 4.5 to 8 inches and tablets between 6 to 12.9 inches.
This tablet holder also has a retractable hook that can carry light items like food, groceries, or small bags.
Pros
It's able to hold various items like phones, tablets, and bags
It has silicone cushions to protect your devices
Cons
It clamps in between the headrest poles and does not fit all cars
The hook can only carry light items
---
5. House Day Car Headrest Hooks (Best Bang for the Buck)
The headrest hooks from House Day are sold in 4-packs and are incredibly affordable. Despite their low price, these hooks still offer decent quality and load capacity, as each one can carry up to 13lbs (6kgs).
You can install these hooks without removing the headrest, and you can conveniently move them to face either the front or the back of the car seat.
Pros
They're affordable without compromising quality
They're easy to install
They can conveniently move to face forward or backward
You get four for the price of one
Cons
Open hook design means the headrest should be down to keep them in place.
---
DIY Car Seat Headrest Hooks
The need for headrest hooks can serve as an opportunity for a great DIY (do it yourself) project while saving you a few bucks in the process. You can fabricate your headrest hooks or easily make them from various household items.
Fabricating Headrest Hooks
One way to fabricate headrest hooks is by using a brass welding rod. You can tinker and bend the rod to replicate headrest hooks. Just make sure to cover the pointed edges with a wire sleeve.
Another way to make them is by using a solid piece of wood. You can cut the wood into an S-shape, with the bottom forming the hook. The final step is to drill a hole through the top part that's big enough for the headrest poles.
Using Carabiners
If you don't have the time or couldn't be bothered making the hooks yourself, using a carabiner can sometimes do the trick. Depending on how thick your car seats are, you may have to link a few of them together.
You can simply clip a carabiner on the headrest pole anytime you need to hang something. Depending on the type of holder you have, you might be able to attach phone and tablet holders to these clips. You can also make clip[ "chains" to layer on groceries, heavy purses, and clothing.
Using Reusable Rubber Twist Ties or Other Household Items
You can also shape reusable rubber twist ties to form headrest hooks. Just tie them around a flat hook or carabiner if you need them to carry heavier items.
Additionally, if you have extra keyrings and a few straps or bungee cables lying around the house, you can connect them to a flat s-hook which you can buy from most hardware stores. The keyrings should be big enough to go over the headrest poles.
This DIY method will come closest to headrest hooks you can purchase online or off the shelf.
Advantages of Using Car Headrest Hooks
Car headrest hooks may not seem necessary, especially if you mostly travel alone. However, even if your car still has a lot of usable space, there are still many benefits of using them instead of putting your items in various places around the vehicle.
Here are some advantages of installing headrest hooks in your car.
Safety. Loose items in the car can move around and obstruct vital controls aside from serving as a distraction. Headrest hooks will help you keep your eyes on the road without worrying about anything rolling under your seats or in your footwell.
Tidiness. Clutter looks messy and can affect your driving experience. Headrest hooks keep your car's cabin looking neat.
Convenience. With headrest hooks, you will always know where to look for something, and the best part is, it will always be well within reach.
Peace Of Mind. Drive with peace of mind knowing your items are securely in place. You won't have to worry about any spillage.
Visibility. A shirt on a hanger can obstruct the driver's visibility, especially when hung on the grab handles near the rear windows. Headrest hooks will keep clothes away from the driver's line of sight.
Other Accessories That Help Keep Your Car Organized
If headrest hooks aren't enough to store all your belongings, many other car accessories can help you keep your car organized and tidy.
Here's a list of accessories that might be a great alternative or addition to your car headrest hooks.
Glove Box Organizer Wallet
The glove box is usually the first place that comes to mind when keeping pens, receipts, calling cards, and essential documents like your registration and owner's manual. Before you know it, it's filled to the brim, and searching for a pen when you need one is like looking for a needle in a haystack.
Fortunately, organizers like the Samsill Glove Box Organizer exist. This professional-grade organizer has seven pockets to ensure you never have to fumble for anything in your glovebox and saves you space at the same time.
Car Seat Gap Fillers
Car seat gap fillers fit conveniently between the front seat and center console. Aside from giving you additional storage space that's very accessible, these gap fillers serve as a great catch basin for coins, pens, food, or anything that can fall through that gap.
Trunk Organizers
There are many items that we keep in our trunks on a long-term basis, such as mini air compressors, early warning devices, and car cleaning materials, to name a few. Given all the open space, these items can move around and make a mess while we're driving.
Trunk organizers keep everything in order and securely fastened. Many trunk organizers come with velcro or straps you can tie down to keep them in place.
Expandable Clothes Hanger Bar
If you have to haul a lot of clothes, like when you're going to the laundromat, car headrest hooks simply will not suffice/ You will need something more extensive like a heavy-duty expandable hanger bar. These hanger bars simply latch onto the grab handles on your car, making installation and removal a breeze.
Car Vent Hook Hanger
Car vent hook hangers are perfect for holding smaller items like sunglasses, face masks, keys, and phones. It takes a few seconds to install and keeps you from misplacing smaller belongings. These holders are also convenient for navigation since you can keep your phone out of sight while your eyes are on the road, but the map will only be a glance away.
Adjustable and Extendable Cup Holder Adapter
For those of you who carry oversized drink bottles and find that your car's standard cupholders are too small, you can get an adjustable and extendable cup holder adapter.
Adapters like the Bottle Pro have an adjustable base that can fit most standard cupholders. This adapter can hold 32 to 40 oz flasks.
Cup Holder Organizer
Contrary to the previous item, if you're not much of a drinker and would prefer to use your cup holders to store other objects like pens, keys, or your mobile phone, a cup holder organizer is necessary.
These organizers slot into any vacant cup holder and come in various styles depending on what you need to store. Some models give you a complete view of your phone, while other models conceal your phone but allow you to store additional items.
Trash Can
Another essential car accessory is a trash can. Trash like receipts, candy wrappers, tissues, and paper can quickly accumulate in a car and fill the door pockets more often than not.
Most car trash cans are detachable, so taking the trash out is more manageable. There are also foldable trash cans, so you can tuck them away under the seat when you don't need them.
Final Thoughts
Keeping a car's interior tidy and organized is more manageable with adequate storage space. Car headrest hooks can hold items like bags and gadgets, aside from providing additional safety and convenience.
There are many car headrest hooks to choose from, and the best one for you boils down to your requirements. What's great is that you can easily make one using regular household items. And in case these headrest hooks aren't enough to fulfill your storage needs, countless accessories will undoubtedly get the job done.
RELATED POSTS: