Economy and compact are among the most affordable rental car categories that have many characteristics in common yet are not the same thing. So, today, I'm here with an economy vs. compact rental car guide that will help you recognize the differences.
I will compare these two vehicle categories based on the following factors:
Seating capacity
Luggage capacity
Number of doors
Fuel usage
Rental price
Hopefully, by the end, you will know what rental car option will work best for you.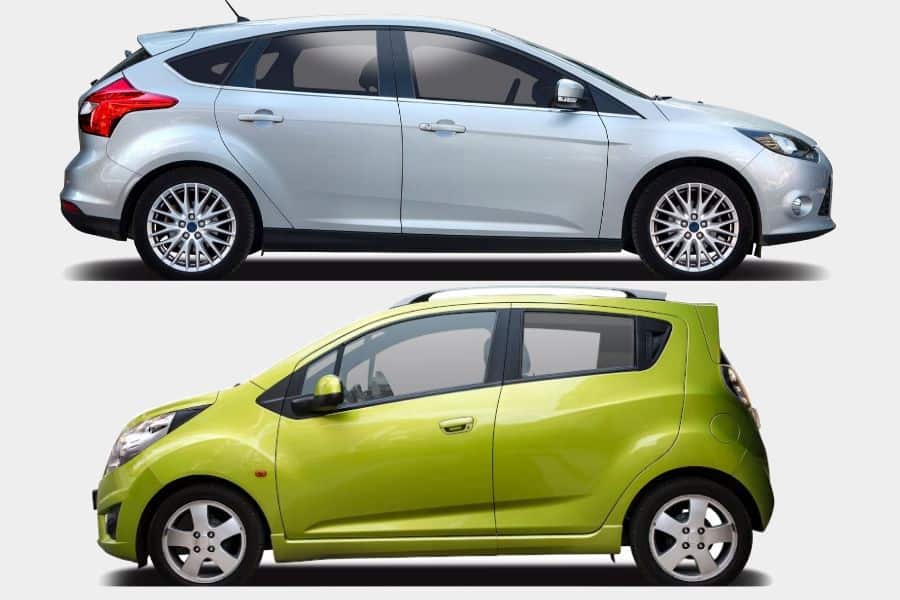 The Main Differences Between Economy and Compact Cars
Unlike most other car categories, economy and compact vehicles are smaller in size. Also, they tend to be more cost-effective. They are available at a lower price, and they have a higher fuel economy than other rental options.
That is, however, where the similarities between them end. As the saying goes, the devil is in the details. So, let's see the small but essential differences between these two types of vehicles.
Seating Capacity
As a rule, economy rental cars are typically smaller than compact ones. Therefore, they have a slightly more limited seating capacity.
An economy vehicle fits a total of four people. For example, those can be two adults and two children.
In comparison, the seating capacity of a compact car includes up to five occupants. To illustrate, it is suitable for two adults and three children or four adults and one child.
Luggage Capacity
When it comes to luggage capacity, economy vehicles are again the less spacious option of the two. Usually, you can put one big and one small bag in their trunks. Alternatively, you can fit one medium suitcase and several carry-ons.
Contrary to what its name suggests, a compact rental car will let you take one extra big bag. In other words, you can put two big bags and one small bag in its trunk.
There is, however, one major exception. The luggage standards listed above apply only to cars made in North America. To give you an example, those can be an economy Chevrolet Aveo and a compact Ford Focus.
The Association of Car Rental Industry System Standards (ACRISS) has a separate guide to European fleet vehicles. European automobile manufacturers have standards and requirements of their own.
As a result, European-made compact and economy rentals have the same luggage capacity. Each can fit only one small and one big bag. So, keep this in mind if you are planning to take a road trip across Europe.
Number of Doors
Once again, door standards depend on a vehicle's place of manufacture. According to ACRISS, American-made economy and compact options have two or four doors. The same goes for European economy rentals.
In contrast, European compacts can feature up to five doors. That's yet another useful piece of information if you are planning a vacation to the Old Continent.
North American Economy: 2/4 doors
European Economy: 2/4 doors
North American Compact: 2/4 doors
European Compact: 4–5 doors
Fuel Usage
Are you looking to rent a fuel-efficient car? If the answer is yes, focus on the economy category. Its fuel economy ranges from at least 30 mpg to 35 mpg or more. With compact vehicles, the fuel usage is typically 25 mpg to 30 mpg.
In other words, the fewer miles per gallon a car can travel, the more fuel it uses. For that reason, renting a fuel-efficient vehicle is often the more cost-effective option.
Cost
An economy rental car will save you money on fuel costs. Still, that alone does not make it more affordable than a compact vehicle. Fuel usage is just one of the factors that affect the rental price. Things like the make of the car and the extras it packs are also important.
Generally, however, the price of economy rentals is only slightly lower than that of compact ones.
Economy: $64.5 per day
Economy: $282 per week
Compact: $66 per day
Compact: $288 per week
Other Key Terms to Keep in Mind
There are a few more vehicle category terms that you need to master. Knowing what they mean may save you a lot of confusion later on.
Sub-Compact
Some rental car companies have a sub-compact vehicle category. Don't let that put you off. It's the same as compact cars.
Elite
Maybe you have also noticed that there are elite economy and elite compact rentals. To illustrate, Fiat Grande Punto 1.9 is often listed as an economy elite. In contrast, Ford Focus 2.0 Plus is an example of a compact elite.
This term signifies that these cars are superior to their non-elite counterparts. For instance, they pack more features or a more powerful engine. Because of those extras, elite rental cars always cost more.
Small
Rental vehicle companies that have versatile fleets may use different, more general, car categories. For example, instead of intermediate and standard SUVs, they just use "SUVs."
Similarly, "small rental cars" is a more general way to refer to compact and economy vehicles.
Economy Vs. Compact Car: What to Consider Before Making Your Decision
How Long Will the Trip Be?
The length of your travel is the first important factor you need to consider when you're picking a rental car. For example, cross-country road trips will require you to spend hours upon hours in the car. That can put your body through a lot of strain.
Luckily, this experience can be more comfortable in a compact car. After all, it's more spacious than an economy vehicle.
Of course, there are many other ways to make a long trip more bearable. For example, you can invest in a lumbar support cushion, which will provide excellent support to your back. Still, some extra leg space will do you good as well.
How Many People Will Travel in the Car?
If you're planning to drive more than three passengers in the car, rent a compact vehicle. The same goes if you're traveling with kids — they must always ride in the back.
In comparison, economy rentals are more suitable for people who travel alone. They can also meet the travel needs of couples.
How Much Luggage Will You Have?
Are you packing light for your upcoming trip? If you are, you may not need to rent a compact car. An economy vehicle can easily fit a medium suitcase and a few small bags.
Unfortunately, that won't be the case if you are bringing more luggage than that — you'd need a compact then. However, keep in mind that non-European compacts have a greater luggage capacity. That means that a US-made Ford Focus may fit your large suitcase, while France's Citroen C4 might not.
Don't even assume you can put a car rack on the roof. Sure, that may let you take a few extra bags on the trip. However, most rental car companies won't allow the use of such accessories. Those that do will ask you to pay for this feature.
If these two vehicle categories are too small for your needs, upgrade to something bigger.
What Is Your Budget?
Renting an economy car is cheaper than renting a compact one. The difference is, indeed, almost minuscule. Still, it's there.
But what if you have a limited budget and you're traveling with four passengers? Well, you can use a few tricks to reduce the cost of a spacious compact rental.
First, try to avoid airports as pick-up and drop-off locations. They tend to add a few dollars to the end price.
Second, book in advance. Although you can find good last-minute rental car deals, early birds enjoy lower rates.
Last but not least, don't opt for many extras and additional features. For instance, a car with a GPS will cost you $5–$16 more a day. If you already have a car GPS, use it, and you may save about $70 per week.
Final Thoughts
To sum up, economy rental cars are more cost-effective than compact vehicles. Still, if you prefer value over price, go for a compact rental. You'll pay a bit extra for it, but you will get a lot more in return.
RELATED POSTS: