Whether you want to reseal windshield rubber or simply reinforce your windows, a windshield sealant is the way to go. It's easy to apply, and it's not that expensive either. However, there are so many different ones on the market right now, which makes it really hard to choose. Don't worry, because I've got you covered. I've come up with a list of 6 best windshield sealants out there.
And not just that — in this article, you'll be able to find some more useful information. For example, you'll read about what car sealants are, and how you can know if you need one in the first place.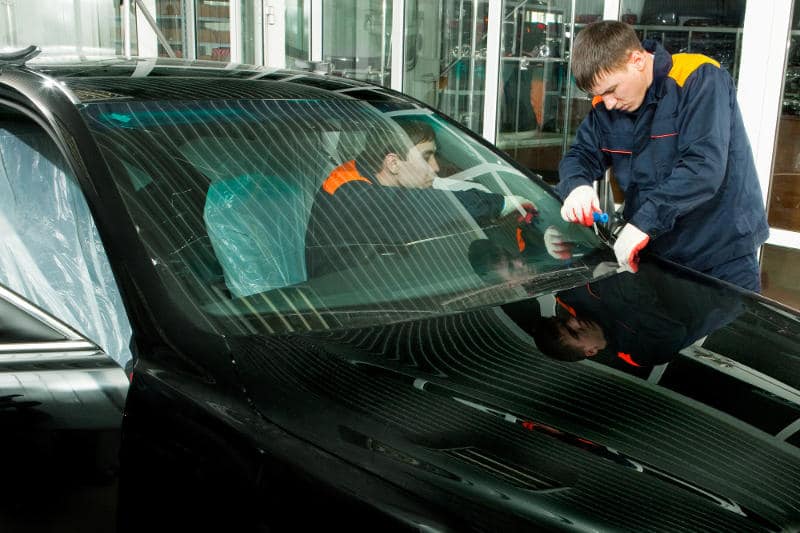 What Is a Windshield Sealant?
Imagine that the water starts sneaking into your car, making the windows fog and giving it a moldy smell. I talked about this already in one of my previous articles about what to do when water starts leaking into your car from the windshield. Obviously, it's not pleasant, and you want to take care of it as soon as possible.
And the easiest way to do that is by using a sealant.
A windshield sealant is typically made from silicone. This material makes it extremely flexible and durable, which is exactly what you want for your car windows. The flexibility enables it to fit into the smallest of cracks, ensuring that there are no hidden leaks. Besides that, silicone sealants are waterproof and quite long-lasting.
When it comes to the application, all sealants are pretty much the same. They usually come in a tube, and they're all easy to apply. Some of them are a bit trickier, but more on that later.
However, they do vary when it comes to drying time. Some have the ability to dry in 2-3 minutes, whereas others can take up to a couple of hours. It depends on the manufacturer, really. But we can all agree that even a couple of hours seem pretty quick for a long-term solution.
All in all, a windshield sealant is an affordable and accessible solution that you just can't go wrong with.
Key Features
Strong adhesive
Dries quickly
Flowable
Durable and flowable
Multi-purpose
Completely clear
Very tough and durable
One-component adhesive
Very thick
Key Features
Strong adhesive
Dries quickly
Flowable
Key Features
Durable and flowable
Multi-purpose
Completely clear
Key Features
Very tough and durable
One-component adhesive
Very thick
What Makes a Good Windshield Sealant?
Yes, I did say that most sealants are based on the same principle, and they're all quite similar. But there are some features that make some of them superior to the others. Now let's see what those features are.
Durability: A good windshield sealant needs to be tough and able to withstand extreme conditions. Also, it has to be waterproof, otherwise it misses the whole point of a sealant.
Drying time: Obviously, those that dry quickly will have the advantage over the others.
How it dries: When the silicone dries, it mustn't be dry and brittle. It has to maintain its flexibility. This directly affects the durability. How the sealant dries is definitely one of the most important features to note when buying rubber sealants.
The application: A good sealant needs to be easily applicable, which most of the tube ones are, to be honest. But some of them require more than one application, which complicates the process.
The color: It seems a bit silly, but the color is also a relevant factor. Some bad sealants have a tendency to dry yellow, or in some other color. This is not acceptable considering the windows are made of glass, so it will be visible and look ugly. When buying a sealant, make sure that it dries clear beforehand.
The price: There are both extremely cheap ones and unbelievably expensive ones. In all honesty, it's better to go with somewhere in the middle. The thing is — if it's expensive, it doesn't necessarily mean that it's good. So, I suggest you choose a decent one that won't cost you a fortune, and there are plenty of those.
The windshield sealants I'm about to present you with all fit these criteria. Whichever one you get, you won't make a mistake. But anyway, I'll tell you what their pros and cons are, too.
Best Windshield Sealants on the Market (2023)
1. Permatex Windshield and Glass Sealant
Permatex 81730 comes in a 1.5-ounce tube, and its price is more than affordable.
It's durable — it can withstand extreme temperatures and it's completely waterproof. Besides that, it can also withstand strong chemicals.
Permatex is very easy to apply, and its 'flowability' feature only adds to that. Flowability enables it to enter every crevice, no matter how tiny it is. And when it gets there, it's never coming out! This feature also gives you a smooth finish, without any bumps or dents.
As I said in one of the previous sections, color is important. And Permatex is completely clear, even after it dries.
Now when it comes to drying time, it takes about 30 minutes, and then it's good to go. It's not the fastest drying time ever, but it's not the worst either.
Another thing I really like about the Permatex sealant is that it's multi-purpose. Yes, it works perfectly on windshields and car windows, but it can also be used for sunroofs, headlamps, and many more. If you want to save a couple of bucks, this sealant is definitely the way to go.
Its shortcomings are minor, to be honest, but I'll tell you about them anyway. There's a slight stench to it that some people may find repulsive. Also, it might need a second coat. But being that it takes only 30 minutes to dry, it's not that bad.
Pros
flowable
durable
easy to apply
clear
affordable
Cons
requires more than one application
has a slight smell
---
2. Gorilla Multipurpose Silicone Sealant
The Gorilla sealant comes in a 2.8-ounce tube and it's probably the cheapest one from the list. But it doesn't fall behind in any way. In fact, it might even be in the top 3. Gorilla is a famous brand name, and for a good reason.
Unlike some other sealants that also act as an adhesive, Gorilla is made from pure silicone. It's not as strong as the adhesive ones, but it does a great job of filling the cracks. Silicone is very stretchy and flexible, so it can mold itself into any shape.
Plus, silicone also makes this sealant tough and durable. It can withstand extreme conditions, and, of course, water.
When it comes to drying, Gorilla dries completely transparent. It is made from silicone, after all. It takes around 30 minutes to dry to the 'tacky' point, in which you can expose it to water and/or rain. And after a couple of hours, it will dry completely. Once it does, it becomes unbelievably strong.
An important thing to note about this product is that you need to close the lid tightly. Otherwise, it will dry out pretty quickly. And you don't want that with a 2.8-ounce tube.
Pros
durable
easy to apply
clear
affordable
Cons
a bit tacky until it fully dries
has to be tightly closed
---
3. Titan P2G Car Glass Windshield Sealant
Believe me, it's called Titan for a reason! This sealant comes in a big 300ml tube (around 10 ounces). It's made with polyurethane, which makes it very strong. It can be used for professional car windshield replacements, but it will fix windshield leaks, too. However, it's not completely invincible. Avoid any alcohol-based solvents when applying the Titan.
As far as the application is concerned, this product stands somewhere in the middle. It doesn't require any mixing or priming, you just need to apply it at room temperature.
It's also non-conductive, which is great. It dries pretty quickly, too.
Be that as it may — when it comes to the actual application, it's not that easy. The tube is a tad difficult to handle. It requires a strong squeeze and a lot of patience. It's great for delicate spots because you can really reach in, but some users might find it frustrating.
Overall, Titan will reseal your windshield rubber successfully, but it's designed to do so much more. If you're looking to get a product that will not only fix a minor leak but also have the ability to replace glazed automotive glass parts, Titan is surely the way to go.
Pros
non-conductive
dries quickly
durable
Cons
---
4. Dow U-428 Windshield Glass Sealant
The Dow U-428 is the most expensive one on the list. But don't get me wrong, it's still affordable! Its price is a bit higher because it does offer a lot more than an average sealant.
This is not just a simple solution that you squeeze out of the tube. It requires much more work, but the results are stunning. The Dow is very tough and durable, which is why it's primarily used to attach car windows.
This sealant doesn't need priming, it's a one-component adhesive. Although that may be true, the application process is a bit tricky. The consistency of this sealant is very thick, so it can't be squeezed out. You'll need to heat it up first. The best way to do so is with some kind of a caulk gun.
But here's a little tip — you don't have to purchase a powered gun if you don't already have one. Just soak the tube in some hot water for about an hour and you're good to go.
Pros
Cons
very thick
difficult to apply
---
5. Versachem Windshield and Glass Sealant
The Versachem 75009 resembles the Permatex one a lot. Even their pricing is similar.
Just like the Permatex, this one comes in a 1.5-ounce tube as well. It can be used for glass, metal, rubber, wood, plastic, etc. Basically, it's a strong adhesive that can be used for windshields as well as for any other car parts.
Now I'm just repeating myself, but hey, this sealant is pretty durable, too. The Versachem is waterproof and it can withstand extreme temperatures, high pressure, and strong chemicals.
The application process is super easy. Just squeeze the tube, and that's it.
Much like the Permatex, the Versachem also has the 'flowability' feature that makes it effortless. It can reach even the most unreachable spots and fill every hole that it comes across.
The drying time is quite fast — it's about an hour. After the hour has passed, it will hold together and protect your windshield from leaks. However, it takes about 24 hours to dry completely.
Pros
flowable
durable
dries quickly
easy to apply
Cons
may need more than one application
---
6. Eclectic Products Seal-All Adhesive
The Seal-All also isn't much different from the Permatex one. That isn't a bad thing, of course! They are similar because they're both good products that have good specifications.
This one comes in a 2-ounce tube, and it is quite affordable as well.
Much like the Permatex, Seal-All is a very strong adhesive. It can last a long time, even during extreme conditions. It's also waterproof, resistant to abrasion, gas, and oil.
It dries clear, making it invisible to the eye.
In addition, it's the perfect quick solution. Seal-All can dry in 2 or 3 minutes. So, if you're on the road and you notice a leak, you can act on it immediately. This sealant will do the job just fine. However, the silicone will still be tacky after a couple of minutes, which is a bit unfortunate. The sealant takes about 2 or 3 hours to solidify, and it will harden completely after a couple more hours.
Seal-All is multi-practical, too. Basically, it can be used for any kind of automotive repair project, not just for glass windows and windshields.
Pros
dries fast
durable
clear
affordable
Cons
a bit tacky until it fully dries
---
So, those were some of the best windshield sealants you can currently buy. All of them have their own benefits and flaws. But at the end of the day, they're all good products that deserve their spot on the list, for one reason or the other.
Now let's see how to apply them.
How to Apply the Sealant to the Windshield
Here's a how to apply your new windshield sealant step by step:
Find the source of the leak: Spray some water onto the windshield or window and try to detect where it's entering the car.
Protect the glass and car paint with tape: Use painter's tape to protect the surrounding area. You don't want the sealant to damage your paint job.
Prepare the sealant: It's pretty straightforward — open the lid of the tube and cut the tip to be as tiny as possible.
And for sealants like the Dow U-428, heat it up in advance.
Apply the sealant: Insert the tip of the tube into the leaking hole and squeeze the product out until it fills it to the top.
Smooth it out with your finger: If there's excess sealant, take your finger and smooth it out.
Let it dry: Most sealants take about 30 minutes to an hour to cure.
Remove the tape and excess sealant: After an hour has passed, you can remove the tape and clean the area if there's a need. Use alcohol to rub the sealant residue.
Let it dry some more: In order for the sealant to cure completely, it's best to let it dry overnight, or even a whole day if possible.
Why You Need to Seal Your Windshield and Windows
A leak can occur in many parts of the car, but the windows and the windshield are the most common. Also, this is more likely to happen in older car models, which use only a rubber gasket as a seal and protection. So, it's not uncommon for these gaskets to get damaged and have holes.
However, a leak can happen in newer models, too, even though they use a much stronger protection. This is usually due to a factory error, a faulty gasket, etc.
Besides that, some car models feature a larger gap between the windshield and gasket. So when the water gets into that crack, it can damage it. Especially if it's winter, or heavily raining.
As I previously mentioned, you don't want to ignore a leak in your car. It can lead to several problems, a few of which are quite serious.
Aside from dampening the seats and the floor, which is enough of a problem on its own, water can also cause rust. This, of course, damages the car permanently. The repair costs could be insane.
Another reason why you should act on it quickly is the fogging or freezing of the windows. You won't be able to see through them, which is simply unacceptable for driving.
But more importantly, if the car is damp, mold will form very quickly. If you don't take care of it immediately, it will spread like wildfire. Moldy air is extremely dangerous to inhale. It can lead to serious health problems:
sinus congestion
respiratory problems
eye irritation
a sore throat
skin rashes
If exposed to mold for a longer period of time, even more serious health issues can occur. That's why you shouldn't wait, but promptly fix the rubber with a car sealant instead.
RELATED POSTS: