Ensuring that you have the best windshield wipers that you can find is actually really important. There are many different types of windshield wipers for you to consider.
You are supposed to change your wipers at least once a year, so it's sensible to take some time to look at your options.
Take a look at the different types of wipers that are out there down below.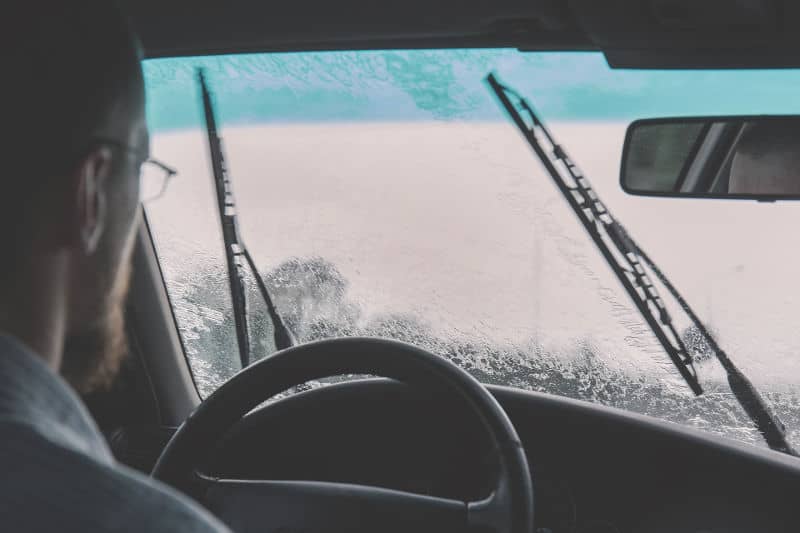 1. Frame-Style Wiper Blades
Frame-style wiper blades are incredibly common, and you likely have them on your vehicle right now. These are the wiper blades that you will most often see when you go to the store. They are the most affordable types of wiper blades and are very popular due to their low cost. Overall, wiper blades like this get the job done well and keep your windshield clear in most situations.
Wiper blades like this will usually have either halogen-hardened rubber or rubber squeegees. They will work to wipe rain or other types of condensation off of your windshield. If you want to buy windshield wipers that will stand the test of time, then the halogen-hardened rubber is going to be your best bet. Halogen-hardened rubber is known to be more durable and have better longevity than untreated rubber.
Here is an example (link to Amazon)
2. Beam-Style Wiper Blades
When you look at a set of beam-style wiper blades, it will be very easy to tell that they are different from the more traditional frame-style ones. These wiper blades have a completely different design concept, even if they wind up working similarly. They are made out of a single piece and use only minimal parts. Most of the wiper blades that are made in this style are made out of either silicone or double-rubber.
There are some significant advantages to buying wiper blades like this. For instance, you can enjoy increased durability if you buy a good set of beam-style wiper blades. Silicone rubber is known to last at least twice as long as the rubber on traditional frame-style wiper blades. This means that you can go longer without having to change your wiper blades out.
The potential downside of this is that beam-style wiper blades cost more money. If you want to enjoy the best wiper blades out there, then you will have to pay a slightly increased price. These are more costly than the other normal styles of wiper blades on this list. It may be worthwhile to buy them since they will last you for a longer period of time, though.
3. Winter Wiper Blades
If you live in a place where the winters are harsh, then you may want to think about investing in some winter wiper blades. When normal types of wiper blades encounter snow and ice, it can create some problems. The snow or ice may wind up getting stuck on the wiper blades. This can prevent the wipers from working at all, in many cases.
Winter wiper blades avoid this problem by having a special protective rubber shell. This shell is capable of keeping ice and snow off of your wiper blades. The blades should be able to work like they are intended to, even when you are dealing with significant amounts of snow. Depending on where you live, it may wind up being a necessity to buy a set of these wiper blades for the winter months.
4. Heated Wiper Blades
Heated wiper blades are another option that people turn to when winter weather arrives. The concept of heated wiper blades is actually very simple. The wiper blades themselves are heated up in order to wipe off your windshield when the temperature gets too low. Those without heated wiper blades may have problems with clearing their windows due to ice or frost.
Many sets of heated wiper blades are capable of heating themselves up when they detect freezing temperatures. It can be very practical to own a set of these wiper blades during the winter months. The set that is being shown here allows for the heating element to be removed in order to place a squeegee back on. Whether this will be preferable to a set of winter wiper blades will be up to personal preference.
Some people have noted that these heated wiper blades will not always work optimally. Depending on how severe the freezing is, these may not work perfectly. There are also differences between certain brands of heated wiper blades to consider. Note that these types of wiper blades are not the most common and may not be as readily available as some other options on this list.
5. Wiper Blades with Scrubbers
Wiper blades with scrubbers are better than usual at getting your windows cleaned. It can provide the function of cleaning off your windows in all different types of weather. If you like to keep your windshield as spotless as possible, then owning wiper blades with scrubbers may be very useful. The scrubbers usually work quite well in various weather conditions, ensuring that you have better visibility than usual.
Of course, these are great for people who drive in places with a lot of sand or dirt. If you are constantly having to deal with sand and dirt getting on your windshield, then wiper blades with scrubbers will come in handy. They can get rid of anything that is obstructing your view so that you can see clearly while driving down the road. Premium blades like this are also made to last for a long time, so you should be able to make use of these longer than something like a frame-style wiper blade.
On Choosing the Right Type of Wipers
Knowing the above information should help you to choose your wiper blades much more easily. There are many different types of windshield wipers to consider, but you just need to choose the one that sounds the most appealing to you. They are all good for different reasons, so take the time to look over the details about each of them carefully.
Once you have made your choice, you'll have a much easier time maintaining visibility on the road whether it is raining or not.
RELATED POSTS: