When it comes to automotive sound deadening materials, it's best to choose according to word of mouth. Even I get overwhelmed by the sheer amount of insulating products on the market. Fortunately, there are two brands that rise above the rest in terms of quality. In this article, we're going to take a look at how the Noico 80-mil mat compares to the classic Dynamat Xtreme mat.
If you've read my article on the best audio and thermal insulation for vehicles, you'll know that these two brands are not only the best in the business — they're also personal favorites of mine. In the aforementioned article, I gave a brief overview of the brands. However, I had something else in mind for today.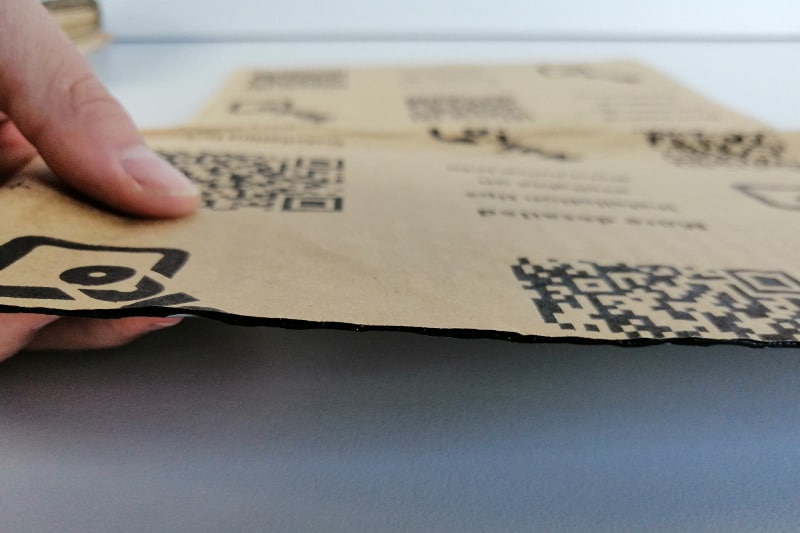 I'll start by sharing my in-depth review of the Noico brand and its assortment of products. Then, we can talk about how Dynamat and Noico's most popular sound deadening mats compare to each other. We'll compare different factors that make a material good, such as it's effectiveness and price. Furthermore, we will also talk about how easy the mats are to handle, whether they conform to the sheet metal when you buff them in, whether they have an odor, and where you can use them.
Hopefully, that approach will be thorough enough to allow us to find out once and for all which of these iconic sound deadening mats is the best for most kinds of vehicles. So let's just dive into the Noico brand review.
Features
Thickness: 80 Mil
Coverage: 36 Sqft (9 sheets)
Base Material: Butyl
Price: Reasonable
Made in Europe
Thickness: 67 Mil
Coverage: 36 Sqft (9 sheets)
Base Material: Butyl
Price: High
Made in US
Features
Thickness: 80 Mil
Coverage: 36 Sqft (9 sheets)
Base Material: Butyl
Price: Reasonable
Made in Europe
Features
Thickness: 67 Mil
Coverage: 36 Sqft (9 sheets)
Base Material: Butyl
Price: High
Made in US
Most Popular Noico Products
Noico Solutions has quite a few successes under their belt already in the field of automotive soundproofing and heat insulation. However, the company doesn't seem to have branched out much further than the products we already know and love. Aside from the 80-mil mats they became famous for, they also have insulating liners, as well as finishing tape and application rollers.
While we're on the subject of the company's product lineup, I might as well note that Dynamat doesn't really have a larger offering. The two companies are evenly matched when it comes to the type of products they sell. However, Dynamat does sell its mats in kits for various areas of the car, unlike Noico, which only sells them in sheets.
According to my research, Noico manufactures its products in Europe and therefore must conform to European standards. Conversely, Dynamat's products seem to be made in the US. As I have mentioned in my article on reducing wind noise, I, like many others, trust the Dynamat brand. After all, it has dominated the market for long enough.
Still, when Noico came on the scene, I kept an open mind. Now, I'm happy to report that it's become my go-tos. So let's talk about the product that finally brought some decent competition to Dynamat.
Noico 80 Mil Sound Deadening Mat Review
The 80-mil sound deadening mat is Noico's greatest achievement by far. When it came out back in the day, people quickly realized that it's on par with the best vehicle insulation on the market. So what makes it so effective?
Well, on the surface, this sound deadening mat is pretty similar to many others. The main feature that makes it better than many others is the black, adhesive butyl layer on the bottom side of the mat. There are many benefits to using butyl-based sound deadening mats, not the least of which is the way they handle the heat.
Basically, butyl mats should also be able to provide some thermal insulation on top of their soundproofing properties. And, as I've already explained in my article about sun and heat damage, we really shouldn't allow the temperature in our vehicles to rise past a certain point.
Some time ago, I also discovered that these mats might have some asphalt in the mix as well. Now that material isn't as ideal for thermal insulation as butyl is. However, since there is only a bit of it in the mats, they should be as effective as pure butyl products. Furthermore, the use of asphalt is probably what keeps the price so impressively low.
Properties
While the butyl side of the mat is meant to make contact with the sheet metal of the car, the Noico mats also have foil on top. You can choose between the standard silver foil color or go for the black option if the mats are going to be visible. The thing I appreciate about these products the most is that the foil has a low relief diamond pattern on it. Thanks to that feature, you'll be able to clearly see the areas you've already buffed into the metal.
The Noico sound deadening mat is 80 mils thick — or about 2 millimeters. It also weighs about 0.7 pounds per square foot. As you may know, thickness and weight are the most important factors in soundproofing. In this case, the weight corresponds to the density of the synthetic rubber material, which will not only lessen the noise but also absorb vibrations as well.
The mats ship in nine 29.5 by 19.5-inch sheets, which means that there are 36 square feet in the package. That amount is fairly standard, although the Noico mat also comes in 10 and 18 square feet packages.
In my experience, products that come in rolls can be much more difficult to handle than rectangular ones. So this one should be fairly easy to install. Now that we know the basics about the product we want to compare, let's talk about the rest of Noico's lineup.
Noico Green Liner Review
Clearly, Noico doesn't have a wide selection of sound deadening mats, but the Green Liner doesn't really belong in that category anyway. Still, it's a very high-quality insulation material.
In fact, Noico's Green Liner is more geared toward protecting your vehicle from hot or cold temperatures than even the mats we previously talked about. Instead of having butyl as the main ingredient, it relies on closed cell PE foam to add a thick layer of insulation. The material comes in two thicknesses: 170 mils in 36 square feet and 18 square feet quantities and 340 mils for 9.5 square feet areas.
Obviously, that thickness alone is also going to improve the sound quality inside of the car. In addition to the thick foam, the material also has a layer of adhesive rubber on one side to help it adhere. The material can withstand temperatures of up to 212 degrees Fahrenheit, which is comparable to Dynaliner from Dynamat.
The 170-mil (or 1/6 of an inch or 4-millimeter) liners come in 9.8 by 15.7-inch sheets. A square foot of the material currently goes for $1.66, which is great, considering the prices of similar products, especially the ones Dynamat makes.
Typically, you'd use these kinds of materials to insulate your hood to protect the engine from overheating and prevent some of the noise from seeping out. Additionally, you can also use it on the roof of the car to protect it from letting the sun's heat into the cabin.
Noico Roller and Tape
According to the product descriptions of Noico's sound deadening mats, the kits don't come with application rollers. However, Noico does make one of the best rollers I've seen.
As I've previously mentioned, the low relief diamond pattern on the top foil side of the mats allows us to see which areas of the mats we have already buffed into the metal. The roller in question has a 1.2-inch metal barrel with a slightly ribbed texture and a comfortable wooden handle that's about 5 inches long. As you buff the mat into the metal, the diamond texture of the foil will be replaced by the stripes the roller leaves behind.
Conversely, Dynamat's mats have no texture at all and their rollers have similarly smooth rubber barrels. So you wouldn't be able to see the places you've already buffed in as well as you could with Noico products. Furthermore, Dynamat's roller is almost $10 pricier than Noico's — and there are even cheaper ones on the market. And besides, you can always just use your hands or a rounded tool instead.
Another product I wanted to mention is the Noico Tape, which should help you seal the areas between mat pieces. The tape should also prevent the butyl or asphalt from leaking on the sides and the material from shifting. The tape is about 1.6 inches thick and 2 mils thick. It also comes in 33-feet rolls and is practically waterproof as well.
But that about wraps up this section of my review: Noico doesn't really have any other products in their lineup. Still, this is a great start by anyone's measure — so let's see how it compares to Dynamat.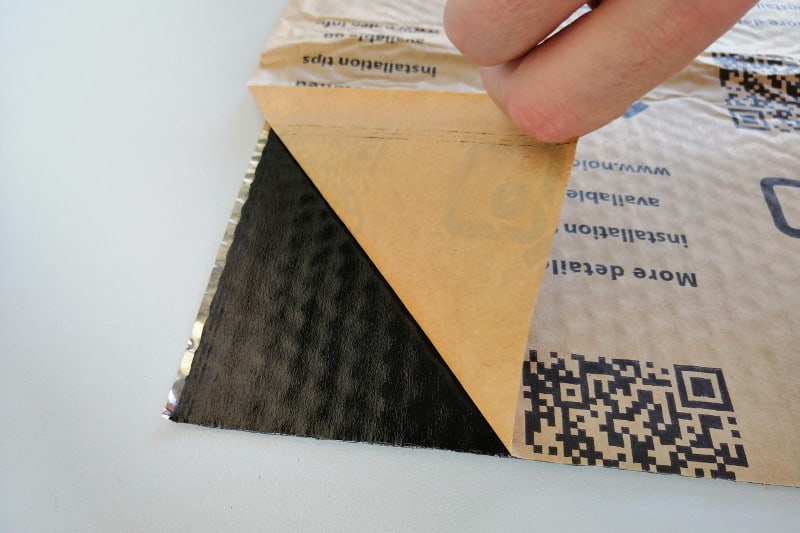 Noico VS. Dynamat: How Do They Compare?
Despite my overview of the Noico brand, this article isn't really about the brand overall. Instead, we're here to determine how their most famous products compare to each other. So let's see how the Noico 80-mil sound deadening mat compares to the Dynamat Xtreme 67-mil mat that has been the uncontested champion for so long.
As I have said at the beginning of this article, we'll take a look at these two products through several categories:
To determine their effectiveness, we'll talk about the base materials they're both made of and how they affect their heat resistance and the odor they may emit. We'll also consider the thickness of the mats.
The price is also another important factor in this equation. After all, if the two products are comparably effective, many people will choose according to their cost.
If you're planning on installing your sound deadening mats yourself, you'll also want to consider how difficult they are to install.
Finally, we'll talk about the potential placement of the respective materials. Sometimes, the companies themselves take into account non-automotive uses of these products.
Effectiveness
Dynamat has long held the first place when it comes to effectiveness. Even though it's technically slightly thinner than Noico, and should, therefore, be less effective, many people still find it the superior product.
On a structural level, though, the two materials are fairly similar. Unlike Noico, Dynamat doesn't seem to have any asphalt in it. The base material of these products also impacts the way they'll behave in high temperatures.
You see, asphalt has a tendency to omit a rubbery odor and even leak in those conditions, so Noico is definitely at a disadvantage there. Still, I haven't seen many people complain about any odors, which is why I feel like there's not a lot of it in the mat.
Like Noico, one side of Dynamat is foil — although it's neither silver nor textured. Instead, the foil is black with the company's logo printed in white all over it. It also comes in 36 square feet packs, like Noico. Ultimately, you should get similar benefits out of both of these products:
Noise reduction due to the thickness of the products and the rubber base
Lessened vibrations and rattling noises coming from inside the car, because the mats provide slight padding between loose metal and the sheet metal
Thermal insulation — which can come in handy in any climate
Price
Even the people who think Dynamat is the best sound deadening mat on the market know that it's also the most expensive one. However, if you take one look at the user reviews, you'll see that most people find ways to justify the cost. Still, if you're not someone who can afford to spend $4.16 per square foot on Dynamat, you may be looking for other alternatives.
That's exactly why so many people have flocked to Noico once they saw that it was effective. The Noico mat is $2.27 per square foot at full price — which is almost half the price of Dynamat. Furthermore, the material is often on sale. As I'm writing this, it's sitting at a 20% discount on Amazon, which brings its price down to $1.83 per square foot.
So what does that mean for you? Well, as you'll see in a moment, you don't really need to cover your whole vehicle to have measurable results. However, covering the whole area does make insulation more effective.
Even though most sources I've checked state that the standard 36 square feet of product that comes in a single package should be enough to cover the average passenger car, that's not exactly true.
That amount will barely be enough to cover the doors and the roof of a subcompact B class vehicle. If you wanted to cover the entirety of that vehicle (including the firewall, the floor, and the trunk) you'd need about 90 square feet of product, according to Noico's calculations. You'd need almost 140 square feet of product to completely cover a full-size SUV — so you calculate that cost.
Installation
As many people will tell you, Dynamat is great until you have to install it. Indeed, installing sound deadening mats can be a huge hassle, which is why some people leave it to their mechanics. Still, it's definitely doable, as long as you get a good start. Fortunately, that's what I'm here to help you with.
The first thing you'll want to do is prepare your space. Just get to the metal you'll be sticking the mats onto. You also need to change into appropriate clothing: something old and dirty. Both butyl and asphalt may leak and stick to your clothes or skin, so you should also wear gloves.
As I've already stated, Dynamat is at a disadvantage when it comes to the installation process. If you're a hands-on kind of car owner, you'll want to install your sound deadening mats yourself.
According to most users, Dynamat is firmer and less manageable than Noico, so it's more difficult to install. It's also tougher, which makes it more difficult to cut. However, that's probably what makes it slightly more effective than Noico mats. After all, if your utility knife can't pass through it, neither can sound.
Still, both materials should be manageable if you take the right approach and are patient. All I'm saying is that you should probably set aside a full day to work on this project.
Placement
The installation process will also depend on where you want to put your mats. Within a vehicle, there are 6 basic areas you may want to target:
On the floor and the wheel arches — you'd have to take out the seats, though
On the firewall, between the engine and the cabin
In the trunk and on the trunk lid
On the ceiling — you'd have to take the headliner down
Under the hood
As you can imagine, some of these places would be harder to get to. Yet, if you have the right tools and competent guidance, you'll be able to do it.
However, you don't have to limit your use of these products to your vehicle. You can also install them on or in your desktop PC, or around your washing machine or a similar appliance. Basically, use them anywhere you want.
Conclusion on the Noico vs. Dynamat Debate
As you can see, there's a good reason why people often compare these two products. Noico's 80-mil mat and the Dynamat Xtreme 67-mil sound deadener have a lot of things in common. For one, they're both largely butyl-based, although Noico has some asphalt in the mix as well. On top of that, they perform pretty similarly when you install them.
However, it would seem that Dynamat is still the reigning champion as far as effectiveness is concerned. Still, Dynamat is also one of the toughest materials to install — even though Noico is actually slightly thicker. Aside from that, Noico also has an advantage in the costs of their products.
Unfortunately, I won't be able to steer you in the right direction here. Both materials have their advantages and disadvantages. If you're going to be installing the mats yourself, I recommend going for Noico. Not only is it cheaper, but it's also more malleable. And it even has that helpful texture on the foil side of the mat.
However, if you have the budget and you're planning to have someone else install it, go for Dynamat. After all, there's a reason why it's so well-loved. On the other hand, you can also choose one of the other popular sound deadening mats I've written about.
RELATED POSTS: